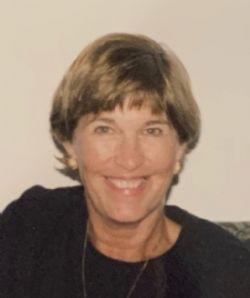 Memorial Service
First Presbyterian Church in San Antonio
San Antonio, TX
Saturday, August 6, 2022
1:30 PM


Send Flowers
Stella "Star" Taylor Stapleton
of Ingram, TX
October 27, 1943 - August 1, 2022
---
Stella ''Star'' Taylor Stapleton (October 27th, 1943 - August 1st, 2022) was born in San Antonio, Texas to Elizabeth Atwood Taylor and Randle Taylor. She grew up in San Antonio and attended Alamo Heights Schools, where she discovered her love for English and journalism. After graduating, she went to Marjorie Webster College in Washington, D.C. and then on to the University of Arkansas where she pledged Chi Omega and met her first husband, Fred H. Falls. Together, they have two children: Elizabeth Falls Swanson (Merrill) and Michael Taylor Falls (Andrea Bauer).

Star taught elementary school in San Antonio and went on to earn her Master in English as a Second Language (ESL) from the University of Texas at San Antonio. Her education experience allowed her the opportunity to move to Panama, where she taught in a private school on the Pacific coast. In Panama, she met her husband, John Martin (Marty) Stapleton. Their careers and love of the beach influenced them to live in the U.S. Virgin Islands, Dauphin Island, Alabama, and Ambergris Caye, Belize. On Ambergris Caye, Star managed the great feat of obtaining her boater captain's license. In 2014, Star was ready to return to Texas and settled along the Guadalupe River in the Texas Hill Country. There, she spent her days gardening, voraciously reading, enjoying the birds at her many feeders, and observing the wildlife. She was a wonderful cook and entertainer and embodied an attitude of ''the more the merrier'' when it came to her many friends and family. Her beloved Brittany Spaniels were her constant companions and could always be found at her side.

Travel was a passion for Star, especially if it was somewhere tropical and on the coast. She most enjoyed sharing her wanderlust with her children and grandchildren, Cecelia Swanson, Caroline Swanson, and Travis Swanson. Her travels took her to Europe, South Africa, Papua New Guinea, Australia, many countries throughout Central and South America, and numerous Caribbean Islands.

Her grandchildren were her greatest joy in life. She learned to French hand sew and smock when they were little, making them beautiful outfits and pieces. She loved spending time with her grandchildren and endeavored to encourage a love of learning and discovery, especially concerning nature and world affairs.

Star had a contagious zest for life and adventure like no other that will be greatly missed.

The family would like to thank Hilda Amaya for her unwavering friendship and dutiful service.

A memorial service will be held at 1:30 PM on Saturday, August 6th, 2022, at First Presbyterian Church in San Antonio, Texas. In lieu of flowers, donations can be made in Star's name to the Texas Parks and Wildlife Foundation.