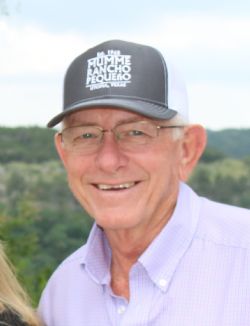 Memorial Mass
Notre Dame Catholic Church
909 Main St.
Kerrville, TX 78028
Saturday, August 13, 2022
10:00 AM
Map & Directions


Send Flowers
Randall Phillip Mumme
of Utopia, TX
July 6, 1949 - July 29, 2022
---
It is with profound sadness that the family of Randall Phillip Mumme announce his passing on July 29, 2022, at the age of 73.

Randy was born July 6, 1949 to parents, Ted and Velma Mumme. His mother and father preceded him in death. Randy was a loving and devoted son, brother, husband, father, and friend to many. He enjoyed helping people and making them laugh and never missed an opportunity to share a joke for a crowd. His wife, Lynne and three children, Reid, Jenna, and Catie, and grandchildren, Reese, Maggie, Jackson, and Lucy will miss him until they join him in Heaven.

Randall Phillip Mumme is survived by his wife, Lynne Mumme, three children, Reid Mumme, Jenna Wentrcek (Wyatt), and Catie Johnston (Houston). He was the proud grandfather of five grandchildren, Reese, Maggie, Jackson, Lucy, and Baby #5 Wentrcek. He is also survived by his sisters Kay Lynne Irby (Earl) and Peggy Lou Hedges (Steve) as well as numerous nieces and nephews.

Randy enjoyed his 35 years at the ranch on the coast near Port Lavaca. He spent countless hours working cows and taking care of the livestock and all that needed to be done. His true passion was hunting and fishing with his Pachanga buddies. Many hours were spent setting out bird decoys, sitting in homemade duck blinds, or in the boat on the water, always filled with laughter and jokes. His other passion was the annual fireworks show in Utopia each 4th of July. He enjoyed helping to put on a great performance and make people happy. His main concern was if everyone enjoyed the show, after which he'd come back to enjoy a bowl of his favorite homemade peach ice cream. When he retired to Utopia, he continued in his father's footsteps by drinking coffee early in the morning with friends, telling ''stories and lies.'' He played many rounds of golf at his twice weekly games with buddies. He cherished his place in the communities of Port Lavaca and Utopia and all his close friendships there. He will be missed by many.

A funeral service will be held at Notre Dame Catholic Church in Kerrville on Saturday, August 13, at 10:00am.

In lieu of flowers, we know Randy would appreciate donations made to the Utopia Park Board, PO Box 161 Utopia, TX 78884.


4 Condolence(s)

Wayne and Tracy (Nillen Devaty) Steiner
League City, TX
Tuesday, August 9, 2022
Dear Mumme Family,
Praying that you'll find peace in knowing the light of Randy's beautiful spirit lives on because the beauty of memories of him left behind, in the lives touched and changed, in the gifts of laughter shared...those we love live on, forever.

Tracy

Marsha Frederick
Port Lavaca, TX
Monday, August 8, 2022
To Lynne and family,
My heart breaks for you all in the shocking loss of Randy.
We had so many good times cheerleading in CHS and just knowing
him throughout the years- such a big personality!
We all loved Randy.
You and your kids & grands are in my prayers & will
continue to be going forward through this difficult
time.
Marsha Rigby Frederick

Connie Milliff
Wadsworth, TX
Sunday, August 7, 2022
Dear Mumme Family,

I was so sad to hear of Randy's passing. I worked at STP with him for many years. We had many enjoyable conversations. He always had a big smile on his face, and a funny story to share. He was truly one of the kindest people I've ever met. I know you will miss him greatly.

Connie Milliff

Chris and Barbara (Jordan) Christopherson
KERRVILLE, TX
Wednesday, August 3, 2022
Dear Lynn and family,

Our deepest sympathy to you and all of your family. I enjoyed a brief visit with Randy in your driveway about a year ago wile I was in Utopia.
Chris and I will keep you in our prayers.

Barbara