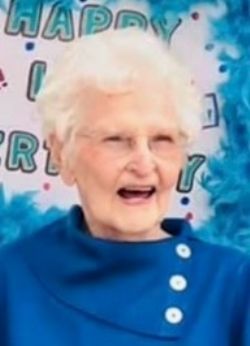 Funeral Service
Grimes Funeral Chapels
728 Jefferson St.
Kerrville, TX 78028
Monday, August 29, 2022
10:00 AM
Map & Directions

Graveside
South Park Cemetery
Pearland, TX
Tuesday, August 30, 2022
10:00 AM


Send Flowers
Yuba Belle Cole
of Kerrville, TX
November 21, 1920 - August 4, 2022
---
''A Mom's hug lasts long after she lets go''

Beloved wife, Mother, grandmother, great grandmother, and friend, Yuba Belle Cole, age 101, went peacefully to meet her Lord and Savior on Thursday, August 4, 2022.

Yuba was born in Houston, Texas, on Nov. 21, 1920, to J. W. and Margaret Taylor Couch. Due to unavoidable circumstances, at the age of four she went to live with her aunt and uncle, Hugh and Yuba Edwards. She was always surrounded by unconditional love, and that gift helped her to become a very kind, caring, and compassionate person. She always put others' needs ahead of her own.

Soon after graduation from Milby High School, she married Bernard R. Cole and they celebrated 69 years together. She is survived by their daughters, Bernean Cole Deeter and husband Jim, Diane Cole Pfeiffer and husband Phil; grandchildren, Diana Deeter Hale and husband Bryan, Carrie Deeter Miller and husband James, Shannon Pfeiffer Beckel and husband Craig, P.J. Pfeiffer and wife Natalie; and great-grandchildren, Camryn Hale, Cole and Rhett Miller, Luke and Jack Beckel, and MacKenzie and Campbell Pfeiffer. She was predeceased by her parents; her aunt and uncle; husband; infant daughter; and great-grandson Quentin Hale.

Yuba touched many lives. At the Baptist church in LaPorte, she taught young children's Sunday school for many years. She was a Girl Scout leader for almost twenty years, and as a member of the Eastern Star, she worked with the Rainbow Girls program. Her desire to help young girls develop a strong character was always apparent. She was a Past Matron of the Order of the Eastern Star and spent countless hours in preparation to help promote their mission.

She loved her Lord and Savior. She and Bernard devoted themselves to the First Baptist Church in LaPorte and later to the First Baptist Church in Kerrville. The foundation of their life was the church and it was there that they made many lifelong church friends.

Upon moving to Kerrville in 1980, she and Bernard became very involved in the Avion Travel Club. They spent 33 happy years traveling in their Avion trailer and making friends while visiting every state in the USA.

Yuba loved to cook, but most of all, she loved to share her cooking with family and friends. Her compassionate personality led to a life of taking care of others, especially her parents, Bernard's parents and her grandparents. She never complained, and always said that the Lord had given her a life full of love.

Her funeral service will be held at Grimes Funeral Chapels, Kerrville, TX on Monday, August 29, 2022, at 10:00 a.m. Burial will follow on Tuesday, August 30, 2022, at 10:00 a.m. at South Park Cemetery, Pearland, TX.

If you so desire, memorials can be made to the First Baptist Church of Kerrville, 625 Washington Street, Kerrville, TX 78028 or any charity of your choice.




4 Condolence(s)

Wava and Larry Osborn
Spring, TX
Saturday, August 13, 2022
She was a lovely lady and it was a privilege to know her. Condolences to the entire family.

Larry & Barbara Wynn
Boerne, TX
Saturday, August 13, 2022
We are so sorry for your loss. Your mother sounds like a wonderful person. She lived a long and wonderful life.

Judy Parker Setley
Mont Belvieu, TX
Thursday, August 11, 2022
I knew Mrs. Cole and Dianne and Bernean's mother. The times I was in her home, she would always make you feel comfortable and welcomed. I remember her as an active mother in her children's lives. She was always pleasant and happy and always "in the know". It is nice to know she had a long, wonderful life and a beautiful family to share with. Prayers of comfort and support.

Opal Durham
Kerrville, TX
Saturday, August 6, 2022
What a remarkable beautiful lady Yuba was. Always cheerful with