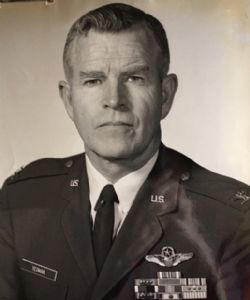 Memorial Service
First Presbyterian Church
800 Jefferson St.
Kerrville, TX 78028
Tuesday, September 27, 2022
2:00 PM
Map & Directions


Send Flowers
Air Force Academy Cemetery
Colorado Springs, CO


Send Flowers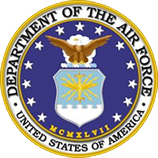 Wayne Allen Yeoman

of Kerrville, TX
January 19, 1923 - September 13, 2022
---
Brigadier General Wayne Allen Yeoman, beloved husband, father, grandfather and great grandfather died peacefully in his Kerrville, TX home on September 13, 2022. He leaves behind a legacy of achievements, a love of sports, and wonderful memories to his family. He was 99 years of age.

Brig. Gen. and Dr. Yeoman to many, "Dad" to us, Wayne Yeoman was born in Sandborn, Indiana on January 19, 1923 to Dr. Claude Allen and Anna Lillian Yeoman. As a child, the Yeoman family moved to Glendale, Arizona during the Great Depression. Dad carried his Depression era values throughout his life; never shying away from a challenge, being grateful to be alive, thankful for his family, and grateful for a career he loved. He did all this with a wonderful sense of humor and, perhaps owing to his West Point values, for Dad it was about service, he truly believed in treating everyone right. Brig. Gen. Wayne Yeoman, was preceded in death by his beloved wife of 68 years Agnes Yeoman, and his two brothers Dr. Elmer Yeoman MD, and College Football Hall of Fame "Coach" Bill Yeoman.

Brig. Gen. Wayne Yeoman, excelled academically, attending the University of Arizona for two years prior to transferring to West Point Military Academy, and obtaining his pilot wings in 1946. A decorated Korean War Veteran, Yeoman flew fifty missions in a B-26. He received the Distinguished Flying Cross for his valor to this country that he loved so much. Yeoman continued to pursue his educational aspirations, graduating with his Master of Business Administration with High Distinction from Harvard University in 1958. Yeoman was named as the head of the Economics Department at the Air Force Academy starting in 1959, and returning back to Harvard University, earned his Doctor of Business Administration in 1968.

Following a successful 26 year career in the Air Force, Brig. Gen. Wayne Yeoman, served as Vice President of Financial Operations with Eastern Airlines for 16 years. Upon retirement, Brig. Gen. and Agnes Yeoman relocated to Texas to be closer to family, joining the First Presbyterian Church and the Riverhill Country Club. Golf and Texas football remained, until his death, favorite topics of discussion.

Brig. Gen. Wayne Yeoman, is survived by his children Wayne Jr. (Connie) of Las Vegas, Carol (John) of Tucson, grandchildren, Dr. Kristin Hess of Nashville, Andrew Hess (Gwen) of Scottsdale and great grandchildren Tyler Hess and Kayla Hess.

The Yeoman/Hess family would like to thank Sandy Garcia and her Care team, Martha, Kylee, Frank and Claudia, May, and Kristina and Alice from Home Helpers for their care to our dad during his last few years.

A memorial service will be held at the First Presbyterian Church in Kerrville on Tuesday, September 27, 2022, at 2:00 PM. Brig. Gen. Wayne Yeoman, will be buried at the United States Air Force Academy Cemetery in Colorado on September 21, 2022 at 10:00 a.m. with military honors.



2 Condolence(s)

Layng & Karen Guerriero
kerrville, TX
Wednesday, September 21, 2022
He will be deeply missed but not forgotten - especially during Christmas season. Honored to have been a friend and neighbor for all of these years. He led an exemplary life.

Donna L Brewton
Mountain Home, TX
Tuesday, September 20, 2022
My sorrow joins yours. Thinking of how I looked forward to sitting next to Wayne in church. Admittedly ,I never felt comfortable addressing him by Wayne but I did as he asked. Carol we'll meet again at the reception.
Blessings of good memories to all his family, Donna B.