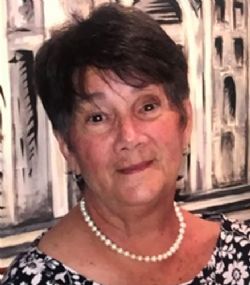 Celebration of Life
First United Methodist Church
McAllen, TX
Saturday, October 8, 2022
1-4 PM


Send Flowers
Bonnie Dvoulety Gastel
of Kerrville, TX
January 24, 1946 - September 12, 2022
---
Bonnie Dvoulety Gastel, 76 years young, of Kerrville, formerly of Mission, Texas, went to Heaven on September 12, 2022. She was born in Illinois to Frank and Blanche Dvoulety on January 24, 1946. Raised in Palm Springs, California where she met and married her high school sweetheart, Robert Gastel, on November 7, 1964. They were happily married for 58 years until her passing.

Survivors include her husband, Robert B. Gastel and her three children, GiGi Gastel and Steven Ahrens, Banks, Alexis, Brooks Burrows; Ginette Gastel Robbins and Floyd Robbins and Cassidy; Robert G. Gastel, Brandon, Kaylynn and Rollie, Dustin, Madelynn; great-granddaughter, Aliya, sister, Sharon Down, nephews and niece, Eric, Ryan, Heather.

Celebration of Life will be held on October 8, 2022 from 1-4 P.M. at First United Methodist Church in McAllen, Texas.

In lieu of flowers, we have set up a GoFundMe at GoFundMe.com, search ''PopsCare''.

Thanks MOM for being the feisty leader of our Wally World! LOVE YOU MORE!


2 Condolence(s)

GiGi aka daughter #1
Kerrville, TX
Monday, September 19, 2022
Night Love you

Ginette aka Daughter #2
McAllen, TX
Friday, September 16, 2022
Night hugs