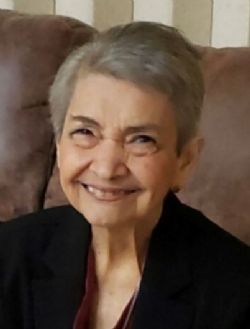 Visitation
Grimes Funeral Chapels
728 Jefferson St.
Kerrville, TX 78028
Friday, September 23, 2022
5-7 PM
Map & Directions


Send Flowers
Rosary
Notre Dame Catholic Church
909 Main St.
Kerrville, TX 78028
Saturday, September 24, 2022
9:30 AM
Map & Directions

Mass
Notre Dame Catholic Church
909 Main St.
Kerrville, TX 78028
Saturday, September 24, 2022
10:00 AM
Map & Directions


Send Flowers
Glen Rest Cemetery
Kerrville, TX


Send Flowers
Florencia T. Martinez
of Kerrville, TX
January 26, 1945 - September 18, 2022
---
Florencia T. Martinez, 77, of Kerrville, Texas, passed away after a protracted battle with cancer Sunday morning, September 18, in her residence, surrounded by the company of her beloved family. She took her final breath right when the Spanish Mass at Notre Dame Catholic Church was starting and reassured everyone it was the embrace of the Risen Lord Jesus with whom she went with.

Florencia was preceded in death by her parents; brothers Santiago Trinidad and Juan Trinidad; sisters Aurora Posada and Oralia Martinez; and her son Fernando Martinez. She is survived by her husband of 61 years Juan Martinez; son John Martinez and his wife Laurie; son Rick Martinez and his wife Angela; grandchildren, Jessica Martinez, John Anthony Martinez, Audri Rodriguez, Jonathon Martinez, Jeremy Martinez, and Kryssn Martinez; and great-grandchildren Josh, Valerie, Marcus, Natalie, Samuel, Lucas, Cooper, Brantley, Elijah, Wyatt, and Sloane; and numerous nieces and nephews. She is also survived by her siblings, Mike Trinidad (Esperanza), David Trinidad (Josie), Baldemar Trinidad, Leandro Trinidad (Lolly), Irene Lucio (Cirildo), and MaryAnna Garcia (Michael).

Florencia was born on January 26, 1945, in Floresville, Texas, to Santiago and Lucinda (Silva) Trinidad, who brought her up in a large Catholic-oriented household. Florencia was the sister to ten siblings, all of who shared her quick-witted sense of humor, providing endless laughter. Not only did she create a personal bond within the family, but an everlasting love felt by anyone she knew. She held a great love for her family and had a personality that drew people together, and if that didn't do the trick, her delicious cooking would certainly bring you to her house!

She was a woman of great faith, and this was exemplified through her extensive work in various ministries at Notre Dame. She spent a great deal of her time leading the Guadalupanas of Notre Dame, participating in ACTS Retreats, and many other acts of service that grew her community of friends who loved her.

Services to celebrate her life will include: visitation on Friday, September 23, 2022, from 5-7PM and Grimes Funeral Chapels; recitation of the Holy Rosary will be held at Notre Dame Catholic Church at 9:30AM, Saturday, September 24, 2022 officiated by Fr. Alberto Colin, Mass of Christian Burial will follow the Holy Rosary at Notre Dame Catholic Church with Fr. David Wagner as celebrant. Graveside services will follow at Glen Rest Cemetery at 2000 Memorial Blvd in Kerrville, TX. Reception to follow at the Dietert Center 451 Guadalupe St in Kerrville, TX 78028.

Pallbearers for the services will be: Fred Martinez, Alex Trinidad, Robert Posada, Andy Trinidad Jr., Dionisio Trinidad, Eddie Trinidad, David Trinidad Jr, and Rocky Trinidad.


5 Condolence(s)

Bill and Carolyn Anderson
Kerrville, TX
Saturday, September 24, 2022
So very sorry! Prayers for the peace that surpasses all understanding during this time!

Karla Bonet
San Antonio, TX
Friday, September 23, 2022
My deepest sympathy and prayers for the family in your time of loss.

michelle adair
Kerrville, TX
Wednesday, September 21, 2022
Many condolences and lots of prayers to your family .
We are so sorry for your loss.
Sincerely , The Adair's

Joel Ayala
Austin, TX
Wednesday, September 21, 2022
Dear Juan - Jr. and Ricky,

We are truly sorry to hear of the loss of your wife. May the love of family and friends help comfort you in this time of grief.
God bless your family!
Love always,
Joel Ayala, Sr. and Diana

Daniel &Mary Jane Flores
Kerrville, TX
Wednesday, September 21, 2022
Our sincere condolences to the family of Florencia, our prayers to the family, may he give you all the strength during this difficult time...May she rest in.