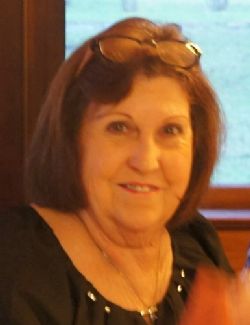 Funeral Service
St. Peter's Episcopal Church
320 St. Peter Street
Kerrville, TX 78028
Friday, November 11, 2022
10:00 AM
Map & Directions


Send Flowers
Patricia Noonan Davis
of Kerrville, TX
June 20, 1946 - November 5, 2022
---
Patricia Noonan Davis, 76, of Kerrville, passed away on November 5, 2022 in Kerrville. She was born in Longview, Texas to Robert Emmitt Noonan and Mae Edna Hilton Noonan on June 20, 1946.

She went to school in Teague, Texas and graduated high school as Valedictorian. She graduated from TCU with a Masters in English. Patricia was a dedicated math teacher for over 40 years at Peterson Middle School in Kerrville and Harlingen Middle School. She was in charge of UIL at Peterson since its inception and enjoyed working with her students in many academic categories including math and acting. She enjoyed her weekly game groups with friends and also took great pride in her gardening. Patricia was a lover of all animals.

Patricia was preceded in death by her parents, Robert Emmitt Noonan and Mae Edna Hilton Noonan; her brothers, James Meenan Noonan (Jim) and Robert Emmitt Noonan (Mick); and her husband, Bernard Davis.

Survivors include her son, Mark Noonan Mosty; her daughter, Erin Mosty Wofford and husband Bryan Wofford; her sister-in-law, Lou Noonan; her grandchildren, Camryn Nicole Mosty, Beck Wofford, and Keane Wofford; and many nieces and nephews.

Funeral services will be held at 10:00 AM on Friday, November 11th at St. Peter's Episcopal Church in Kerrville with Father Bert Baetz officiating.

Memorials may be given by donating to Kerrville Pets Alive at www.kerrvillepetsalive.com, or you may mail donations to 317 Sidney Baker S., Suite 400, PMB345 in Kerrville. In addition to our online donations, donations may be accepted at Kerrville Pets Alive office at 414 Clay St. in Kerrville.


7 Condolence(s)

Evelyn Hickey
Kerrville, TX
Saturday, November 12, 2022
Fond memories of you and our boys growing up. Our Saturday moorning callsPrayers for your family.

Linda (Brown) Buchanan
Elgin, TX
Thursday, November 10, 2022
Patsy was a good friend for all of us growing up together in Teague. I have good memories of her. I hope her family draws comfort from their memories.

Ann Lynch Garrett
Waco, TX
Wednesday, November 9, 2022
I went to school with Patsy, grades 1-12. I remember playing at her house before both of our daddies died while we were very young children. I am glad that she is at peace.

Jennifer Kunz Petsch
Fredericksburg, TX
Wednesday, November 9, 2022
Mark, Erin, Bryan, and family, our thoughts and prayers are with you. Your mom was a great lady and will be missed.

Jane Sweeney
New Braunfels,
Monday, November 7, 2022
Well, old friend, you are no longer in pain.
I am truly thankful for our time together, whether it be our
late night phone calls or adventurous shopping.
You were a good friend for over 50 years and you
will truly be missed.
To Erin and Mark, I can honestly say that your mom
loved you dearly and was so proud of each of you.
To Beck, your Mommy Pat loved the time yall spent
together and so enjoyed having you around the
house. She was very proud of the young man you had become.
To Kean, your Mommy Pat was so enjoying watching
you grow. And she always had an antidote for me
about what you were up to.
Cameron, I imagine you will always remember yall's
shopping trips. I know she enjoyed them as
I would get a store by store recap.
She was proud that you were doing wrll in college
and alwaya looked forward to your visits.





Kemmer
Ferry, UT
Monday, November 7, 2022

Sherry S, Secor
INGRAM, TX
Monday, November 7, 2022
Blessings sent to her children and grandchildren. I have many fond memories of Pat, Connie and myself. I loved that lady and will miss her immensely. RIP Pat.