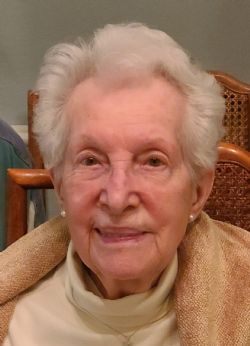 Memorial Service
Zion Lutheran Church
624 Barnett St.
Kerrville, TX 78028
Thursday, November 17, 2022
2:00 PM
Map & Directions


Send Flowers
Lucille Marie Duff
of Kerrville, TX
December 22, 1930 - November 7, 2022
---
Lucy Duff peacefully passed from this life on November 7, 2022, at home having been surrounded by immediate family members.

Lucy was born on December 22, 1930, in Grosse Pointe, Michigan to Henry Alvin Grawburg and Marie Johanna Grawburg née Wittenburg. Lucy grew up in a loving family of very modest means on the outskirts of Detroit during the Great Depression. Her older sister and brother affectionately called her ''Toots'' and at an early age, Lucy learned the values of devotion to family and hard work.

She attended the University of Michigan on an academic scholarship as her parents were unable to financially help her. To earn money for college, Lucy worked at the Michigan Union waiting tables and spent summers doing the same, working at resorts in Kennebunkport, ME and on the St. Lawrence River. When few women were studying accounting, she received a BBA in 1953 and MBA in 1954. It was at Michigan where she would meet her future husband, Lindsay, at the back of the accounting classroom where all the lefthanded students gravitated. They married between semesters in graduate school on January 30, 1954. After graduation, the newly married couple moved to Chicago, where Lucy became a CPA and opened her own accounting business, while her husband joined the accounting firm of Arthur Anderson & Co.

In May 1957, Lucy and Lindsay started their family with the birth of their son, Mark. Two short years later, while Lucy was busy with her accounting business and expecting a new baby, the young family of three moved to Caracas, Venezuela, due to Lindsay's transfer to another Arthur Anderson office. Far from home and family, amidst changes in language and culture, Lucy gave birth to Sara in February 1960 during a period of political unrest in the capital.

When she was not nurturing her family or supporting her husband's career, Lucy was busy learning Spanish, owning and running a donut bakery shop, taking up golf, playing bridge and entertaining friends, family and Lindsay's business colleagues who came for visits over the next 15 years. The Duffs made multiple trips back to Chicago and Detroit to see family and friends. As the children grew older, Lucy and Lindsay took them on multi-week summer driving tours to various parts of the U.S. to remind them that they were Americans and to show them the beauty of our country. Lucy and Lindsay also extensively traveled throughout South and Central America, for business and pleasure, and gained a great appreciation for pre-Columbian artwork.

In 1974, the family moved to San Juan, Puerto Rico, where Lindsay was the managing partner for four years, before transitioning in 1978 to his final nine-year assignment with Arthur Anderson in Mexico City, as the senior partner for Mexico and Central America. While in Mexico City, Lucy worked for the IRS at the American Embassy, where she assisted U.S. citizens living abroad. In Mexico City, Lucy and Lindsay enjoyed reconnecting with the network of American ''expat'' friends they came to know over their 28 years of living overseas.

In part through that network, Lucy and Lindsay decided to retire to Kerrville, Texas in 1987. Retirement didn't last long as the couple became involved in real estate investments and started their own property management company, L. Duff Enterprises, Inc., in 1988. Lucy remained actively involved by working with the management company and alongside her daughter and son-in-law until Lindsay's health deteriorated.

Lucy was a humble and generous person who recognized those who persevered to better themselves, especially through adversity. From her own life experience, she had a heart for supporting students and causes and gave generously to not only her alma mater, but also to such schools as the University of the Cumberland in Kentucky and Allegheny College in Pennsylvania. She and Lindsay were life-time Lutherans and joined Zion Lutheran Church when they moved to Kerrville. The women's circles and Bible studies provided her with community and much love over the years, for which she was grateful.

While living in Kerrville, Lucy felt very blessed to have her children and their families living close by. It brought her great joy to take part in their lives and help and support them as they grew up. Lucy could be found cheering them on from the sidelines while also quietly setting an example of being a strong, independent, and yet kind and devoted wife, mother, and grandmother. Her love and care of them and others will remain with those who knew her best, and her future absence will leave a void.

Lucy is predeceased by her husband of close to 61 years, Lindsay Duff who died in December of 2014, her sister Grace Dasher (Cliff) and brother, Raymond ''Bud'' Grawburg (Bonnie), brother-in-law Donald Duff (Mary), and sister-in-law Marnie Duff. Lucy is survived by her son, Mark Duff and his wife Beth of San Antonio, daughter Sara McKeon and husband Tom of Kerrville, and grandchildren Alan Duff of Austin, Kevin McKeon (Cami) of Houston, Michael Duff of Boerne, and Kelly Cirioli (Mitchell) of Houston, in addition to great-granddaughters Lucy and Abigail McKeon, brother-in-law Bruce Duff of Naples, FL, and numerous nieces and nephews.

A memorial service will be held at 2:00 p.m. Thursday, November 17, 2022, at Zion Lutheran Church, 624 Barnett St., Kerrville, with the Rev. Michael Williams officiating.

The family of Lucy Duff wishes to extend their sincere thanks to caregivers Pauline Gutierrez and Gloria Martinez, who helped Lucy over the last year with mobility issues, as her body - but not her mind - slowed down, in addition to Visiting Angels, and the caring nurses and staff at Peterson Hospice.

In lieu of flowers, memorials may be given to the Zion Lutheran Children's Center, Peterson Hospice, or a charity of your choice.



6 Condolence(s)

Paul & Jaydean Urban
Harper, TX
Thursday, November 17, 2022
Our deepest sympathy.

May His peace surround and comfort the family.

Christal and Barry Schmideberg
Huntington Woods, MI
Wednesday, November 16, 2022
We will miss Aunt Lucy. She was such a strong and wonderful person. She had an effect on my life in many ways and we will always have a place in our hearts for her and Uncle Lin. I loved sending her 'serial letters' as she called them. In our last conversation, she said she felt like she was part of our neighborhood because I told her stories of the ladies I visit.
Love always,
Christal and Barry

Veronica Duran
Center point, TX
Monday, November 14, 2022
I worked for Lucy for more than 6 years, she was a great person with me, very humble. Always appreciating what other people did for her. I will miss her.

David Bernstein
New York, NY
Friday, November 11, 2022
I have known both Lindsy and Lucy close to a half century. Lucy was quiet but very powerful just with her presence. I will miss her.
David Bernstein

Diane Donaldson
Kerrville,
Friday, November 11, 2022
I was privileged to have known and worked for Mrs. Duff. She was a very humble and caring person. She was as quick on her feet as she was intellectually and she had such a strong work ethic. She will be missed. May you feel God's arms of comfort embracing you all.

Carlos Llanos y Familia
Cali,
Friday, November 11, 2022
Recordaremos Lucille , con cariño , las conversaciones en español cuando tuvimos oportunidad de visitarla
A toda su familia nuestras sinceras condolencias
Con Carliño