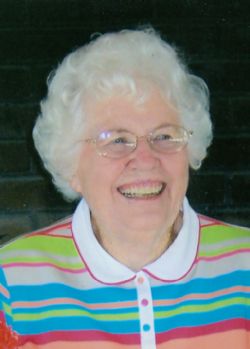 Celebration of Life
St. Paul's United Methodist Church
135 Methodist Encampment Rd.
Kerrville, TX 78028
Saturday, November 19, 2022
1:30 PM
Map & Directions


Send Flowers
Lavania McDonald Lambert
of Kerrville, TX
August 2, 1918 - November 7, 2022
---
On Monday, November 7, 2022, Lavania McDonald Lambert, loving mother, grandmother and great-grandmother, peacefully passed away at the age of 104 to join her husband of 70 years in heaven. Born August 2, 1918 in Ft. Worth, Texas, she married the love of her life, Horace Clayson Lambert in 1939 and the couple was blessed with their only child, a son they named Clayson Howard Lambert in 1951.

Lavania, or Mamaw as she was known to her grandchildren and great-grandchildren, was dedicated to her husband, her son and family and her faith and legacy can be seen in the passions and wisdom she passed on to them. Lavania's impact on her loved ones will reverberate through many generations to come.

Preceded in death by her husband, Horace, parents Jessie Lee McDonald and wife Ellen McDonald. She is survived by her son, Clayson Howard Lambert and wife, Joyce Lambert, of Kerrville, Texas, and five grandchildren, Shane Lambert and wife, Kathy Lambert of Round Rock, Texas, Rayford Alan Lambert and wife, Alexis Lambert of Round Rock, Texas, Stefanie Goodwin and husband Coy Goodwin of Somerville, Texas, Jennifer Korenek and husband Bob Korenek of Houston, Texas, and Cody Lambert and wife, Katie Lambert, of San Antonio, as well as eleven great-grandchildren, Jaxon Goodwin, Wade Goodwin, Samantha Korenek, Codi Elizabeth Lambert, Connor Lambert, Ryan Lambert, Inara Lambert, Freya Lambert, Paxten Lambert and Jake Lambert. She is further survived by her loving niece, Suzanne Dalton and husband Phil Dalton of New Braunfels, Texas, nieces Karen Lambert, Kathy Koen, Jill Clausen and nephew Larry Lambert.

A Celebration of Life for Lavania will be held at 1:30 p.m. on Saturday November 19, 2022, at St. Paul's United Methodist Church, 135 Methodist Encampment Road, Kerrville, Texas. As an expression of sympathy, memorial contributions in her honor may be made to Kerr♦Konnect Nonprofit or St. Paul's United Methodist Church in lieu of flowers.

The family encourages all of her friends who able to attend to come and share their fondest memories with the family and to honor the 104 years of an exceptional life that she lived.

The family wishes to extend our sincere thanks to the outstanding employees at Peterson Hospice and River Hills Health and Rehab for their excellent support and care of Lavania.



2 Condolence(s)

Maria R. Lichnovsky
Center Point, TX
Saturday, November 12, 2022
I have known Lavania since 1983. My husband Joe and I met her and Horace in the same workplace. We became good friends. We loved and treasured her friendship always. May the Lord receive her in His loving arms

Diane Bolin
Center Point, TX
Thursday, November 10, 2022
I had the pleasure of meeting Mrs. Lambert a few months ago at River Hills Health and Rehab. She was always smiling and visiting with everyone during lunch. She always made it a point to speak to my 91 year old Aunt that I see nearly every day. I consider it a blessing in my life to have met her.

Clay & Joyce, may Gods peace be with you both and your family during this time. My prayers are with you.

Diane