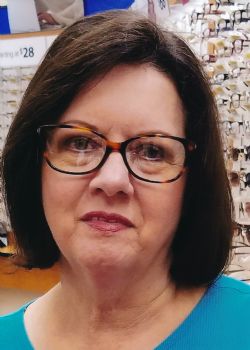 Memorial Service
Kingdom Hall of Jehovah's Witnesses
2160 Goat Creek Rd
Kerrville, TX 78028
Saturday, November 19, 2022
1:30 PM
Map & Directions


Send Flowers
Robin Blumrich
of Kerrville, TX
January 20, 1952 - November 9, 2022
---
Robin Blumrich, of Kerrville, passed away Nov. 9, 2022, at the age of 70.

Robin was born to Marie and Adrian Harper in San Antonio, Texas, on Jan. 20, 1952. She married the love of her life, Walter Blumich, on June 28, 1970. They were blessed with two children, Melissa and Aaron.

She was preceded in death by her parents and brother, Benjamin.

She is survived by her husband, Walter; daughter, Melissa and her husband Henry; son, Aaron and his wife Amber; as well as grandchildren, Ekaterina and Ethan. In addition, she is survived by her brother, David Harper of Fredericksburg, Texas; sister, Sue and Gayle Monier of Tarpley, Texas; sister, Toni and Russell Stevens of Florida; and brother, Norman and Dorothy Michalec. Robin was also a beloved aunt to numerous nieces and nephews as well as a great-niece and nephew, and many dear friends.

Memorial service will be at 1:30 p.m. Saturday, Nov. 19, 2022, at the Kingdom Hall of Jehovah's Witnesses, 2160 Goat Creek Road, Kerrville.


5 Condolence(s)

DeLeene and Sarah Rick
Bandera, TX
Thursday, November 17, 2022
Sending loving thoughts and prayers to you all.

Dawn & Ed Deinema
Kerrville, TX
Thursday, November 17, 2022
So sorry for your earthly loss and praising GOD for giving Robin release from all her pain. Keeping you and your family in our thoughts and prayers.


Stephen and Jean Stange
Kerrville, TX
Tuesday, November 15, 2022
We are so sad about the loss of your loving wife. And we love you Walter very much. She will no doubt be among the first we see again in paradise. That is our future hope for sure.

Laurie Stiner Kardokus
Linton, IN
Sunday, November 13, 2022
I know how much Robin loved you guys and how much you loved her. She was a treasure, and still is in Jehovah's memory. While it is painful, she has made it! She is protected from what we must still endure. Love ya'll and wish you the best. Laurie & Carl Kardokus

Lisa Veselka
Kerrville,
Friday, November 11, 2022
With love and prayers.