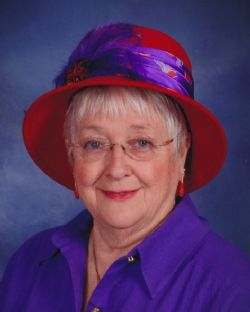 Memorial Service
Grimes Funeral Chapels
728 Jefferson St.
Kerrville, TX 78028
Tuesday, November 22, 2022
10:00 AM
Map & Directions


Send Flowers
Donna Meredith
of Kerrville, TX
September 17, 1939 - November 16, 2022
---
Donna Rea Church Vlasek Meredith was born on September 17, 1939 in Olympia, Washington. She married William Vlasek. Soon, the couple moved to Gonzales, Texas. Donna and William had five children, Pamela Ann Vlasek, Dennis Lee Vlasek, Shaleah Lynn Vlasek Hill, William Ed Vlasek Jr., and Jill Vlasek Reed.

In 1977, Donna remarried John W. B. Meredith Jr. She and ''Bud'' moved to Houston. Donna enjoyed Bud's hobby - Corvettes. Bud was an avid collector. They both loved to show their cars. They even did some racing. While living in Houston, Donna continued to be busy as a mother and pursued a number of careers. She worked for Brown and Root Engineering, Kavaner Engineering, and John Brown Engineering. After a busy 9 to 5 lifestyle, Donna and Bud retired to McQueeney, Texas. While in McQueeney, she started a quilting business - one of her true, artistic expressions. A few years later, Bud became very ill, and Donna had to give up her passion for quilting. After his death in 2010, she moved back to Kerrville, Texas to be with her children and family. Back in Kerrville, Donna was never one to be idle. She dusted off her quilting machine and equipment and revived her love of pattern, color, and design. Donna's quilts revealed to everyone her love of the beautiful, the intricate, and even the joyful complexities of life.

In addition to her creative talents, Donna had a deep love for Jesus Christ, her Savior. She began earnestly to read and study the Bible, participated in Bible studies, and attended Sunday services at Western Hill Baptist Church. While staying active in both her family and her church, she enjoyed baking and reading. Even as Donna had a full life, she took employment with local businesses such as Inn of the Hills, Herring Printing Company, and Mooney Air Craft.

Donna passed away at Peterson Regional Medical Center in Kerrville, Texas early Wednesday, November 16, 2022, at the age of 83. Donna was a Proverbs 31 kind of woman who was fully dedicated to her family and committed to her work. She leaves behind a legacy of strength and resilience.

Donna was preceded in death by her husband John W. B. Meredith Jr., her mother Hope Faith Church Meyers, her father Frank O. Church, and daughter Pamela Ann Vlasek.

She is survived by two brothers Rocky Myers of Everett, Washington, and Lee Myers of Brookings, Oregon. Her four surviving children, Dennis, Shaleah, Willy Jr., and Jill will miss her greatly, as well her many grandchildren and great-grandchildren.

Services celebrating her abundant life will be held at Grimes Funeral Chapels, Tuesday November 22, 2022 at 10 a.m.

In lieu of flowers, the family has requested any love gifts be given to Western Hill Baptist Church.




3 Condolence(s)

Esther Herms Harllee
Boerne, TX
Friday, November 18, 2022
Very sorry for the loss of your precious mother

George and Mary wartenberg
San antonio, TX
Wednesday, November 16, 2022
Deepest sympathy to the family

Ann Van Alst
INGRAM, TX
Wednesday, November 16, 2022
So sorry for your loss. Donna and I made some great memories. I'll remember the good times.