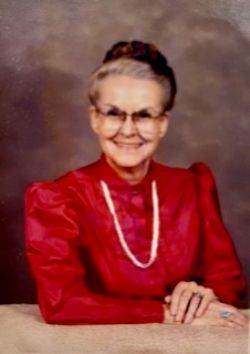 Memorial Service
St. Peter's Episcopal Church
320 St. Peter Street
Kerrville, TX 78028
Monday, December 5, 2022
11:00 AM
Map & Directions


Send Flowers
Loretta Munson
of Kerrville, TX
December 21, 1926 - November 18, 2022
---
Loretta Munson, one month shy of 96, of Kerrville, Texas, passed away on November 18, 2022. She was born in Bayard, NE, moving to Seattle, WA with her family toward the end of WWII. She married Robert Munson there on November 21, 1953.

Before becoming a wife and mother, Loretta's favorite job was reading the newspapers from 3 states for the Dept of Veterans Affairs. Bob's work entailed living in many different states and traveling to many different countries. Loretta loved the travel and especially loved living in Hawaii. Wherever the family was stationed Loretta loved to volunteer. Over the years she served as editor of the NOAA officer's wives newsletter, volunteered for St. Peter's Cottage Shop, ECW, the Kairos prison ministry, and more. Most importantly, Loretta was a badass mom raising 3 children, often times while her husband was at sea.

Loretta was preceded in death by her parents, George and Catherine Gardner; her husband, Bob; her son, Craig; and her cousin, Ron.

She leaves behind her two daughters, Jana and Melinda, their spouses Kate and Rod; 6 grandchildren; and 7 great-grandchildren.

A memorial service will be held at St. Peter's Episcopal Church on Monday, December 5th at 11am.

Memorials may be given to Peterson Hospice or St. Peter's Episcopal.

The family wishes to extend our sincere thanks to Peterson Hospice, especially Pam, and the Cottage Shop ladies.


1 Condolence(s)

Mary Bispham Manegold
North Port, FL
Tuesday, November 29, 2022
Dear girls...I knew your parents well having prayed and worked with them in ministries at St. Peter's for many, many years. She was indeed a fine, strong and sometimes stubborn woman, but was warm and loving too. Her cheese grits were well anticipated at every potluck meal at church and she and Bob attended my "graduation" from Cursillo at Camp Capers. That and so many other memories of your folks brighten my thoughts. Sending love you both, Mary