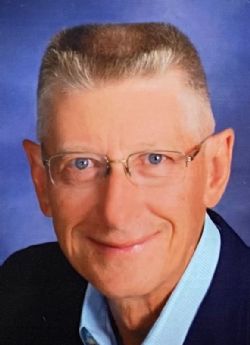 Visitation
Grimes Funeral Chapels
728 Jefferson St.
Kerrville, TX 78028
Sunday, November 27, 2022
4-6 PM
Map & Directions


Send Flowers
Rosary
Grimes Funeral Chapels
728 Jefferson St.
Kerrville, TX 78028
Sunday, November 27, 2022
5:00 PM
Map & Directions

Mass
Notre Dame Catholic Church
909 Main St.
Kerrville, TX 78028
Monday, November 28, 2022
10:00 AM
Map & Directions


Send Flowers
Garden of Memories Cemetery
3250 Fredericksburg Rd.
Kerrville, TX 78028
Map & Directions


Send Flowers
Alton Milton Petsch
of Kerrville, TX
November 1, 1943 - November 22, 2022
---
Alton Milton Petsch, 79, of Kerrville passed away on November 22, 2022 in Kerrville. He was born in San Antonio to Felix and Cora Petsch on November 1, 1943. He married Patricia Whelan on February 20, 1965 in Fredericksburg.

He went to school at St. Mary's Catholic School. He attended Austin Business College. He worked as an accountant for: KHFI TV in Austin, Whelan Construction in Kerrville, Whelan Plumbing in Kerrville, and Notre Dame School and Church in Kerrville. He retired from St. Peter Upon the Water in 2018. He was an Hononary Member of 50 years at the Knights of Columbus and the ACTS community. He was an avid bowler, sports referee, and umpire for many years.

Alton was preceded in death by: his parents Felix and Cora Petsch; brother-in-law Marvin Klein; and in-laws James and Irene Whelan. Survivors include: his wife of 57 years, Patricia Whelan Petsch; children and spouses, Maria and David Low, Michelle and Rick Coldwell, and Melanie and Robert Ehrlich; siblings and spouses, Mary Ann and Anthony Nebgen, Beatrice and Leslie Klein, and David and Janice Petsch; grand and great-grandchildren, Meagan and Scott Williams, Braxton and Blair, Zachary Low, Sydney and Davis Buettner and Hudson, Rylee Coldwell, Robert and Emily Ehrlich, Oliver and Charlotte, Ashley Ehrlich, Brooke and Carmichael Wiley and Emmett, and Brandy Ehrlich; and numerous in-laws, nieces, and nephews.

Visitation will be from 4:00-6:00 p.m., Sunday, November 27th, with rosary recited at 5:00 p.m. at Grimes Funeral Chapels.

Funeral services will be held at 10:00 a.m., Monday, November 28th at Notre Dame Catholic Church with His Excellency, The Most Reverend Michael J. Boulette, D. Min. officiating, and Fr. Jeff Pehl and Fr. Rafal Duda concelebrating. Burial will follow at Garden of Memories.

Pallbearers will be: Zachary Low, Scott Williams, Davis Buettner, Robert Ehrlich, Carmichael Wiley, and Branden Harvey.

Memorials may be given to St. Peter Upon the Water, Notre Dame School and Church, Knights of Columbus, or charity of your choice.

The family wishes to extend our sincere thanks to the doctors, nurses, and staff on the 3rd floor at Peterson Memorial Hospital; Dr. James Young, Dr. David Peters, and Dr. Linette Melcher.


11 Condolence(s)

kristi wallace
kerrville, TX
Friday, December 2, 2022
My condolences to the family, Mr. Petsch was such a sweet man. You are in my thoughts and prayers.

Charlotte Klein
Austin, TX
Thursday, December 1, 2022
Our thoughts and prayers are with the family. Dayton and Alton were roommates when we all first moved to Austin. He was one of the good ones.

Jay and Gennie Ward
Llano, TX
Tuesday, November 29, 2022
Patricia and your loving family,

Your love and strength is in Gods hands and have no fear, Alton is in good hands. God bless Alton and God Bless you all.

Love and Prayers!
Genie and Jay Ward

Harvey Brinkman
Kerrville, TX
Tuesday, November 29, 2022
My condolences to Alton's family. Alton was a fixture that could be counted on for those in a pinch. During my time with the Kerrville Little League, Alton was the go to guy to be your best umpire. Whenever I ran into Alton over the years, he was still "the umpire" to me. Alton was a very strong Christian man and it always showed in our visits.

Ray Bob & Betty Sue Frizzell
Kerrville, TX
Saturday, November 26, 2022
Blessings to family- so sorry for your loss

Carolyn & Tommy moon
Universal. City, TX
Saturday, November 26, 2022
I graduated with Alton and he was a wonderful person and great friend. I just saw him at our class reunion. Please give the family my deepest sympathy

Marcella West
Bellevue, NE
Thursday, November 24, 2022
My deepest sympathy on your loss.

Robert Tracy Ehrlich
Follett, TX
Thursday, November 24, 2022
The world is a better place for having Alton in it. I will miss you my friend but will see you again.

Becky Hancock……ACC receptionist
Kerrville, TX
Thursday, November 24, 2022
Mrs Petsch My Sincere Condolences and Prayers for your family during this difficult time..

Bill Fisher
Zephyrhills, FL
Wednesday, November 23, 2022
Patricia and family. My prayers and sympathy go out to you and your family.

Catherine Rock Pierce
Boerne, TX
Wednesday, November 23, 2022
My deepest condolences at the loss of Alton. He was a good friend to my step-father, Edward Rohn. Fun story: Alton, Mr. Petsch to me, helped put my canopy bed together when I was 8 years old. He let me help, although I more in the way, I am sure! A good memory. Funny how some things always stick in your mind. Have thought of Mr. Petsch many times over the years. My prayers are wrapped around your family. God Bless.