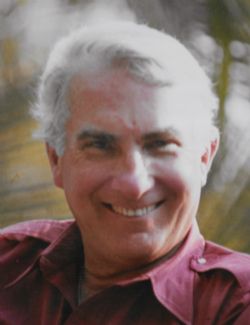 Memorial Service
St. Alban's Episcopal Church
Harlingen, TX
Saturday, January 7, 2023
2:00 PM


Send Flowers
Jimmy Cocke
August 1, 1930 - December 23, 2022
---
James Robert Cocke passed away peacefully with his family by his side on Friday, December 23, 2022, in Boerne, Texas, at the age of 92. Known by most as Jim or Jimmy, he was born to Marion Legge and William Hill Cocke in San Antonio, Texas on August 1, 1930. He married the love of his life, Joy Garrison on November 27, 1958, in Harlingen, Texas and they were blessed with 62 years together.

Jimmy lived most of his life in Harlingen, TX except for his college years when he attended THE University of Texas at Austin. He earned his bachelor's degree in business administration in 1953. He was a proud member of Kappa Sigma fraternity and he continued to serve as an alumni advisor and fundraiser for many years. In 1990, he was awarded the distinctive Senator John Tower Award for his many contributions to Kappa Sigma. He served the City of Harlingen as a City Commissioner from 1966 - 1968 and helped guide the recovery & rebuilding from Hurricane Beulah and the ensuing flood of the Arroyo Colorado River.

Upon his graduation from U.T. he returned to Harlingen where he joined his father's company, Valley Ready Mix Concrete in July 1953. In 1967 he was elected President of the company and under his guidance it grew to be the largest privately-owned company in the Rio Grande Valley. Only Valley Baptist Medical Center employed more people. During the years he ran the firm, many employees of the company talked about how much they loved working there; Jimmy fostered a sense of pride in everyone there because he considered every one of them vital to the firm and valued their service and contributions. He was a great business mentor inside & outside of the company and loved to watch people grow in their business success. He created a compensation plan where every employee could earn a generous bonus based on the profits of the company that year. He felt that the people who worked so hard for the company should share in the rewards together with the stockholders. At its apex, the company engaged in trucking & barging operations, computer software, ready-mix concrete, concrete pipe, pre-stressed concrete products, reinforcing & structural steel and real estate development. To reflect the broad diversification of its operations, the company name was changed to Varmicon Industries in 1980. After 17 years of Jimmy's leadership, the family sold the company in 1984 and he took on other business endeavors including ranching, real estate and venture capital. He also continued to serve his community by raising funds for many worthy causes, especially the Salvation Army.

Raised in his mother's beloved Episcopal church, he was baptized as an infant and was confirmed in 1941 at St. Albans Episcopal Church in Harlingen. At the age of 11, he accepted Jesus Christ as his personal savior and became a member of St. Albans Episcopal Church. Jimmy was one of the longest serving members at St. Albans, faithfully attending there for 81 years. His faith was a quiet one although he instilled the importance of regular church attendance to his children, steadfastly guiding them in their Christian faith. Jimmy served the church as Senior Warden and also as the president of the board of directors of St. Albans Day School. In 1980, Jimmy & Joy donated the funds needed to develop the new school building at St. Albans and named it after Jimmy's mother, Marion Cocke. He stayed involved with the school's growth and its service to the children of the Rio Grande Valley for many years. In 1993, Joy & Jimmy hosted over 1,500 people at their ranch near Raymondville for a ''Cattle Barons'' party featuring a concert by country legend Kenny Rogers. The event raised almost $100,000 for St. Albans Day School.

Jimmy & Joy shared a deep love of the outdoors, especially bird hunting in Mexico and fishing the lower Laguna Madre. Together, they relished travelling the world and always immersed themselves in the customs, people & cultures of the many countries they visited. In 1984, Jimmy & Joy first traveled to Africa on safari in Zambia and fell in love with the continent. In the ensuing years, they would make nineteen trips there, often taking their children & grandchildren with them to share the beauty and splendor of the scenery & animals. They preferred remote tent camping without electricity and running water over the resort lodges; they wanted to feel like a true part of the African plains. They have requested that some of their ashes be returned there and spread together in the Masai Mara of Kenya. Theirs was a true love story that touched and enriched many lives.

In 2013, after finalizing his business endeavors, Jimmy and Joy moved to the Texas Hill Country. They purchased a beautiful home which overlooked the hills and canyons near Hunt, an area he so fondly remembered as a child. He finally fully retired at the age of 82 and devoted himself to caring for Joy as her health diminished in her last years. Because of his devoted care to Joy, they were able to live at home together until her death in 2020.

Jimmy was preceded in death by his parents, Hill and Marion Cocke, his sister, Donald Cocke Smith and his brother, William Hill Cocke, Jr. He & Joy lost their firstborn son, Guy Staton Cocke, who was killed by a drunk driver on April 26, 1975. Jimmy & the family remind everyone: please do not drink and drive.

Jimmy is survived by his children, Cindy Cocke Sutton, Toni Gayle Cocke, Shelley K. Cocke, and Cinco Cocke. His grandchildren include Julie & Garrison Sutton, Jodi & Duncan Sutton, Evyn & Hill Cocke, Sarah & Caleb Truax, Sydney & Jordan Grier, Savannah Cocke and Marshall Cocke. He delighted in having twelve precious great-grandchildren, who called him "Daddy Jim''. He adored receiving texts with photos and videos of his grandchildren and great grandchildren and their activities. It provided him with a smile and much pride seeing them grow.

The Cocke children would especially like to acknowledge their aunt, Jean Garrison Allgood, for all her loving support to them over the years. She has been a steady & faithful stalwart of care as we lost our wonderful mother and now, three years later, our beloved father.

A memorial service celebrating Jimmy's life will take place on Saturday, January 7, 2023 at 2 PM at St. Alban's Episcopal Church in Harlingen. The Honorable Bishop David Reed and the Reverend John Inserra will officiate the service with communion for all.

The Cocke children warmly invite everyone to a reception in the parish hall immediately following the service.

The family asks that memorials be given to St. Alban's Episcopal Day School or to the charity of your choice.



4 Condolence(s)

Lynn Williams
Dallas, TX
Saturday, December 31, 2022
I am so sorry for your loss. I know you all take comfort in knowing he is back with your mother, who was the love of his life. You are all in my prayers!

Sharon Helsley McGinley
Port Isabel, TX
Friday, December 30, 2022
Shelly Cocke & family,
Your dad & mom were a comfort at St Albans Episcopal church on Sundays.
Prayers for peace if heart.
His legacy is each of you.

Perrin Wells
Mountain Home, TX
Thursday, December 29, 2022
best wishes to the whole family

Andrea Cobb Robertson
San Antonio, TX
Thursday, December 29, 2022
Shelley and Cinco, I am sorry for your loss, however, rejoicing with your mom as she sees her sweetie once again. Jimmy Cobb is probably telling him some good stories about all of y'all too!!!

My love to your family!