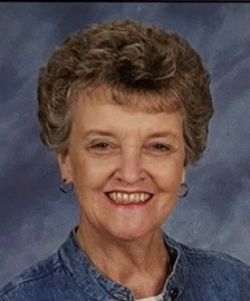 Celebration of Life
Trinity Baptist Church
800 Jackson Rd.
Kerrville, TX 78028
Friday, January 6, 2023
2:00 PM
Map & Directions


Send Flowers
Gaylene Pricer Ingram
of Kerrville, TX
December 26, 1936 - January 4, 2023
---
Gaylene Pricer Ingram of Kerrville, Texas, peacefully went to be with the Lord on January 4, 2023 at the age of 86.

Gaylene was born on December 26, 1936 to Leta Gay and Alvin Pricer. She grew up in Corpus Christi, Texas and graduated from Miller High School. She continued her higher education at University of North Texas in Denton. She graduated in 1955 with a Bachelor of Arts in Music and Minor in Education. She began her teaching career at Carrol Lane Elementary in Corpus Christi, Texas.

In December of 1956, Gaylene met Robert Ingram. They married on June 23, 1962. They moved to Kerrville in 1969 and started their family. They had two daughters, Merissa (1967) and Krista (1970).

After taking some time off to raise their daughters, Gaylene returned to teaching at Tom Daniels Elementary as a music teacher. She retired in 2000 after 30 years of teaching. To celebrate her retirement, Merissa and Krista surprised her with a trip to New York City. It was a trip that many special memories were made.

Soon after her retirement from her career as a music teacher, she began teaching private piano lessons in her home. All of her students were thoroughly prepared for the spring recital each May. Besides teaching piano, the Lord blessed her with the opportunity to serve as the pianist at Trinity Baptist Church for 35 years. There wasn't anyone more dedicated to playing the piano each Sunday Morning. During her years at Trinity, she also served as the director of the handbell choir, Sunday school teacher, VBS teacher, and a member of the church choir.

Besides her love of music, she enjoyed spending time with her family, especially her four grandchildren who only knew her as their ''DG''. They were her pride and joy! She sat through her share of dance recitals, baseball games, football games, choir concerts and she loved every minute of it!

She was also blessed with the opportunity to travel the world with her sisters-in-law, Kay Mobley and Joyce Ingram. They traveled to Switzerland, Germany, England, Norway, Italy, London, France, Nova Scotia, Hawaii, Alaska and Canada.

She was a devoted fan of football, especially the Dallas Cowboys. She remained faithful to them even through their disappointing seasons. If you dared to call during a game, the conversation was guaranteed to be cut short.
Gaylene was preceded in death by her husband, Robert Ingram; parents, Leta Gay and Alvin Pricer.

She is survived by her daughters, Merissa Leigh Sorenson (Walt), and Krista Rene Ginnelly (Patrick); her four grandchildren, Claire Sorenson, Joshua Sorenson, Evan Ginnelly and Brady Ginnelly. She is also survived by her sister, Hyla Lott (Loyd); sisters-in-law, Kay Mobley and Joyce Ingram; as well as many nieces and nephews.

The family would like to extend our sincere thanks to the nursing staff with New Century Hospice who lovingly cared for Gaylene the past 5 months.

A Celebration of Life will be held on Friday, January 6th at 2:00 pm at Trinity Baptist Church in Kerrville, Texas. To honor Gaylene's love of color and vibrant personality, please wear something bright.





8 Condolence(s)

Sasha Wallk
Port Huron, MI
Tuesday, January 17, 2023
Mrs. Ingram started out in my life as my music teacher at Tom Daniels Elementary. Then when my mom began attending Trinity Baptist Church,I discovered that she was the pianist there. She was an amazing woman.i remember hating that warm-up song "Mommy Made Me Munch My M&Ms" but little did I know that later life I would be using that same song to warm-up my vocals before solo performances in front of the Dallas Cowboys, the Dallas Stars, and even the Grand Ole's Opry, among other numerous places. Thank you so much Mrs. Ingram for the honestly most annoying song ever, and most importantly your refusal to allow me to give up singing. You were an angel on Earth and now you get be an angel on the best place possible. Fly high beautiful Angel. 😇

Cheri Miller Turgeon
Jennings, LA
Sunday, January 15, 2023
Merissa and Krista I am so sorry for your loss. What an amazing Mom she was and she touched so many lives. My prayers are with you.

Jennifer Rosales Ayala
Kerrville, TX
Friday, January 13, 2023
You were a wonderful music teacher. I always enjoyed going to music class. You will be missed dearly.

Christa Jetton Gonzales
Kerrville, TX
Thursday, January 5, 2023
Mrs. Ingram was my music teacher when I was student at Tom Daniels Elementary, and I have always remembered how wonderful she was to me and the other students. Music class was my favorite, and I so looked forward to seeing her and participating in the activities that she had planned for us each day. She put so much effort and care into making our school plays special! She was an excellent teacher and will be missed and fondly remembered by all her students that had the privilege of being in her class.

Judy Southerland
Kerrville, TX
Thursday, January 5, 2023
What a delight to have served with Gaylene in Trinity Baptist Worship Choir
Ever faithful. A true servant of our Lord.
I was glad to know her. Spunky lady. She will be missed.
My condolence to her family.

Sarah Van Trees
Tallahassee, FL
Thursday, January 5, 2023
Mrs. Ingram was my music teacher at Tom Daniels. She was such a wonderful teacher and special person. I will never forget her distinctively sweet voice. We all enjoyed the musicals she would put on, and I felt so honored when she asked me to participate in her chime choir. Every day, she would ask us students who would like to try to sing an "A" perfectly on pitch, and every day we would try to hide in our seats from her glance (still makes me laugh!). As a teenager, a child I babysat took weekly piano lessons from her. She helped to instill an appreciation for music in me---so much so, that I studied music in college and eventually practiced music therapy with hospice patients, which was incredibly rewarding.
I was JUST thinking about Mrs. Ingram this Christmas, as I streamed the 1986 Nutcracker Ballet, the same one she put on for us each year in her class. This year was the very best for me, as I watched my almost-2-year-old daughter put on her brand new tutu she received for Christmas and danced her little heart out! The lives Mrs. Ingram touched are countless. I am grateful for her, and my sincere condolences go to her family. I do believe heaven must sound better now!

Marti Paiz Strange
Fredericksburg, TX
Wednesday, January 4, 2023
I'm so sad for you precious lost. Your mom
Was our neighbor that lived behind us as we
Lived on Temple Dr. She was so sweet when it came
To handling certain things that happen. For instance
The big snake that had gotten into her ac unit and
Scared us all. My husband took care of it asap.
Then yet another time when Mr. Houston her next door
Neighbor his house was on fire. I called Mrs. Ingram
And we all chipped in to help him out. She was
Always a special neighbor and to think she taught
My little girls at Tom Daniel's. She had the best garage
Sales on the block. She's probably getting ready
In heaven for all the great things to come. I will .
Miss her always. She was truly a guardian angel
My thoughts and prayers are with all of you.
God Bless, Marti Strange


Sam Ligon
Kerrville, TX
Wednesday, January 4, 2023
Dear family: Gaylene was a wonderfully gifted lady. Her musical skills blessed many students, parents and friends through out her life. It was my privilege to serve with her at Trinity Baptist Church for 20 years as organist. Her life as a Christian reflected Jesus to all who knew her! Keep the SON in YOUR eyes!
Sam Ligon