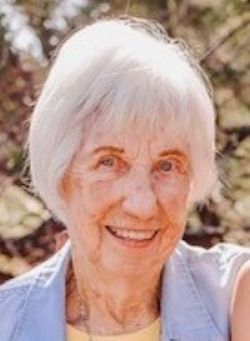 Funeral Service
Grimes Funeral Chapels
728 Jefferson St.
Kerrville, TX 78028
Friday, January 20, 2023
11:00 AM
Map & Directions


Send Flowers
Garden of Memories Cemetery
3250 Fredericksburg Rd.
Kerrville, TX 78028
Map & Directions


Send Flowers
Betty Gum
of Kerrville, TX
December 15, 1929 - January 9, 2023
---
On January 9, 2023, the light which brightened our world dimmed, as our Ginny peacefully drifted into eternal rest at the age of 93. She was always classy and chic, stylish and trendy… an absolute lady…pretty and such a great sense of humor.

Betty Jane Rainey was born December 15, 1929, in Fort Worth, Texas to James H and Lorene Rainey (Smith). Betty was the oldest of two and she worked alongside younger brother James ''Sonny'' Rainey at a local drug store when they were teenagers. Betty enjoyed bowling with friends and during an outing met a group of young men at the bowling alley, one of who was Mack Gum. They bowled a game, then Betty accompanied Mack to the station where he was catching a train to California that same evening to report for duty at the Naval Base. They exchanged addresses and were pen pals over the next two years. Mack later admitted he would have married Betty that night, but instead the story goes, he returned to Fort Worth two years later after his stent in the Navy to confirm Betty was still single and working in the same drug store. She was…and they were married February 19, 1949 and celebrated 63 years of marriage while enjoying life and many adventures.

Betty and Mack moved to Beeville, Texas where they began a family and each their own careers. Betty was first employed as a telephone operator for Southwestern Bell Telephone Company (later known as AT&T) until her retirement in 1983 as their Regional Director when Mack accepted a three-year transfer with Amoco Oil to Gabon, Africa.

The Gums shared a love for travel. During the early years of marriage, vacations consisted of camping along the Brazos River with a shell over the bed of their pick-up truck, but after moving to Africa, their style became first-class air travel to many foreign countries. After Mack retired, they kept traveling within the states and joined a motor coach club which took them on several long caravan-style trips with friends and family in their motorhome. Betty also loved the casinos and was still going up until the end of 2022.

After becoming a grandma, Betty became affectionately known as ''Ginny''… the name given by her oldest grandchild who could not pronounce granny correctly. Ginny stepped into that role with the same style and class she'd always had and never looked back. Betty and Mack moved to Kerrville in 1987 and their oldest grandchild followed in 1990, but the real fun started in 1994 when they became great-grandparents. Ginny was always up for an adventure. She could not swim but would jump waves in the ocean or float the Frio River. She was afraid of heights but rode roller coasters at amusement parks. She would sit for hours in the summer watching her grandkids at the pool and attended every single sporting event, dance recital or musical performance. Ginny allowed the children in the car to control the radio and she just be-bopped along to whatever the kids were listening to. She never had to be manipulated into any situation when it came to her grands…she was always a willing participant to join in on the fun! Ginny became well known by KISD staff and students as she attended all the school events, too. She was ''Ginny'' to everyone.

Betty was preceded in death by her parents, her brother, her amazing husband Mack, and her in-laws. Left to honor their mother's memory are her son Jerry Gum (Dana) and his family from New Mexico and daughter Beverly Doubrava from Kerrville. Nieces, nephews, cousins and a vast array of friends will also miss her.

Ginny's grandchildren will cherish all the years of laughter and wonderful memories she blessed them with. Betty leaves behind 5 grandchildren, 11 great-grandchildren and 1 great-great granddaughter: grandchildren Carrie Pruitt (Ronnie), Amy Doubrava and Dea Ann Henson; great-grandchildren Lauryn, Meagan, Carlie and Chase (Brittany) Doyle and great-great granddaughter Macklynn Jane Bev Bagwell.

Betty was one to support whatever was important to the ones she loved. Should you feel compelled, in lieu of flowers, contributions to a charity or organization of your choice in her name would be an honor.

Services will be held at 11 AM, Friday, January 20, 2023 at Grimes Funeral Chapels, officiated by granddaughter Carrie Pruitt. Burial will follow at Garden of Memories Cemetery.

Pallbearers will be Chase Doyle, Larry Blundell, Zach Cox, Ronnie Pruitt Jr. and Calvin Pruitt.