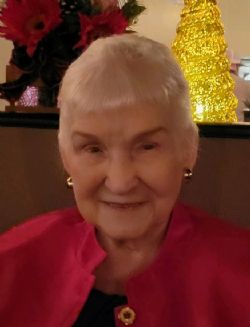 Visitation
Grimes Funeral Chapels
728 Jefferson St.
Kerrville, TX 78028
Saturday, January 21, 2023
10-11 AM
Map & Directions


Send Flowers
Funeral Service
Grimes Funeral Chapels
728 Jefferson St.
Kerrville, TX 78028
Saturday, January 21, 2023
11:00 AM
Map & Directions


Send Flowers
Lakelawn Metairie Cemetery
New Orleans, LA


Send Flowers
Virgia Quin Harkey
of Kerrville, TX
December 26, 1932 - January 16, 2023
---
Virgia Lee Harkey (Quin), passed away peacefully at 3:00 pm on Monday, January 16, 2023 and went to be with her Lord at the age of 90. She was born December 26, 1932 in Bogalusa, Louisiana.

She was preceded in death by her loving parents, Frank and Edna Mae Quin; beloved brother, Jerry; dear son, Michael Mioton; and loving husband, Ira B. Harkey, Jr.

Lovingly remembered by her daughters, Jeanine Mioton and Jennifer Sheffield; and son, Bradford Mioton. Also survived by her loving sister, Frankie Mae Quin.

She is also survived by her grandchildren Jessica, Rebecca, Erica, Drew and Lauren; as well as her daughters in law, Linda and Laura. She had six great grandchildren: Layla, Juliana, Cade, Rylee, Reagan and unborn Hunter.

She was first and foremost a loving mother, but also a licensed airplane pilot and past president of the Bridge and Canasta group at Riverhill Country Club.

She will be sorely missed and forever loved.

Services will be held at Grimes Funeral Chapels of Kerrville on Saturday, January 21, 2023 at 11:00 am. A service and interment will take place at Lake Lawn Metairie Funeral Home in New Orleans at 11:00 am on Saturday, January 28, 2023.




1 Condolence(s)

Mary & Matt Olden
Kerrville, TX
Saturday, January 21, 2023
Mrs. Mioton: We were so surprised to learn of your mother's passing. Please accept our sincerest condolences, She will be sorely missed.

Mary & Matt Olden
Hill Country Limousine Service, Inc.