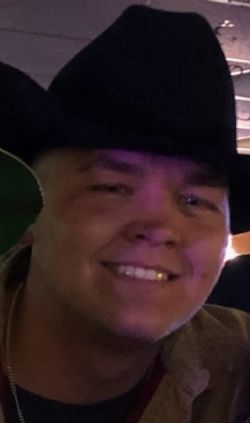 Visitation
Grimes Funeral Chapels
728 Jefferson St.
Kerrville, TX 78028
Monday, January 23, 2023
4-6 PM
Map & Directions


Send Flowers
Funeral Service
Grimes Funeral Chapels
728 Jefferson St.
Kerrville, TX 78028
Tuesday, January 24, 2023
2:00 PM
Map & Directions


Send Flowers
Sunset Cemetery
Mountain Home, TX


Send Flowers
Elijah John Albertson
of Kerrville, TX
January 9, 1999 - January 17, 2023
---
Elijah John Albertson, 24, of Kerrville, passed away on January 17, 2023 in Hunt. He was born in Kerrville on January 9, 1999 to John and Tracy Albertson.

He graduated from Ingram Tom Moore High School in 2018. In the years following high school, he worked in plumbing, HVAC, and welding. He was a member of Impact Church. He enjoyed hunting, fishing, beer, women, playing pool, and dancing.

Eli was preceded in death by his paternal grandfather, Raymond David Albertson and his maternal grandmother, Debbie Gail Blakeley.

Survivors include his parents, John and Tracy Albertson of Ingram; his siblings include Kaylah Ward of Kerrville, Noah and Miguel Albertson of Killeen, McKyah Albertson of Kerrville and Delilah McDonald of Ingram. Eli is also survived by his grandparents, Heather Albertson, Jeff and Suzanne Blakeley, all of Kerrville; two nieces, Scarlet and Olivia Schreiber of Kerrville; numerous aunts, uncles and cousins.

Visitation will be held between 4 pm and 6 pm at Grimes Funeral Chapels of Kerrville, on Monday, January 23, 2023.

Funeral services will be held on Tuesday, January 24, 2023 at 2 PM at Grimes Funeral Chapels with interment immediately following at Sunset Cemetery in Mountain Home.

Pallbearers will be Dalton Thomas, Tracy Henry Jr., Caleb Schweizer, Cameron Evans, Freddy Curry, Riley McGee, Baylan Fisher and Trenton Griffin.

The family wishes to extend their most heartfelt gratitude to the Fisher and Griffin families.

Condolences may be sent at www.grimesfuneralchapels.com.

Funeral arrangements are entrusted to Grimes Funeral Chapels of Kerrville.

12 Condolence(s)

TERESA and RUPERT
Harper, TX
Tuesday, January 24, 2023
It breaks our heart that you were taken so unexpectedly. Your smile and big hugs will forever be in our minds and hearts. Till we see you again, fly high sweet Eli.

Rebecca Loop
Temple, TX
Tuesday, January 24, 2023
Dear Eli,
I'm deeply saddened by your short time on this earth. I'm very grateful for having known you. You are a beautiful child of God and my memories of you in elementary school will be greatly cherished always. Love and prayers to your sweet family.
Sincerely with love to all.
Becky Loop

Tiani Colunga
Ingram, TX
Monday, January 23, 2023
Sending Prayers and Condolences To The Albertson Family
I Have gotten to know Eli from school and Got to Graduate with him He was a Wonderful and Funny Person! He was all Smiles and Jokes !

Andrea Honeycutt
Kerrville, TX
Monday, January 23, 2023
I am so sorry for your loss. Praying for peace and strength in the days ahead.

Tracie Reeh
Kerrville, TX
Sunday, January 22, 2023
Joey and I are so very sorry. Praying for strength, courage, and peace in this most difficult time.

Tony & Betty Martin
Fredericksburg, TX
Sunday, January 22, 2023
Our heartfelt sympathy for your loss, we met Eli through our grand daughter Sydney, very polite young man. He's in Glory with our Lord Jesus, we will see him again!
May God comfort and strengthen you in your time of sorrow.

Shyann nowlin
Ingram, TX
Sunday, January 22, 2023
I'm deeply sorry for the lost of Eli he was a great person always had a smile anywhere anytime

Tina Burdick
Kerrville, TX
Sunday, January 22, 2023
Our hearts are truly broken. What a beautiful soul.
Ely you will be sooo missed. For reasons unknown to us
right now, you were called home. & it so hard to grasp
someone being taken so young. This is where we keep
our faith close. I don't even have words for Tracy, John,
Kayla, Noah, Myk & Lilly.. Because, there is none..
Just know I love you guys & I pray for peace & some comfort
knowing Ely is with our lord & is forever riding
around doing what he loved in God's Kingdom.
Ely, you & that beautiful smile will forever be
In the hearts of every person's life you touched..
Until we meet again! all the love, Tina




Connie Cason
Ingram, TX
Saturday, January 21, 2023
Sending love and prayers to the family Eli was an awesome young man, Gone way too soon

Jeff Hughes
Ingram, TX
Saturday, January 21, 2023
My deepest condolences to the family and friends. I have been friends with John for many years and while I have never met Eli I have listened to John tell me how great his boys are and how the are growing into amazing young men. I love you brother and my heart goes out to you in this time of tragedy. It goes without saying but we are here for you and your family if need anything, hmu.

Gina Fenner
Plano, TX
Friday, January 20, 2023
Eli was an amazing kid! His heart was pure and he had the best intentions. He was a son to be so proud of! As a second grader is feelings were so big. He was always kind and wanting to help others. He was always so compassionate!

Rachel Ender
ingram, TX
Friday, January 20, 2023
I send my condolences to the Albertson family I have known Elijah's mom for years I never got to know Elijah personally but I always heard his family say he was a sweet kind loving young man