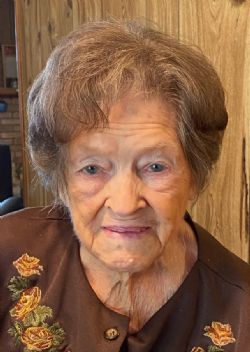 Funeral Service
Notre Dame Catholic Church
909 Main St.
Kerrville, TX 78028
Thursday, March 9, 2023
10:00 AM
Map & Directions


Send Flowers
Fort McKavett Cemetery
Fort McKavett, TX


Send Flowers
Margie Mildred Tremper
of Kerrville, TX
July 27, 1927 - March 5, 2023
---
Margie Mildred Tremper, 95, of Kerrville, passed away on March 5th, 2023 at her home in Kerrville, TX. She was born in Pasche, TX to William Monroe Woolf and Gladys Jewel Swain. She married Wallace Irving Tremper on July 14, 1949 in Uvalde, TX.

She worked as a waitress most of her life before retiring in 1989 and then moved on to caring for families with elderly parents up until 2008.

Margie was preceded in death by her father, William Monroe Woolf; mother, Gladys Jewel Swain; daughter, Gladys Pearl Conklin; husband, Wallace Irving Tremper; and son, Arthur Clyde Pierce.

She is survived by her children, Jane Ellen Tremper, Floyd Monroe Tremper, Charles Wallace Tremper and his wife Debra Lane Tremper all of Kerrville; grandchildren, Beth Ellen Conklin of New Braunfels, David Pearce of Marble Falls, Teresa Pearce of Marble Falls, Kristopher Morris of Ingram, Michelle Rowan of Ingram, Jennifer Tremper of Buda, Taylor Tremper of Kerrville, Travis Pearce of Marble Falls, Charlie Tremper of Ingram, Charlene Tremper of Kerrville, EJ Pearce of Marble Falls; 28 great-grandchildren; 19 great-great-grandchildren; and 2 great-great-great-grandchildren.

Funeral services will be held at 10am Thursday, March 9, 2023 at Notre Dame Catholic Church. The burial will immediately follow at Fort McKavett Cemetery in Fort McKavett, TX.

Pallbearers will be Charlie Tremper, Rolando Valenzuela, Dwayne Falardeau, Jerry Persyn, Ethan Rowan, and Rolando Valenzuela Jr.

The family wishes to extend our sincere thanks to the Peterson Hospice nurses, caregivers and all the volunteers.

5 Condolence(s)

Robby Hurt
Mountain Home, TX
Wednesday, March 8, 2023
My condolences and sympathy. What an amazing life getting to see your great great great grandchildren. That's nearly unheard of.

Mr. Tremper certainly helped keep my vehicles running and I was in school with Floyd and enjoy talking to him when I see him.

Robby Hurt


Colin and Karen Giles
New York, NY
Wednesday, March 8, 2023
To Jane and family members,

We remember so fondly the times your mother would come to the office.
She was so lovely and exuded a wonderful spirit.

You all enveloped her with love and shared good times.

May she rest in peace, and your hearts hold her memory dear.

With sympathy,

Karen and Colin Giles

Faye Arnold
Kerrville, TX
Tuesday, March 7, 2023
She was a very wonderful woman. She always made me feel welcome as if I was one of her children. She was very loved by many people and will be greatly missed. My thoughts and my prayers are with all the family and friends of this wonderful woman. Always cherish your memories and hold her close to your heart.

Paul Carr
san antonio,
Tuesday, March 7, 2023
Kind of a friend/confidant/ mother figure. Always a warm welcome and word's "look what the dog drugged in". That was me!

Colin and Karen Giles
New York, NY
Tuesday, March 7, 2023
To Jane and family members,

We remember so fondly the times your mother would come to the office.
She was so lovely and exuded a wonderful spirit.

You all enveloped her with love and shared good times.

May she rest in peace, and your hearts hold her memory dear.

With sympathy,

Karen and Colin Giles