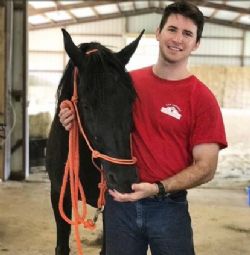 Memorial Service
Kerrville First United Methodist Church
321 Thompson Dr.
Kerrville, TX 78028
Saturday, March 11, 2023
10:00 AM
Map & Directions


Send Flowers
Patrick Timothy Williams
of Argyle, TX
October 6, 1992 - March 6, 2023
---
Patrick ''Patch'' Williams, was born October 6, 1992 and found his peace on March 6, 2023. Patch attended Nimitz Elementary and Tivy High School, with a brief stint at Marine Military Academy before graduating from Texas Christian University with a Bachelor of Science in Economics.
After graduation, Patch traveled to Shanghai, China on a program to teach English to local students. True to his adventurous spirit, Patch took advantage of the opportunity to travel around Asia and even booked a solo tour to North Korea. While there he visited the DMZ, rode white stallions, went to a shooting range, and was treated like royalty. Patch knew no fear.
Upon his return to the states, Patch started his career in finance - first at TD Ameritrade, then at Charles Schwab where he continued to work until his passing. Patch had a zest for life - never met a stranger and never passed up a dare. He fiercely loved his family, his friends, and his numerous mentors. He would have given his shirt to any of them. He loved hunting, horseback riding, John Wayne movies, Merle Haggard, and the Texas countryside. Patch will be missed by many.
Patch was preceded in death by his mother, Mary Elizabeth Williams, and his maternal grandparents, Ray and Beth Williams.
He is survived by his sister, Mary Beth Williams, his brother, John Williams and his family, Bill and Carol Arnold, Will Arnold, Aubrey Arnold, Caroline/Ned Daoro, and Julia/Conrad Huffstutler. He also leaves behind his treasured Aunts and Uncles and their families: Ralph and Terri Williams, Ray and Mary Williams, Holly and Judge Lee Harris, Rob Williams, and many beloved cousins.
Memorial services will be held at 10 AM, Saturday, March 11, 2023, at Kerrville First United Methodist Church, officiated by Rev. David Payne. You may view the livestream of Patch's service by clicking the link below.
Donations in his memory may be made to Texas Suicide Prevention Collaborative: https://texassuicideprevention.org/support-texas-suicide-prevention-council/.
21 Condolence(s)

Brian
, NJ
Sunday, March 12, 2023
First and foremost, my condolences to the Williams family.

Pat,

You are and will always be a great friend and a brother to many. You were always there for your friends when they needed you most. I miss you more than anything, brother, I wish I was there for you. I am going to miss your positivity and especially our talks. I will never forget you, brother. I have never met someone as genuine as you. Rest easy and fly high.

Take care, brother. Until next time.

Lisa (Cook) McDonald
Kerrville, TX
Sunday, March 12, 2023
Praying for your family for God to hold you close as you grieve.

Zachary
Carrollton, GA
Saturday, March 11, 2023
Pat, it was a true honor to be your friend. You were an incredibly reflective, conscientious, humorous, and selfless person, always willing to support those that needed it. My heart arches longing to encounter your playful old soul once again. I will always remember you, and the positive influence you had on my life as well as the lives of those around you.


carol triola
Kerrville, TX
Saturday, March 11, 2023
Carol and Bill, So sorry to see todays obit about Patrick. I know your hearts are broken. I will always remember what wonderful gifts he had. He so appreciated you two and all you did for him!

Clayton K
Dubai,
Saturday, March 11, 2023
Patch:
You were the bit of home I needed in Shanghai. Those first few months were so lonesome, but with your big Texas energy and compassionate heart, home wasn't so far away. I will always share the positive impact you had on me while we lived abroad; I'll never forget trying Ajisen Ramen with you for the first time and how bizarre we both thought the experience was. Wishing you had also been in Dubai, so we could've shared even more laughs about bizarre things.
I'm sure you brought comfort, peace, and the feeling of home given to me to so many others. I will always be grateful to you and can't wait to have a ramen with you in heaven.
To the Williams family: how lucky we are to have known such an amazing person. I extend my deepest condolences and pray your grief turns into peace.

Devin Keller
Yakima, WA
Saturday, March 11, 2023
Pat, it is a vast understatement to say that I was immensely blessed to be able to call you a friend. I will never forget you, I love you, and your memory and spirit will NEVER be forgotten.

Adam T (Lay)
Sydney, TX
Friday, March 10, 2023
Truly grateful for the memories I have with Pat & the time I got to spend with him. A truly amazing human & I will really miss him. His kindness and sense of humour shone & he was a light in many people's lives, including my own.

My sincere Condolences to Pat's family and friends, my thoughts are with you all.

Rest in Peace, until we meet again.

Codey S.
Muskogee, OK
Friday, March 10, 2023
Thoughts and prayers go out to the close friends and family of Pat. He was a great friend of many and would always try to lookout. The joy he brought to our lives was priceless and will not be forgotten. As most of us would say, he was our favorite old soul. Hope we meet again someday, but until then you will be greatly missed. Rest In Peace

Troy
Melbourne,
Friday, March 10, 2023
Pat,

It was an absolute privilege to call you my mate. Your humour & willingness to help your friends will be missed dearly by all.

Until we meet again, rest easy mate.

My condolences to the Williams family during these troubling times. Wishing you love, strength & resilience for the difficulties ahead.

Luke
Stamford, CT
Thursday, March 9, 2023
Pat,

You never failed to put a smile on my face, or lighten the mood. A never ending source of laughs and smiles, you brought so many of your friends together. There's so many fond memories I'll carry forward and though I'm sad there won't be more, I'll cherish the impact you had. Love you and miss you, thank you for unapologetically being yourself.

Cole Puckett
Morris, IL
Thursday, March 9, 2023
A great friend to many and a great friend to me. Pat was always there to offer me advice about anything. Pat could brighten the mood of an entire room with no effort at all. I am going to miss him dearly. My sincerest condolences go out to the Williams family. Rest in peace my friend.

Vicki williams
Kerrville, TX
Thursday, March 9, 2023
My heart goes out to the Williams family in their loss of this fine young man

Sterling Ching
Kissimmee, FL
Thursday, March 9, 2023
Pat, you are a one of a kind person. Someone who was always bringing everyone together, making everyone's day, selfless, helpful, insightful, and loving. I will miss you dearly and to your family I pray you can make it past this hard time. I love you Pat I hope you watch over and protect your family and friends, guide us to you so we can all embrace your warmth together. Love - Sterling (Odosu)

Walker Cross
Ketchum, ID
Thursday, March 9, 2023
Extending my sincerest condolences to the Williams family during this time. Holding you all close in my thoughts and prayers remembering your beloved Patrick.

Pat, you will be dearly missed. It was an honor and a privilege to have known you and to call you my friend. Your infectious laughter, thoughtfulness and kind soul was parallel to none. May your memory live on through the lives of everyone who was fortunate enough to have known you. Rest easy, my friend.

William Gerald Pokorny
Boca Raton, FL
Thursday, March 9, 2023
It is with a heart full of gratitude that I reflect on the privilege of having known you. Every aspect of your being was truly remarkable, and continues to be so. Your memory and indomitable spirit live on through the countless lives you touched.

Dear Williams family, I offer my sincerest prayers during this deeply challenging time. May you find solace and strength in the days ahead, and may the love and admiration that so many hold for Pat bring you some measure of comfort.

yours in the bond,

William Pokorny

Patrick M
Ottawa,
Thursday, March 9, 2023
My sincerest condolences for the loss of such a selfless person and big personality. He was a great friend for the few years I knew him and valued for his insight, kind demeanor, humor and genuine interest he took in others.
You will be missed by many, Pat.

Tony
St Louis, MO
Thursday, March 9, 2023
I can't put into words how much I'll miss you. You touched so many lives and I'm proud to of known you. Rest easy brother.

Brian bones
Brooklyn, NY
Thursday, March 9, 2023
My sincerest condolences for the Williams family at this time. You have my deepest sympathy and support. Wishing you peace, comfort, and lots of love at this time of sorrow. Pat was a great friend, a brother to me throughout all of these years of knowing him, many laughs and great memories shared with this beautiful soul. I'll miss you brother

Michael O.
Toronto,
Thursday, March 9, 2023
To the Williams Family, I wish to extend my sincerest condolences. Wishing you peace to bring comfort, courage to face the days ahead and loving memories to forever hold in your hearts.

I am very saddened to hear of the passing of my dear friend Patrick. He was an amazing friend to all he knew and the good times will never be forgotten. The impact he had has been far reaching and I am so grateful to have known him.

Rest easy, Pat. It's just goodbye for now.


Kruck
asheville, NC
Wednesday, March 8, 2023
Rest in Piece Brother Pat. No words can convey the lost of a great friend and brother. The best way I can think of to honor you is the carry on in your memory and live the best I can.

Chris and Marianne Lane
Las Vegas, NV
Wednesday, March 8, 2023
My wife Marianne and I are heartbroken at the loss of such an amazing young man. Patrick was the most thoughtful, conscientious and intelligent young man we knew. We wish him and his family peace and understanding now and for all time.