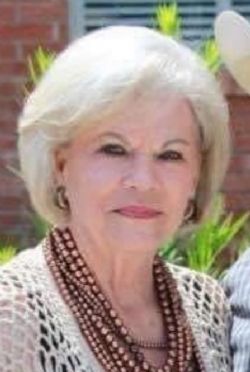 Celebration of Life
Hall Ranch
2740 Highway 41
Mountain Home, TX 78058
Saturday, April 22, 2023
6-10 PM
Map & Directions


Send Flowers
Mary Frances Lane-Hall
of Mountain Home, TX
October 5, 1946 - March 12, 2023
---
Mary Frances Lane-Hall ''Fran'' was born on October 5th, 1946 in Alice, TX to John Lawrence and Mary Elva Lane of Premont, TX. She entered the gates of Heaven at sunset on March 12th, 2023 after a fierce battle with melanoma. Fran graduated from Premont High School in 1965 and later attended Beauty School in Kingsville, TX.

Fran was full of life! She shook a room with her energy, confidence, beauty, and her personality. Her mere presence. Fran had a smile a mile wide and was happy to share it with everyone she met. She always dressed to the nines and held herself, and everyone around her, to a high standard and a strong work ethic. When there was something that needed to be done, Fran would roll up her sleeves and make sure it was done well, and with her full commitment. Quick witted and known as the best prankster, Fran was always ready for a good time and was the life of the party!

She was very proud of her two children and instilled family values, traditions and heritage into them. In the early 1970's, Fran was a wonderful homemaker and stay-at-home Mom, cooking, sewing, and serving her community of Falfurrias, TX. Fran could be found teaching Sunday School at her church and sharing her faith with everyone around her. She was the city swimming pool manager, a lifeguard, and taught swimming lessons to children and adults in public and private swimming pools. In the 1980's and 90's, Fran worked as a Secretary for Ford dealerships and later became a Legal Secretary for the City Attorney in Uvalde, TX. Fran later moved to Austin, TX and worked for patent and trademark attorneys as Legal Assistant. In 2008, Fran purchased and retired at her beloved ''El Rancho'' in Junction, TX where she cleared trees and landscaped it by hand. She had a green thumb, enjoyed all kinds of plants, being surrounded by nature, and loved raising her miniature donkeys. She hosted her grandchildren at the ''El Rancho'' during summers and spring break, teaching them hunting skills and how to build a good fire. She took pride in serving on the Board of her Property Owners Association as Secretary and Treasurer until January of this year. Most recently, Fran was the Secretary and Welcoming Committee at New Hope Fellowship Church in Ingram, TX.

Fran met the love of her life, Walter ''Lee'' Hall, in 2011 and found herself very comfortable living the country life with him on his family ranch in Mountain Home, TX. She would rather be at the ranch, riding the fences and sharing a cold beverage with him at sunset, than anywhere else on Earth. Fran and Lee married January 11th, 2020 in front of the fireplace hearth and their closest friends at the ranch.

Fran was preceded in death by her parents, her sister and brother-in-law, Nancy and Tommy Teague of Premont, TX, sister-in-law Judy Biggs of Galveston, TX, niece Christine Gale Teague.

She is survived by her husband Walter Lee Hall of Mountain Home, TX, her brother William Riley Biggs of Galveston, TX, her son Randall Keith Blain of Temple, TX, daughter and son-in-law Amy Jo and Michael Dean Gandy of Liberty Hill, TX, her stepson and stepdaughter-in-law Mark Thomas and Anna Jaylene Hall of Idalou, TX, her step daughter and step-son-in law Melinda Lee and John Harold Gleinser of Mountain Home, TX. She is also survived by 8 grandchildren, Kylie Ashtyn Murphy, Brittany Nichole Huffman, Emily Brianna Kaderka, Sara McKenzie Blain, Ivan Lane Kaderka, Jacob Morgan Blain, John Lawrence Gandy and Georgia Kathryn Gandy, 3 great-grandchildren Kendall Ray Murphy, Paxton Ace Murphy and Adalaide Blain Shelton, and 3 step-grandchildren Riley Dee and Megan Grace Hall, and Thomas Colter Gleinser.

A private service will be held at New Hope Fellowship Church at a later date.

The family invites you to join them at a Fiesta for Fran on Saturday, April 22, 2023, from 6-10pm at the Hall Ranch, 2740 Highway 41, Mountain Home, TX 78058. We will raise a glass for Fran and share words at sunset.

In lieu of flowers, the family requests donations be made to Peterson Hospice Kerrville foundation@petersonhealth.com or New Hope Fellowship Church (mailing address) 405 Main Street, Ingram, TX 78025.


3 Condolence(s)

Pam and Tommy Custer
Houston, TX
Monday, March 13, 2023
We are so sad to learn of Frans passing!
Truly a very special lady! One of a kind!
Friend to my family in Premont and Junction.
We will truly miss Fran

Tony and Micki Teague
Saginaw, TX
Monday, March 13, 2023
She was a strong willed woman and she'll have heaven running like a top when we get there. We loved her MORE than we could ever express. ❤️

Brenda Chapman
KERRVILLE, TX
Monday, March 13, 2023
Lee and family,I'm so saddened about Frans passing. Praying for you all the peace &comfort of our saviour.
Brenda