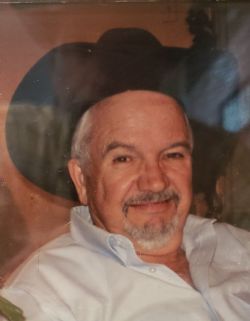 Graveside Service
Turtle Creek Cemetery
Kerrville, TX 78028
Friday, March 17, 2023
11:00 AM


Send Flowers
Ronal Lee Follmar
of Kerrville, TX
May 20, 1943 - March 12, 2023
---
Ronal ''Ron'' Lee Follmar, 79, of Kerrville, Texas, passed on March 12, 2023. He was born in Houston, Texas on May 20, 1943 to Robert Garth ''Boots'' and Isabel Follmar. He attended Jeff Davis High School and studied Electronic Technology at the University of Houston. He raised his family of 4 sons in Alvin, Texas and retired to Kerrville in 1993 along with his parents. He was an incredible father, grandfather, partner and friend to all.

He received his amateur radio license (K5GIT) in 1956 when he was 13 years old and received his private pilot license before he had a driver's license. At 13 years old, he built his first mail order Heathkit ham radio and began his profession as an electronics technician at the age of 14. There was nothing he couldn't repair or fix electronic, or mechanical.

While employed by AMF Tuboscope, he traveled to 26 different countries. Cairo was his first overseas trip on the job and one of the most memorable. His hobbies included dancing, fishing, hunting and Ham radio. He and his dad founded Boots Follmar Marine, a Mercury outboard dealership in Houston and he was a member of the American Radio Relay League.

His passion for aviation, led to owning 17 airplanes throughout his life. He often flew his family and friends on vacations. Some of the most memorable include cross country trips from Alvin, Texas to Seattle, Washington and short day trips down the Gulf Coast to land on the beach and fish in the surf. As an adored ''paw-paw'' he taught his grandchildren how to ride horses, shoot guns and scout out the very best water holes of the Texas Hill Country. He adored all of his grandbabies.

In his most recent years, you could often find Ron two-stepping and listening to live country music with Claire and close friends in Bandera, Texas. He was an explorer, an animal lover and the best two-stepper you ever saw.
He was preceded in death by his parents; brother, Robert Garth ''Sonny'' Follmar; sister, Joanne Toole; and step-daughter, Crystal Landrum.

Survivors include his wife and soulmate, Claire; sons and spouses, Scott (Abigail) Follmar, Mark Follmar, Joel (Shelli) Follmar and Cody (Rebecca) Follmar; stepchildren, Doug (Nicole) Landrum, Aaron (Val) Landrum, Amber (Donnie) Gold and Cameron (Danielle) Landrum; sister, Sandy Sanford; brother-in-law, Matt Toole; grandchildren, Lauren (Sean) Gandolfo, Cody (Bailey) Follmar, Lane (Youssef) Yahchouchi, Leyton Follmar, Averee Follmar, Isabella Follmar, Ruby Follmar, Mikah and Mason Carlile, Gabriel, Nick, Wiley, Harmony, Morgan, Denley, Makayla, Nataz and Zyon Landrum; great-grandchildren, Liam, Grey and Sage Yahchouchi and Josie Follmar. Ron is also survived by numerous cousins, nieces, and nephews.

Graveside services will be held at 11 AM, Friday, March 17, 2023 at Turtle Creek Cemetery, officiated by Mr. Kenneth Davis.



9 Condolence(s)

Cindy Vernon
Beaumont, TX
Thursday, March 16, 2023
Prayers for all the family during this difficult time. Ron was an amazing man and such a thoughtful and caring person. He always had a moment to sit and "just talk". Because of Ron, I went on my very first camping trip. He will be missed by all that had the pleasure of knowing him.

Al & Jan Voss
Medina, TX
Thursday, March 16, 2023
He was a very good friend.
May he rest in peace

Melissa Grimes
Huntsville, TX
Thursday, March 16, 2023
Condolences Mark im so sorry for your loss sending prayers for you and your family

Kathy Fisher
Kerrville, TX
Thursday, March 16, 2023
I'm so sorry to hear of Ron's passing. He was such a good man and loved by many. He will be missed.

Scott Follmar
Houston, TX
Thursday, March 16, 2023
I have a lot of great memories of mom and dad. To many to list here. They worked hard to share with me and my three younger brothers a love for faith, family, the outdoors, and the value of hard work. Lynne Armour, our mother who was married to dad for 42 years was always working to make our house a special home. In addition, our Frio River multi family "First Baptist" trips, fishing excursions, and summer vacations were always filled with eager anticipation . I know this helped fuel their love for the Texas Hill Country and a plan was put in place for them to retire in Kerrville. I am glad they got to live this dream and created some beautiful memories for each of us in Kerrville.
Smooth sailing dad, I hope your signal is clear, waters calm, and your flight plan
filed. I Pray your journey from the river to the ocean has been a special one.
Thank you very much for your Love and Support to us,

Scott

Sigrid Loveless-Bernard
Bandera, TX
Thursday, March 16, 2023
My heart is breaking for you, Claire. I am so sorry to hear of the loss you are suffering. I always loved seeing you and Ron out dancing, be it at a dance hall somewhere or here in Bandera. I can believe that you and Ron were soulmates by the way you and he looked at each other. I am offering you and the rest of his family prayers for the loss of a good man, spouse, father, and grandfather. May Ron rest in peace.

Debbie Parks
Center Point, TX
Wednesday, March 15, 2023
We will miss seeing Ron at family events and all the grandkids sports!
He was quite the gentleman and always gracious and friendly.
Godspeed Ron :)

Lenny Garcia
Alvin, TX
Wednesday, March 15, 2023
Ronnie you will be truly missed. I know you are 2 stepping in heaven! Always a fun time when you were around! Rip.

William N (Bill) Wood
Kerrville, TX
Wednesday, March 15, 2023
He was a dear friend and family member.
I enjoyed visiting with at church.
May you rest in peace, uncle Ronnie.