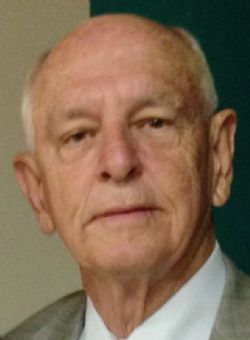 Visitation
Grimes Funeral Chapels
728 Jefferson St.
Kerrville, TX 78028
Wednesday, May 17, 2023
5-7 PM
Map & Directions


Send Flowers
Funeral Service
Grimes Funeral Chapels
728 Jefferson St.
Kerrville, TX 78028
Thursday, May 18, 2023
10:00 AM
Map & Directions


Send Flowers
Garden of Memories Cemetery
3250 Fredericksburg Rd.
Kerrville, TX 78028
Map & Directions


Send Flowers
William Rogers Huffman
of Harper, TX
February 20, 1944 - May 11, 2023
---
William Rogers ''Bill'' Huffman, of Harper, TX, passed away on May 11, 2023. He was born in Ranger, TX to William T. and Juanita R. Huffman on February 20, 1944. He married his high school sweetheart, Sarah Phillips, on September 4, 1965, in Longview, TX.

He graduated from Longview High School and East Texas State University with Bachelor of Science and Master of Arts degrees. He worked in automotive finance for GMAC for 30 years and Ancira Enterprises for 10 years. He was a member of the Masonic Lodge and Scottish Rite and was a lifelong Methodist.

He was preceded in death by his parents.

Survivors include his spouse, Sarah P. Huffman; daughter, Catherine Milligan (John Scott); brother, Thomas Martin Huffman (Pam); grandchildren, Nicole Gillette (James) and William Robert Milligan; great-grandchildren, Mary Catherine Joan Gillette and John Robert Gillette; and several cousins.

Visitation will be 5-7pm, Wednesday May 17, 2023, at Grimes Funeral Chapels of Kerrville.

Funeral services will be held 10:00 am Thursday May 18, 2023, at Grimes Funeral Chapels of Kerrville, with the Reverend Neal Matthews officiating. Burial will follow at Garden of Memories Cemetery.

Pallbearers will be Scott Milligan, Will Milligan, James Gillette, Kermit Strackbein, Richard Marhofer, and Al Ross.



8 Condolence(s)

Tom Holstlaw
San Antonio, TX
Tuesday, May 16, 2023
Bill was my Manager at GMAC San Antonio. He had a unique ability to connect with everyone. He made you feel special and proud to be a member of his team. A true Texas Gentleman. He will be greatly missed by all.

Enedina (Annie) Tobar
LaFeria, TX
Tuesday, May 16, 2023
My condolences to Mrs Hoffman and family. I knew Jim Hoffman as I used to work at the Harlingen GMAC office. May he RIP

Marcia Lemon
Houston, TX
Tuesday, May 16, 2023
What a privilege it was to be a part of Bill's work team. He provided great leadership, with high expectations but always giving encouragement. He always showed such empathy and compassion for his employees and people in general. My condolences to the family and prayers for strength.

Margot Nelson Heller
Allen, TX
Tuesday, May 16, 2023
My condolences to his family. Bill was a very special man with ability for compassion and leadership. His style was loved by all and will be missed. I had the pleasure to work closely with him as part of his management team will never forget it!

Sandy Johnson
San Antonio, TX
Monday, May 15, 2023
What a wonderful blessing it was to work so closely with Bill at GMAC. He was such a great man, so caring, generous, fair, loving and he taught me so much about the business world! My heart hurts for Sarah and Cathy and their sweet family. He was truly special and I will miss him dearly.

Sterling Fletcher
Chandler, AZ
Monday, May 15, 2023
Not enough space to describe what Bill's friendship has meant to me. So fortunate that we had kept in touch over the years. My heart and sympathy go out to Sarah, Cathy and family as I know that Bill will be missed by family and friends. God Bless and my heart weeps over his passing.

God Bless,


Kevin Ketner
Wynnewood, OK
Friday, May 12, 2023
Mr. Huffman was one of the most outstanding individuals I've ever met. His integrity and passion for expertise was second to none. His sense of humor and positive attitude always brought a highlight to the group. He will be terribly missed by all of his friends and family. Rest in peace our Great Friend!!
Kevin and Leigh Ketner

Lynn Reininger
Spring Branch, TX
Friday, May 12, 2023
I will miss Bill so much! He was my "Texas dad". He was my mentor. He was my friend. He was very very special to me. I my prayers go out to Sarah and Kathy and the kids. Rest in peace DP.