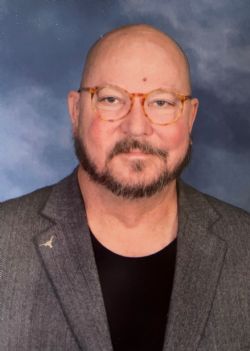 Rosary & Visitation
Grimes Funeral Chapels
728 Jefferson St.
Kerrville, TX 78028
Thursday, May 25, 2023
4:30 PM-6:30 PM
Map & Directions


Send Flowers
Funeral Mass
Notre Dame Catholic Church
909 Main St.
Kerrville, TX 78028
Friday, May 26, 2023
10:00 AM
Map & Directions


Send Flowers
Karl Frederick Hagemeier III
of Kerrville, TX
November 1, 1953 - May 12, 2023
---
Karl Frederick Hagemeier III, age 69, passed away on May 12, 2023 in his home in Kerrville, TX.

Karl was born on November 1, 1953 to Karl F. Hagemeier Jr. and Dottie Tillis Hagemeier in New Orleans, LA. Growing up in New Orleans gave him two of his favorite things in life, a love for music and an education from Jesuit New Orleans High School, where he was Class of 1972. Until the end, Karl was proud of his time at Jesuit and the influence of the Jesuit priests and philosophy, which he credits for changing his life.

After high school, Karl moved to Austin, TX where he met some of his dearest friends, made memories playing Rugby, and enjoyed the good times (which turned into stories we all heard numerous times). Karl received his undergraduate degree in Liberal Arts with a Major in English from The University of Texas at Austin in 1976. He then pursued a medical degree at Baylor College of Medicine, graduating with Honors in 1982.

Karl married the love of his life, Jo Ann Vogt, on April 4, 1981, and after a general surgery residency at Scott & White in Temple, TX, he and his family moved to Kerrville, TX where he practiced as a general surgeon for 27 years at Peterson Regional Medical Center. Karl's dedication to helping others was seen in his love and care for his patients. His heart for helping the underprivileged led to his commitment of time and talents to the Raphael Clinic, where he was one of the original founders.

Karl was a member of Phi Beta Kappa and a two-time winner at the Peterson Regional Medical Center Academy Awards taking home the award for Best Sense of Humor in 2007 and Friendliest in 2011.

Karl loved watching his three daughters play sports, supporting his wife in all her endeavors, playing guitar, reading, and cheering on the Texas Longhorns.

Throughout his illness, which began in September of 2019, Peterson Regional Medical Center Hospital, Rehab, Home Health, and Hospice have provided excellent care and love for Karl and his entire family.

Karl is survived by his wife, Jo Ann, his three daughters, Kelly, Mattie (Jeff), and Elsa, his two grandchildren, James and Lena who lovingly referred to him as ''Doc'', his sister Jeannie (John), their children Emily, Charlotte and Graham, and his beloved Old English Sheepdog, Harley. Karl is also lovingly remembered by Jo Ann's siblings and their children.

Family and friends are invited to attend a rosary service and visitation, at Grimes Funeral Chapels from 4:30pm - 6:30pm on Thursday, May 25, 2023. A funeral mass will be held at Notre Dame Catholic Church on Friday, May 26, 2023 at 10:00am officiated by Auxiliary Bishop Michael Boulette. Burial to follow.

Pallbearers will be Joe Ballard, Fernando Sotelo, Bob Barker, Tobin Tilley, Terry Pavlica, and Todd Lovelady.

In lieu of flowers, the family welcomes donations to Our Lady of the Hills Regional Catholic High School (www.olhcollegeprep.org).


21 Condolence(s)

Cindy Huggins
Kerrville, TX
Saturday, May 27, 2023
Jo Ann, I am so sorry to hear of Karl's passing. Praying for peace for you and the girls, much love and hugs.

Caroline Hasnson
Kerrville, TX
Friday, May 26, 2023
Dr. Hagemeier was my favorite Doctor. His humor made usually unpleasant visits to a surgeon seem fun! I hated when he retired.

Arnold Smith
Kerrville, TX
Friday, May 26, 2023
I was blessed with the gift of being one of Karl's friends. He was great in the operating room and awesome to watch the Little League world Series with. His knowledge was shared with many of us throughout the years. He will be missed!

Arnold Smith
Kerrville, TX
Thursday, May 25, 2023
I enjoyed the many years I worked with Dr. Hagemeier. We became close friends. I grew to hold him in high esteem. I had great respect for him. His passing is a great loss.

Christye Harris
Kerrville, TX
Thursday, May 25, 2023
I worked with Dr H at the ASC and knew him to be a kind, caring, polite doctor. Then years later I had the great pleasure of helping JoAnn to care for him at home when she needed to be away. It was during that time that I really got to know him! He had some common interests and had also lived in Houston during the same period, so we had a lot to talk about! He was one of the funniest, kindest, intelligent, God and family loving men that I have ever had the privilege of calling my friend! JoAnn, I hope it comforts you and the girls in some small way knowing how many lives he touched with his beautiful heart! If you need anything ( including a sitter for Harley) please, give me a call!

Donna Vanzant
Kerrville, TX
Thursday, May 25, 2023
Jo Ann and family - I am so sorry for your loss. I had the pleasure of meeting and working with him back in the ole days of GPG. He was a ray of sunshine, always smiling, laughing and was a great person. He will be dearly missed by everyone that had the pleasure of knowing him.

Tana Aiken
Horseshoe Bay, TX
Thursday, May 25, 2023
There are just no words. How do you describe a man that was such an impact on so many. He was always grateful for what he had in his life. He loved Jesus and his family every second. He was my mentor, friend and pain in my neck for many years as his nurse. I was privileged to hear most of his UT college stories and razzed him every chance I got. He was generous, kind and always there if we needed him. Jo Ann,Kelly, Mattie and Elsa - my family is thinking of you and wishing peace and comfort. With Love, Tana Aiken and family.

Sarah Hill Kocurek
Kerrville, TX
Friday, May 19, 2023
Dr Hagemeier, several years ago, you essentially saved my husband's life. Flash forward a year or so & I find out that he was working on your vehicle at Central Automotive. I know Kris told you, more than once, how grateful he was for you.
You are a true asset to this community that will be greatly missed.

Becky
Kerrville, TX
Thursday, May 18, 2023
Dr Hagemeier It was a pleasure working with you. You were always nice and funny..Rest In Peace.. My Sincere Condolences and Prayers

Taylor Casey
Metairie, LA
Wednesday, May 17, 2023
Jo Ann,
My deepest sympathy to you and your family.
Karl and I met when we started 8th grade at Jesuit. The priests and teachers instilled in us to be "men for others", and Karl lived his life according to that motto. Your family is in my prayers.
Taylor Casey

bruce hoefer
new orleans, LA
Wednesday, May 17, 2023
My name is Bruce Hoefer. I sat behind Karl at Jesuit High School for most of our classes together, between 1969-1972. He was a good man. Kind, funny. So glad I knew him. I smiled reading his obit. My mind raced back 50 years, and I remembered so well some of Karl's wonderful attributes. God bless Karl's soul, and God Bless his family.
Bruce Hoefer
brh@ahhelaw.com

Cathy Hammit
Kerrville, TX
Wednesday, May 17, 2023
My deep sympathy Jo An. Rest in Peace Karl

Carol Diltz
Center Point, TX
Wednesday, May 17, 2023
Jo Ann,
The suffering is over. At peace with the Lord!

I will always remember his kind voice and smile.
Call me Karl he would say. I was taught as a young
nurse to address doctors properly.

Rest in Peace, Dr. Hagemier!

Jill Johnson
Northern, IL
Tuesday, May 16, 2023
Dr. Hagemeier was one of my favorite doctors to work with at SPMH. His sense of humor was great- and he really cared about making his patients well. He was my surgeon twice. I've been away from Kerrville for 20 years now, and a friend I met in the early 90s at SPMH let me know of his passing. My sincere condolences to his family- Dr. H was a special doctor and human being.

Julie hamilton
Kerrville, TX
Tuesday, May 16, 2023
I cried in Dr Hagemeier's office when he told me he was retiring. At age 48, I was new to surgery and my husband had just passed away. Dr Hagemeir showed compassion, caring and humor every visit. I felt completely cared for and important.
I actually lived down the street until my move in 2014. This seems to be an odd statement, but driving by his home each day gave me a sense of security.
God bless his wife and family that truly know and love this giant of a man so intimately.

Richard Gaudry
Kenner, LA
Tuesday, May 16, 2023
I was saddened to hear of Karl's passing, but thought of many good memories growing up around the corner from him in Metairie in late 60's and at Jesuit. I always new him as Freddie, though, and Joe Ballard lived a few streets over. I last saw him at a Jesuit reunion 10 or 15 years ago here in New Orleans. Our prayers are with his family.

Betty Riecke Champagne
Covington, LA
Tuesday, May 16, 2023
Dear JoAnn:
I was heartbroken for you and your family to read Karl's obituary. So young …the last time I spoke to your precious Mom she told me how happy y'all were as she gave me a rundown on the family. Love and prayers to you as you navigate each day.
Love,
Betty Riecke Champagne (and Jéan)

Autumn Risner
Center Point, TX
Tuesday, May 16, 2023
My deepest condolences on the passing of Dr. Hagemeier. I worked with Dr. Hagemeier at Peterson Hospital and whenever I saw him he was smiling and it made me smile. Whenever he came into our office of Medical Staff Services he would bring laughter with him. The best days at work were always days that I got to visit with Dr. Hagemeier. Praying for peace and comfort for his entire family.

Sharon keith
Kerrville, TX
Tuesday, May 16, 2023
Dr Hagemeier was a Great surgeon. Took wonderful care of his patients. Prayers to your family

Lyn Gold
Kerrville, TX
Monday, May 15, 2023
Dearest Hagemeier family,
Our deepest condolences. I pray comfort and peace will help you all guide you during this time.

Linda Buckelew
Medina, TX
Monday, May 15, 2023
Condolences to the family. It is with a very heavy heart I learned of this wonderful surgeon's death. Have always respected & enjoyed laughing with Dr Hagemeier through my nursing career.
When I worked at the old Sid Pete, he was known to take cases that others deemed too risky, but gave hope to patients & families. Majority of times he was very successful. He was a pleasant & welcome doctor to the floor & was polite to nurses & staff.
He will be sorely missed.
Fly high Doc