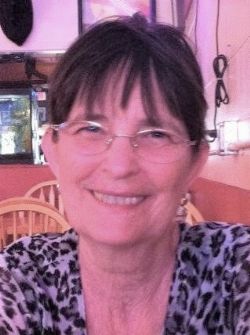 Graveside Service
Hillcrest Cemetery
Uvalde, TX
Tuesday, May 23, 2023
4:00 PM


Send Flowers
Barbara June McCabe
of Kerrville, TX
January 20, 1948 - May 12, 2023
---
Barbara June Trees McCabe, 75, of Kerrville, passed away on May 12th in Kerrville. She was born in Laredo, TX to Walter and Laverne Edwards Trees on January 20th, 1948. She graduated from high school in Sonora, TX. She earned an Associate of Art degree from Southwest Junior College in 1986.

She then returned to school to earn an Associate of Science degree from Howard College in Applied Science - Nursing in 1991. After becoming a Registered Nurse, she worked as an RN for the Kerrville Veteran's Administration Hospital for more than 20 years where she was beloved by her patients and her co-workers.

Barbara is preceded in death by her parents, Walter Trees and Frieda Laverne Edwards Trees; her grandparents, Ollie Trees and Minnie Lee Salmon Trees; and aunts and uncles on both sides of the family.

Survivors include her son, Michael McCabe (Candace) of Arkansas; her daughter, Robbie Bigham of Nevada; her grandchildren, Shay Lawton of Kerrville, Laurel McCabe of Dallas, Collin McCabe of Arkansas, and Marcus Lawton of Gilmer; her great-granddaughter, Ivy Alexander of Kerrville; nephew, Dale Atchison of Arizona; niece, Ila Atchison of Corpus Christi; as well as several cousins including cousins, Chester Trees (Carol) of New Braunfels and Louis James Trees (Gracie) of La Pryor.

Graveside services will be held at 4 PM, Tuesday, May 23, 2023 at Hillcrest Cemetery in Uvalde.

The family wishes to extend our sincere thanks to Peterson Hospice Care, especially Nurse Janet.

In lieu of flowers, memorials may be made to Peterson Hospice Care at www.petersonhealth.com.



10 Condolence(s)

Vicky Foti
Springdale, AR
Saturday, May 20, 2023
I became friends with Barbara at the time of the wedding of Michael and Candace and have been a friend on Facebook for years.

To my dear son-in-law, daughter who went to help in Barbara's final time here in earth, my grandchildren, Shay, Robbie and Barbara's other family members, may the Holy Spirit bring comfort to you all. Remembering God's faithfulness is evident more than ever in times of great grief, may you find comfort in that assurance. Cherish the good times with Barbara always. Vicky Foti.



Tanya Pellegrino
Tucson, AZ
Friday, May 19, 2023
With deepest sympathy. Barb, was always so kind to me since the I met her. She always welcomed me with open arms when I would visit with Dale. You will be greatly missed Barb. R.I.P Aunt Barb

My thoughts and prayers are with the family during this difficult time

Esther
Kerrville, TX
Thursday, May 18, 2023
Barbara and I working along together at the VA Hospital. She was a Great person always happy, we always had a Great shift. I'm so glad to have met you my friend fly high. Rest in Peace God be with the family through this hard time of life.

Brenda Chafton
Selma,
Thursday, May 18, 2023
You will be missed. You were a mentor and joy to work with.

Delpha edwards
San angelo, TX
Thursday, May 18, 2023
My sympathy goes out to Barbara's family, especially her sister Beverly. Growing up they were "joined at the hip". Always Barb and Bev. My prayers. Aunt Delpha

Olivia Centeno
Kerrville, TX
Wednesday, May 17, 2023
Barbara was a previous patient of mine, it's been about 6 years since I left my old practice. She was always such a pleasure to work with, never failed to make me laugh. My condolences to you all, I know she will be greatly missed.

Doug Thompson
Medway, OH
Wednesday, May 17, 2023
you will be missed! you brother in-law.

Beverly Trees Thompson
Medway, OH
Wednesday, May 17, 2023
with deepest sympathy your sister Beverly

Walter Dale Atchison
Tucson, AZ
Wednesday, May 17, 2023
Aunt Barbra is also survived by her sister Beverly Trees Thompson (Doug) of Ohio

Becky Lewis
kerrville, TX
Wednesday, May 17, 2023
Barbara will be missed by all i worked with barbara at kerrville va she was a joy to work with my condolences to the family