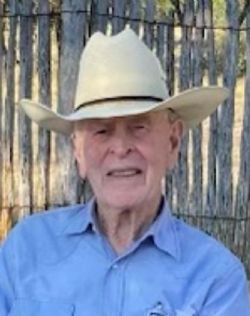 Visitation
First Methodist Church Rocksprings
Rocksprings, TX
Monday, May 22, 2023
5-7 PM


Send Flowers
Memorial Service
First Methodist Church Rocksprings
Rocksprings, TX
Tuesday, May 23, 2023
1:00 PM


Send Flowers
Robert Gene Graham
of Rocksprings, TX
January 30, 1932 - May 15, 2023
---
Robert ''Gene'' Graham, 91, of Rocksprings, Texas went to be with our Heavenly Father on May 15, 2023, in Kerrville, Texas. Gene was born in D'Hanis, Texas on January 30, 1932, to parents, John Allen Graham and Lena Olga Marquis Graham. His family moved to Rocksprings in 1935, making their home on the Moody Ranch, where his father worked for F.A. Moody. Gene was the youngest of five children: Evelyn, Elva, Johnnie, and Allen.

After graduating from Rocksprings High School in 1949, Gene began working and rodeoing in his spare time. He became a member of the Rodeo Cowboy Association in 1950, participating in bull riding, bareback, and saddle bronc riding. Gene and Dink Tomlinson rodeoed throughout Texas and the western states during 1950 and 1951. Gene attended college at Southwest Texas Junior College in Uvalde during the spring of 1952 and was a member of the rodeo team.

He was drafted into the Army in November of 1952, and after completing basic training at Fort Hood, he spent 18 ½ months in Germany. When his tour was completed, Gene enrolled at Texas Tech College in Lubbock. He was a member of the rodeo team which became the National Inter-Collegiate Rodeo Championship Team of 1955. Gene, Tooter Shanklin, Clay Evans of Fort Davis, and Jody Jones of Ozona, attended the NIRA National Finals in Colorado Springs in 1956, and then went on into the northern US and Canada. There, they competed in numerous rodeos, including Calgary.

Gene did very well during his rodeoing, placing in many of the major rodeos and winning several trophy belt buckles and saddles. After he stopped riding, he continued to judge rodeos and judged the Rocksprings rodeo for many years.

On September 9, 1957, Robert Gene Graham and Elizabeth Ann Hough were married at Laurel Heights Methodist Church in San Antonio. Gene and Elizabeth Ann moved to San Marcos where Gene continued his college work. The young couple welcomed their son, Marty Hough Graham, on June 27, 1958.

Gene received a Bachelor's Degree in Agriculture from Southwest State Teachers College in San Marcos in August of 1958. The Graham family then moved to San Antonio where Gene taught at Burbank High School. He attended Incarnate Word College each Saturday and received a grant from the National Science Foundation to attend summer school at Texas Tech to study science. He flew from San Antonio to Lubbock every weekend until his degree was completed.

The Graham family welcomed their daughter, Mary Melissa Graham, on June 22, 1962. Gene received a Master's of Science Degree in Zoology from Texas Tech in August of 1962. He then began teaching at San Antonio College, advancing to Associate Professor during his stay of eleven years. Gene continued to take post graduate courses while teaching.

Gene, Elizabeth Ann, Marty and Melissa moved back to Rocksprings in 1972, where they could help Elizabeth Ann's mother with her ranching. Gene began teaching Vocational Agriculture the next year at Rocksprings High School. He taught Ag for 4 years before he went into ranching full time, where he found great success.

Gene was active in community affairs. He served as Trustee of Rocksprings ISD, Director of Peoples State Bank, a Mason, 32nd Degree in the Scottish Rite, and a Shriner. He was a Charter Member and Director of the Edwards County Fair Association, a member of the First United Methodist Church, and past member of the Rodeo Cowboy Association, Cowboys Protective Association, and National Intercollegiate Rodeo Association.

Gene was inducted into three halls of fame: The Texas Rodeo Cowboy Hall of Fame in 2011, The Texas Tech University Rodeo Hall of Fame in 2015, and the Cowboy and Arena Champions Hall of Fame in 2020.
Gene's family was of great importance to him, and he spent a lot of time with them. His children, grandchildren, and great-grandchildren brought him much joy.

The last few years of his life he stayed active, continuing to ranch daily until the age of 89. He also made two trips to Napa with his family and while there thoroughly enjoyed the wine! In December 2022, with the help of Brookdale Kerrville Senior Living and Wish of a Lifetime from AARP, Gene was able to attend the Wrangler National Finals Rodeo in Las Vegas, NV with Melissa and Stephen.

Gene resided at Brookdale Kerrville Senior Living since February 2022. He was treated like family, with abundant love and excellent care.

Gene was preceded in death by his wife, Elizabeth Ann, sister, Evelyn Graham Rhodes, sister, Elva R. Graham Waites, sister, Johnnie B. Graham Hagler, brother, Allen Archie Graham and grandson, Stephen ''Tyler'' Fine.

Survivors include son, Marty Hough Graham and wife, Joyce; daughter, Melissa Graham Fine and husband, Stephen; grandson, Graham Douglass; grandson, Grady Douglass and wife, Sarah and great-grandchildren, Della Kelley Douglass and Dace Graham Douglass; grandson, Austin Fine; granddaughter, McKenzie Fine White and husband Tres; grandson, Grayson Graham and wife, Sydney; granddaughter, Jordyn Fischer and husband, Joshua and family; grandson, Tristan Granzin and family.

Visitation is on Monday, May 22, from 5:00-7:00pm at First Methodist Church Rocksprings.

Memorial Service will be at 1:00 pm, on Tuesday, May 23, at First Methodist Church Rocksprings.

The burial will be a private family service at Rocksprings Cemetery.

In lieu of flowers, memorials may be made to Edwards County EMS, Rocksprings/Edwards County Volunteer Fire Department, or an organization of your choice.

The family wishes to extend their sincere thanks to all of the kind ladies at the Edwards County Senior Center in Rocksprings and the lovely men and women of Brookdale Kerrville Senior Living. Also, a special thank you to the VA for taking good care of their own and Alamo Hospice for guiding us through the final journey. The love and care shown for our Dad and Granddad was beyond measure. We are truly grateful.


3 Condolence(s)

Caroline Plugge
Kerrville,
Saturday, May 27, 2023
Melissa,
Daddy's are just so special,
their loss leave a hole in our heart.
Lord, wrap Gene's family in Your loving arms.
Keep those beautiful memories close to your heart.

My condolences,
Caroline

Wayne & Kitty Lewis
Del Rio, TX
Wednesday, May 17, 2023
Our thoughts & prayers are with you & your family!
Prayers for all. 🙏❤️🙏

Blu Odam
Goliad, TX
Tuesday, May 16, 2023
He was my ag teacher and rodeo team coach in college. He judged at Rocksprings and was always fair and consistent. He will be missed.