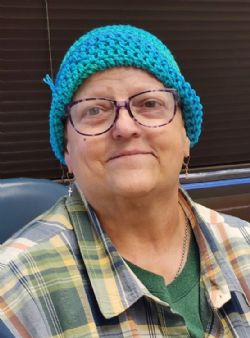 Memorial Service
Grimes Funeral Chapels
728 Jefferson St.
Kerrville, TX 78028
Monday, May 22, 2023
10:00 AM
Map & Directions


Send Flowers
Lisa Cole May
of Center Point, TX
January 24, 1962 - May 17, 2023
---
Lisa Cole May, 61, of Center Point, passed away Wednesday, May 17, 2023 in a local hospital.

Lisa was preceded in death by husband, Donald ''Bubba'' May and daughter, Donna Lynn May.

Survivors include sisters, Janet Gayle Cole Pape and Brenda Sue Cole; niece, Elisha Renee Asbury; special sister friends, Shirley Wingfield and Cindi Tinnin.

Memorial services will be held at 10 AM, Monday, May 22, 2023 at Grimes Funeral Chapels, officiated by Rev. Frankie Enloe.

6 Condolence(s)

The Kelly Family (Donovan, Stacie and Rosie)
Center Point, TX
Sunday, May 21, 2023
Ms. Lisa was so wonderful to our daughter Rosie and to us. We are forever thankful for the care she gave our child. What a very special lady. My thoughts and prayers are with the family and friends of this dear woman. With love, Stacie

PS- Ms. Lisa, Rosie loves you.

Kathy Gaulden
Kerrville, TX
Sunday, May 21, 2023
Janet, I am so sorry to hear of Lisa's passing. Such a sweet soul who will be missed beyond words. I pray that God will surround you with His love, peace and comfort during this difficult time. Please don't hesitate to let me know if there is anything at all I can do for you. Love and prayers to all.

Kathy G

Dione Spears
Helotes, TX
Saturday, May 20, 2023
Ohhhhhhh Mrs. Bubba May….. the memories we shared from the day we met, then I continued them with your baby girl, Donna. From our karaoke days (Gretchen Wilson) to tequila rose….. your texts to me, out of the blue, made my day. You always made sure my spears family knew you wished them a happy birthday. You will forever be in my heart and memories! You and your Bubba…btw…tell him Shorty said his "check engine light" just came on and we miss him!🥺 please let Donna know Shorty and I are so glad we were able to hang out. Love you, sweet Angel. You're home; where Bubba and Donna are tightly together in His home. Love and forever the best hugs…..Ms.Dione

Mary Burlew Peschel
Center point, TX
Saturday, May 20, 2023
To the family Lisa I'm so sorry for your loss. My God be with you
In your time of need

Jo Beth Huff
Dallas, TX
Saturday, May 20, 2023
The Mitchell family sends their love to the Cole family. We have such fond memories of when my daddy Leroy and Paul worked together. We kids always found some kind of trouble to get into. Rest well, Chipper. Till we all meet again~

Dione Spears
Helotes, TX
Friday, May 19, 2023
Ohhhhhhh Mrs. Bubba May….. the memories we shared from the day we met, then I continued them with your baby girl, Donna. From our karaoke days (Gretchen Wilson) to tequila rose….. your texts to me, out of the blue, made my day. You always made sure my spears family knew you wished them a happy birthday. You will forever be in my heart and memories! You and your Bubba…btw…tell him Shorty said his "check engine light" just came on and we miss him!🥺 please let Donna know Shorty and I are so glad we were able to hang out. Love you, sweet Angel. You're home; where Bubba and Donna are tightly together in His home. Love and forever the best hugs…..Ms.Dione