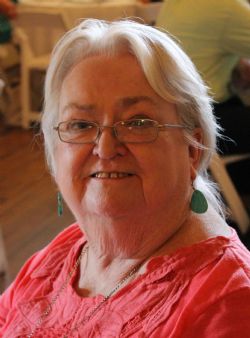 Visitation
Grimes Funeral Chapels
728 Jefferson St.
Kerrville, TX 78028
Friday, May 26, 2023
5-7 PM
Map & Directions


Send Flowers
Funeral Service
Center Point Methodist Church
Center Point, TX
Saturday, May 27, 2023
10:00 AM


Send Flowers
Center Point Cemetery
Center Point, TX 78010


Send Flowers
Marilyn Sue Holloway
of San Antonio, TX
October 9, 1943 - May 20, 2023
---
Marilyn Sue Holloway, educator and artist, passed away peacefully on Saturday, May 20, 2023, following a brief illness. Whether you knew her as Sue, Susie, Nana, Mama Susie or Ms. Holloway, she was a compassionate, smart, and creative woman who lived a life of purpose and impact.

Born on October 9th, 1943 to John Henry and Ila Pearl Williams Holloway, Sue grew up with two older sisters, Jo Ann and Jeannie, and a younger brother, Butch in the coastal town of Bay City, Texas. Her childhood was loving and loud, constantly surrounded by her rough and tumble extended family of grandparents, aunts, uncles and cousins. Despite being a be-speckled bookworm, she spent long weekends camping along the muddy riverbanks of the Colorado River with her siblings and dozens of cousins. Her early life left her with an appreciation for the diversity of people and opinions and impressed upon her the importance of family.

Upon graduating from Sweeny High School in 1962, this avid reader attended the University of Houston where she earned a Bachelor of Arts degree in English. She later obtained her Masters of Science degree in Education from Texas A&M University Corpus Christi. Beyond her formal education, she was a lifelong learner and educator. Her career as an art educator and AP English teacher spanned decades and benefited hundreds of children. She taught primarily middle-school students across Texas in Kerrville, Bandera, San Antonio, Corpus Christi and New Caney. Sue's greatest gift was her ability to broaden her students' world view. In her classroom, often populated with at-risk students, she opened minds through art and language in a way that offered support, encouragement and independence to the young people in her care. Her calling as an educator also led her to forge incredible lifelong friendships with her colleagues. Upon retirement, Sue served her community faithfully as a multi-term member of the Center Point School Board.

Sue was an accomplished watercolorist. She studied painting technique, on location, with masters in the Texas Hill Country and in New Mexico alongside her kindred-spirit painting buddies, namely her sister Jean and precious friends Connie Gorden Young and Patsy Rivers Pearson. To expand her own horizons, Sue loved to travel. She traveled abroad to Europe with students and explored some of the best-known museums in the world. Her many other travel adventures included seeing the sites with her beloved family, shopping along the border, lively family reunions, reading on hot Texas beaches and enjoying the cool mountain views in Ruidoso, New Mexico.

She filled her time by treasuring her grandkids, visiting friends and family, embroidering linens for those she loved, painting florals and still lifes, devouring books on her Kindle, even collecting crosses, folk art and clay missions.

Sue's proudest accomplishment was undeniably raising her children and being Nana to her grandchildren. She is survived by a daughter and a son, their spouses and five grandchildren; Melissa Fisbeck Pearson of San Antonio, her husband Tony Pearson and daughters Emily and Savannah, and John Mitchell Fisbeck of Atasocita, his wife Maureen Hernandez Fisbeck and children Nate, Shelby and Jonathan. She is also survived by a sister, Jean Holloway Witt, and brother-in-law Prentice Gerald Witt, of Camp Verde; sister-in-law Billie Gilmore Holloway of Bryan; as well as countless nieces, nephews, cousins and friends who will miss her dearly.

Preceding her in death are her parents John and Ila Holloway, her sister Myrna Jo Ann Holloway Highfield and her brother John Henry Holloway, Jr.

Visitation with the family will be at Grimes Funeral Chapels on Friday, May 26, 2023 from 5:00 to 7:00 pm.

A celebration of life service will be held at the Center Point Methodist Church at 10:00 am on Saturday, May 27, 2023 with the Pastor Bridget Prescher, presiding. A coffee reception will take place beforehand at 9:30 am, also at the church. Graveside service to follow at the Center Point Cemetery.

Sue's family extends their sincere gratitude to the Methodist Hospital Texsan staff in San Antonio for the compassionate care they provided to her.




4 Condolence(s)

Alexis Hutcherson Maloney
Kerrville, TX
Sunday, May 28, 2023
I have the honor and pleasure of having Ms. Holloway as my art teacher in 6th and honors art in 7th grade while in Bandera. I also had the pleasure of connecting again with her while I worked for the FD here in Kerrville. A kind and caring woman who sparked my love for art and museums. She will be missed. Thoughts and prayers for her family and friends.

Carolyn Riddle
Deer Park,
Thursday, May 25, 2023
Your mother was an extraordinary light force. She did not hide that light under a bushel as it shone brilliantly for all to see, and brightened the lives of many. That light cannot be extinguished as it continues to shine through all those who were blessed to know her. God speed, dear friend🙏

Billie Holloway
Bryan, TX
Wednesday, May 24, 2023
You are greatly missed dear Sister-in-law, so gifted and talented.

Maria R. Lichnovsky
Center Point,
Monday, May 22, 2023
To Sue's family, especially John. Your mom was a great mom, and you were a good son. So sad for your loss. The Lord has welcome her into his loving arms.
She will be missed. My sympathy from me and Chris.