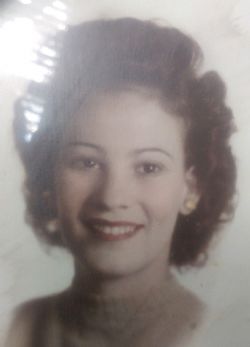 Graveside Service
Southpark Cemetery
Pearland, TX
Friday, May 26, 2023
12:00 PM


Send Flowers
Doris Hardy Jarrett
of Kerrville, TX
October 9, 1923 - May 17, 2023
---
Doris Hardy Jarrett, born October 9, 1923 in Paris, TX, passed away May 17, 2023 at 10:30 pm in Kerrville, TX.

She was preceded in death by 7 brothers and sisters. Mom was the last one left and lived almost 100 years. One son, Mike Jarrett, and her husband, Morton Jarrett, also passed away in 2006 and 2009.

She graduated high school from Alvin High School on May 27, 1942.

Mom and Dad were married August 8, 1953 in Duncan, Oklahoma. Son, Mike, was born August 13, 1954 and me, August 9, 1956.

Mom was simply the best person I have ever known, not because she was my mom, but because of the person she was to her family, and friends, and complete strangers. Over the years she made so many sacrifices to help and benefit not only family, but schools, churches, and complete strangers. Simply put, she loved pleasing others.

Mom was born to a farmer and a housewife. Mom picked cotton on their farm. Mom lost her dad when she was 7 or 9 years old, then lost her mom when she was 13 years old, I believe. She was then raised by her older sisters in Alvin. She met my dad while she was working in her brother's restaurant in Alvin. Dad was oilfield. Stories told that Dad said he was going to marry Mom the first time he saw her, and Mom said, the first time she saw Dad walk in that restaurant, she was going to marry him. They married in 1953 after 3 dates.

After Mom and Dad were married in 1953, Mike was born, then Pat. Mom's life revolved around taking care of her husband and sons. To help make ends meet and get ahead, Mom would iron clothes for people and sew for people at home. She even sewed her own clothes for herself, family, and others. Later on, she would hold bake sales to raise money for schools and church. She was active in the Baptist church.

She loved cooking and baking for family and friends. I don't think anything brought her more joy than to see people enjoying her canned goods, baked goods, and candy she made.

When Mom went out in public, she always dressed to impress and had her makeup on. She absolutely loved people, never met a stranger anywhere. It seems she knew everyone anywhere she went.

The holidays with Mom were always special. Decorations everywhere. Everything was in its place, and food galore!

After Daddy passed in 2009, I watched after Mom daily and all it entails. So, so many memories of her misplacing stuff, side swiped cars and trucks in parking lots of shopping centers. After she stopped driving, I had the pleasure of taking her shopping once a week. That..... Is an experience! That's when I realized how much she enjoyed talking to friends and total strangers alike. While standing in checkout lines, a complete stranger would know her life story by the time we got checked out. She absolutely loved people, loved talking, loved listening. I miss those days and times. There are so, so many of those hilarious memories that I will store in my heart forever.

After Mom's stroke in late 2015, Mom was confined to a nursing home. That was not a choice that I wanted to make. However, I felt as though it was the best one for Mom as I wanted the best for Mom in every way imaginable. Mom's life changed drastically. I saw Mom every day. Talk, listen. Laugh, and cry. Still then, Mom never wavered in her love for life and people.

She made friends easily as I never knew what I was walking into every day when I went to see her. It was still an adventure. She still talked about cooking for others and shopping until her final months as the dementia worsened. She loved the nurses, aides that tended to her, and she was loved by them in return just due to her being so friendly, stories and the fire that was still in her.... she was known by all in the nursing home as ''gram maw.'' Seemed like it was a daily occurrence whenever I went into the nursing home a nurse or nurses' aide would tell me, "You should see what your mom did today or said today." Then they would laugh. I never knew what I was walking into.

Again, she tried, she fought and never ever gave up. The stories and memories are endless. The last few months she declined rapidly, even cheating death a couple times. Still never gave up. She was suffering I know that, and I was torn apart what was best for Mom, staying here, or the Lord taking her home. I prayed thanking the Lord for giving her to me as a mom, a person, for so long, but I didn't want to let her go. At the same time, I didn't want her to suffer any more like that. I just asked the Lord to take her peacefully and not let her suffer anymore as hard as that was to ask. Mom didn't deserve to suffer.
She is in the Lord's glory and grace, alongside Dad and Mike now. The angel of all the angels is at peace.
I love you, Mom!

Graveside services will be held at 12 Noon, Friday, May 26, 2023, at Southpark Cemetery in Pearland, TX, officiated by Dr. Harold Gentry.


1 Condolence(s)

Christel L. Mirick
Kerrville, TX
Tuesday, May 30, 2023
Your mom will be missed. Her singing all my ex's live in Texas, her smile. My thoughts and prayers and with the family