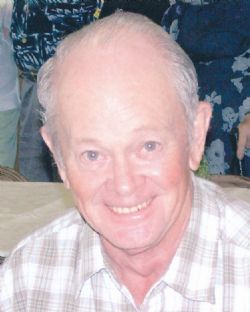 Visitation
Grimes Funeral Chapels
728 Jefferson St.
Kerrville, TX 78028
Sunday, August 27, 2023
3-5 PM
Map & Directions


Send Flowers
Funeral Service
St. James Lutheran Church
Harper, TX 78631
Monday, August 28, 2023
2:00 PM


Send Flowers
Harper Cemetery
Harper, TX


Send Flowers
William Chester Dendy Jr.
of Kerrville, TX
January 11, 1936 - August 24, 2023
---
William Chester Dendy Jr. (Bill), age 87, of Kerrville, Texas, passed from this life to his heavenly home on August 24, 2023, in Waco, Texas. He was born to Texas parents, William C. Dendy Sr. and Velma (Hassmann) Dendy, in Maracaibo, Venezuela on January 11, 1936. His dad was field superintendent for Mene Grande (Gulf) Oil Company. Other than vacations in San Antonio and Cost, Texas to visit grandparents and relatives, Bill spent his first twelve years in Venezuela. They would come to the States every two years and spend several months, flying into Miami and taking a train to San Antonio. During World War II, Bill remembered that the airplane always had black covers over the windows so they could not see out. While here, they would buy a car and when they were ready to go back, they would drive to New York where they could put their car and themselves on an oil ranker headed back to Venezuela.

Bill's elementary years were spent in an 'oil camp' where there was a great deal of 'one to one' attention from the teacher. Also, his mother was a former teacher and gave him a good start. At times, they were in San Antonio during the school time and Bill attended there. When he began the second grade in San Antonio, after observing Bill's reading skills the teacher moved him to the second half of second grade. After he told them he had also read that 'reader', they moved him to the first half of third grade and gave him a new book. In a short time, he took that book back to the teacher and said he had finished reading it, so they moved him to the second half of third grade. In relaying these happenings to his grandfather, John Hassmann, that evening his grandfather remarked, "At this rate you will graduate high school by the end of the week!"

All of Bill's junior high years were spent in San Antonio with his aunts traveling back and forth with his mom to Kerrville where his dad was very ill with tuberculosis. Three years later after his dad's recovery, the family bought property in the Kerrville area on the junction of Goat Creek and the Guadalupe River where Bill spent his high school years graduating from Tivy High School in 1953. He went on to Rice University then to Texas University, Austin. Bill was baptized and confirmed in Austin at Faith Lutheran Church in 1957.

Bill worked for 35 years for General Telephone and Electronics/Verizon in San Angelo where he wrote a computer program that went nation-wide with GTE converting a Large Frame Computer program to the personal desk top computer. The last 28 years he spent ranching near Harper/Kerrville, taking care of cattle, Kensing meat goats and hummingbirds. For years he had professional hummingbird banders to band the birds so they could be traced any place in the world they would fly.

Survivors include his spouse of 65 years, Frances Dittmar Dendy; children: daughter, Terryl Dendy Johnson and husband Werner and son, William C. Dendy III (Trey) and wife Jennifer; grandchildren, Nicolette Johnson Dawson and husband Tom, Bjorn Johnson, Kira Johnson, Tammy Dendy and Pete Lawton, Tracy Dendy and Austin Holt, Jason Dendy; great-grandchildren, Cadence Dendy Lawton, William Dendy Lawton (Wyatt).

Visitation will be held from 3-5 PM, Sunday August 27, 2023, at Grimes Funeral Chapels in Kerrville.

Funeral services will be at 2 PM, Monday, August 28, 2023, at St. James Lutheran Church, Harper, Texas, with Pastor Scott Hofmann officiating. A reception will be at the church following the burial service at Harper Cemetery.

Pallbearers include Jason Dendy, Bjorn Johnson, Pete Lawton, David Wilson, Russell Rogers, Devin Wilson and Lorin Baethge. Honorary pallbearers include David Mosel, Don Mosel, Pat Mosel, Stan Mosel, Jeff Stehling, Rick Lee, Greg Stehling, Gary Davis and his classmate, and friend, John Bohlman.

With sincere thanks, memorials may be sent to St. James Lutheran Church, Harper TX 78631; Gulf Coast Bird Observatory, 299 Hwy 332 West, Lake Jackson, TX 77566; or charity of your choice.

Family wishes to send sincere thanks to the hospital staff at Methodist Hill Country, Fredericksburg; Dr. Leo Tynan; and Pastor Scott Hofmann for their continued support.



7 Condolence(s)

Linda Treibs
Fredericksburg, TX
Monday, August 28, 2023
God Bless You as you heal from Billl's passing. God gives you the gift of peace. Keeping you and your precious family in our hearts and our prayers.
Vernon and Linda Treibs

Bernice Jenschke
Fredericksburg, TX
Monday, August 28, 2023
Sorry I wasn't able to come to the services. Will miss Bill. Keep catching those hummingbirds in heaven! Love, Bernice

L. D. Whitton
San Angelo, TX
Saturday, August 26, 2023
I am so sorry for the loss of Bill. He was such a good and humble man who set the example of good ethics and integrity. I have very fond memories of him playing penny-any poker, back in High School and College with Trey, Me, and the rest of the old original "Dodge Boys". Always enjoyed his intelligence and wisdom. God Bless You Sir! Thank you and Mrs. Dendy for always treating me as family.

Pat Dittmar
Austin, TX
Saturday, August 26, 2023
What a great life! He will be missed. Fran, you are in our prayers

John Armstrong & Karen Polasek
Harper, TX
Saturday, August 26, 2023
So sorry for your loss! After 65 years of marriage, we know there are many memories.
We will really miss seeing Bill around town.
Or hearts and prayers are with you


Steve & BethGrounds
Millersview, TX
Saturday, August 26, 2023
I met Bill the first day I went to work at GTE in San Angelo in February, 1968. We became friends then and there...Bill was a good friend and work colleague for many years...Funny how you lose contact after retirement and always say that you need to contact someone and never do...Sorry we never made contact through the years...I was thinking of you folks just a few weeks ago...

Sorry for your loss...
Steve & Beth

Mary Mabry
Harper, TX
Friday, August 25, 2023
My thoughts and prayers are with you Fran - Your friend, Mary