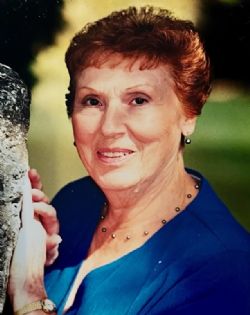 Memorial Service
Grimes Funeral Chapels
728 Jefferson St.
Kerrville, TX 78028
Saturday, September 2, 2023
10:00 AM
Map & Directions


Send Flowers
Marguerite Elizabeth Rocha
of Ingram, TX
July 30, 1926 - August 27, 2023
---
Marguerite (Margie) Rocha, of Ingram, TX, peacefully passed away at her home on Sunday August 27, 2023. She was born in Lavalette, West Virginia to Marvin and Vora Mae Brooks on July 30, 1926. She married Rudolph (Rudy) Rocha on September 28, 2010 in Hawaii.

Margie had a good life and enjoyed doing things with her family. She belonged to many worthwhile organizations which centered on the welfare and education of children. In her later years she ventured into new things. She was a professional clown (Flower), became a radio news reporter, flew with the Blue Angels, worked for the task force of the sheriff's office. She was never afraid to try something new. She kept her commitment to God and her family. They were always first. She was always there to help someone out; friend, family or stranger.

Margie was preceded in death by her parents; her husband of 57 years, Kenneth (Jake) Jacobs; daughter, Frances Peterson; great-grandson, Justin Beckel; brothers, Garold, Harold, Chuck, Harry and Ray Brooks; and sister, Marie (Bos) Bremmer.

Survivors include Rudolph Rocha; daughters, Michelle (Mike) Kair, Rebecca Lewis and Lynda Street; grandsons, Bryan Beckel, Michael Travis (Rose) Emig, Larry T Jacobs, and Beven (Laura) Kair; brother, Marvin Brooks Jr.; seven great-grandchildren; and a slew of nieces and nephews.

Memorial Services will be held at 10:00 AM on Saturday, September 2, 2023, at Grimes Funeral Chapels in Kerrville. Matt Melton will be officiating. Reception to follow.

Memorials can be given to your local Veterans Affairs office.

The family wishes to extend their sincere thanks to the nurses, doctor, chaplains, aides, social workers and everyone at Petersen Hospice.


5 Condolence(s)

Genny Thomas
Grapevine, TX
Monday, September 4, 2023
Margie gave me many wonderful memories back in the early hospital days working with Becky. What a great family.
My love to you Becky and your family.


Roger & Terilyn Mitchell
Huntington, WV
Wednesday, August 30, 2023
Sending deepest sympathies to all the girls & family.Margie I'll be greatly missed She was such a sweet & caring person. Will be forever in our hearts!💔

Carole Paddelford
Sacramento, CA
Tuesday, August 29, 2023
Margie was one of a kind. I feel privileged to have known her for over 50 years. Rest in peace dear Margie.

Denise Sikes
Georgetown, TX
Tuesday, August 29, 2023
You guys are in our thoughts and prayers. Love you Mac and Denise

Wren Green
Houston, TX
Tuesday, August 29, 2023
My condolences to her family. Prayers for peace and comfort. Hugs to Mr. Rocha ❤️🙏