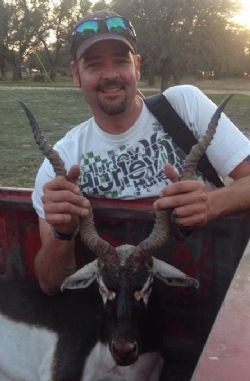 Memorial Service
Grimes Funeral Chapels
728 Jefferson St.
Kerrville, TX 78028
Friday, September 29, 2023
2:00 PM
Map & Directions


Send Flowers
Aaron Earnest Beesley
of Mountain Home, TX
March 9, 1974 - September 18, 2023
---
Aaron Earnest Beesley of Mountain Home, Texas entered eternal life on September 18, 2023, in a San Antonio care facility after a lengthy battle with an illness.

Born March 9, 1974, in Glasgow, Montana, he was the son of Conan Ray Beesley and Beverly Ann Moyer Beesley. He lived in Wilson, Wyoming where he raised his only son, Braedon. He attended schools in Jackson, Wyoming and was employed by United Parcel Service for several years prior to moving to Kerrville to care for his Grandparents (Janet and Don Moyer) who he adored. He was then employed by Bill's Bar-B-Que, Garven's Store and Kerrville Ranch and Pet.

Aaron had a big heart and loved to share his culinary talents with others. This was evidenced by the careful planning and preparation of wonderful meals throughout the Thanksgiving and Christmas holiday season and again at Easter. His specialties consisted of Prime Rib, Brined Turkey and an array of scrumptious desserts. He never allowed a friend or co-worker to spend a holiday alone if he could prevent it. He loved nothing more than treating family and friends to a Sunday afternoon Bar-B-Que. He especially loved having his granddaughter, Ava Grace, come and spend Sunday afternoons at the ranch.

Being an outdoorsman, Aaron enjoyed hunting and caring for his animals. He raised chickens, sheep and a ''not-so-nice'' donkey named Pedro. His constant companions were his fur babies, two labs-Jackson and Bailey and a rambunctious Jack Russell-Scooter. He enjoyed gardening and plant tending and decorating for the different seasons. He was astute in interior decorating, managing to combine his native Wyoming and Texas décor to create warm and pleasant surroundings. He loved to travel and had recently taken a trip back to his hometown of Jackson, Wyoming.

Aaron is preceded in death by grandparents, Earnest and Evelyn Beesley and Donald and Janet Moyer; and special friend, Mary Jane Hey.

He is survived by a family friend, Howard Hall; parents, Conan and Beverly Beesley; son, Braedon Beesley (Andrea) and granddaughter, Ava Grace of Kerrville; sister, Amy Ricks (Ryan); nephews, Brennen Morey and Garret Ricks, Salt Lake City, Utah; and his three fur babies, Jackson, Bailey and Scooter.
Aaron had a gentle soul. He lived his faith daily through his kindness and love of his fellow man. He will be greatly missed by all whose lives he touched.

A memorial service honoring Aaron will be held on Friday, September 29, 2023, at 2 PM at Grimes Funeral Chapels to be officiated by Lynette and Roy Waldrep.

Memorials may be given to Divide Volunteer Fire Department P.O. Box 259, Mountain Home, TX 78058.

The family of Aaron wishes to extend our sincere thanks to the professional teams at University Hospital and PAM Health Specialty Hospital Care Facility, San Antonio for his care.





4 Condolence(s)

Lee Hall
Mt Home, TX
Friday, September 29, 2023
Sorry for your loss prayers for family. Aaron was an excellent cook and kind hearted person. He will be missed 🙏🙏

Judy Solomon
San Angelo, TX
Friday, September 22, 2023
Your sweetness will be forever missed. In loving memory. Judy

David & Cathryn Edmiston
Congress, AZ
Thursday, September 21, 2023
Rest in peace now Aaron. The cares of this life have fallen away & you are home to the loving, caring arms of our Lord. May you share a wonderful heavenly life with all our family loved ones there with you. We will see you again…we love & miss you dearly ❤️
Aunt Cathy & Uncle Dave

Chaz McPherson Hill
Idaho Falls, ID
Wednesday, September 20, 2023
Aaron is a dear friend forever. I'm so grateful to Aaron and Howdy for opening their home and helping me celebrate my 40th birthday there so many years ago. Even though we didn't talk much since then I texted him happy birthday every year. My love goes to Bev, Conan, Howdy, Braeden and family. He will always have a special place in my heart forever. Much love to you all. Love you forever my dear dear friend. -Chaz