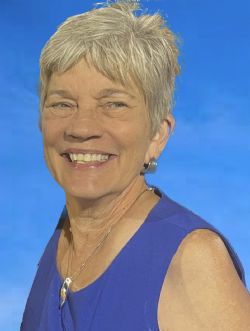 Memorial Service
First Methodist Church of Ballinger
Ballinger, TX
Saturday, September 30, 2023
3:00 PM


Send Flowers
Elizabeth Davis Edington
of Ballinger, TX
July 27, 1953 - September 19, 2023
---
Monica Elizabeth Davis Edington, ''Beth,'' a woman known for her lifetime of devoted service to her family, friends, community, and church, peacefully passed away on September 19, 2023, at the age of 70. She was born on July 27, 1953, in Sonora, Texas, to Monica Davis DuRussel and Walter Louis Davis as the youngest of their five daughters.

Beth's life was a beautiful journey filled with love, family, and an unwavering commitment to her community. She was blessed with a loving partner in life, Ron Edington, whom she married on July 30, 1988. Together, they raised a loving family valuing commitment to one another and God.

Beth was a dedicated mother and grandmother to her five children and thirteen grandchildren, and her greatest joy was the family's annual reunion, affectionately referred to as ''Dove Weekend,'' held at the ranch during the opening weekend of dove season each year. Her devotion to her family was unmatched, and she cherished every moment spent with them.

Beth's educational journey was a source of immense pride. She earned her pharmacy degree from the University of Texas and went on to achieve her Ph.D. in Pharmacy from the University of Florida. Her dedication to her field spanned over four decades, and she contributed her expertise to Keel Drug, Shannon Hospital, and Ballinger Hospital. She officially retired four times, unable and unwilling to say no when asked to continue serving her community with her knowledge and expertise.

Outside her professional life, Beth found joy in ranch life alongside her husband, Ron. Together, they worked tirelessly, embodying the spirit of teamwork. She also had a talent for crocheting and spent countless hours creating beautiful blankets and keepsakes for her friends and loved ones. During many summers, Beth would host her grandchildren at the ranch for ''Camp Bess,'' where they would camp under the stars. She and Papa would help the kids fish, practice target shooting and feed the baby goats and chickens. Most mornings, she would spoil the grandkids by making ''Bess Donuts.'' Beth made lasting memories with her grandchildren that will be treasured forever.

Beth's heart extended far beyond her family and into her community. She displayed seemingly unlimited energy in serving her family, friends, and the community of Ballinger. Her dedication to Meals on Wheels and her role as a Lay Pastor at the First Methodist Church of Ballinger exemplified her selflessness and faith. She was passionate about ever-expanding her education and had begun studies to earn an additional degree in Theology.

Beth's legacy lives on in the hearts of her family - Amos and Courtney Barton and their children Madeleine, John-Louis, and Anne-Elise, Zach and Joanna Barton and their children Patty, Danny, Allie and Bella, Matt and Cassidy Barton and their children Tennyson, Eloise and Sutton, Wade and Molly Edington and their children Brady and Claire, Jennifer and Randy Moore and their son Easton, as well as her three sisters Mary Howell, Maxine Klein, and Monica Davis. She is also survived by 34 nieces, nephews, great-nieces and great-nephews. Her enduring impact on the lives she touched is immeasurable.

A memorial service to celebrate Beth's life will be held on Saturday, September 30, 2023, at 3:00 p.m. in the sanctuary of the First Methodist Church of Ballinger. In lieu of flowers, the family kindly requests donations be made to the Beth Edington Memorial Fund of the First Methodist Church.

Beth will be remembered for her unwavering faith, boundless service, and her selfless love for family and friends.



4 Condolence(s)

Peggy Dankworth
Ballinger, TX
Tuesday, September 26, 2023
Those of us who knew and loved Beth grieve for our worldly loss but rejoice in knowing that she now lives eternally in God's kingdom. The depth of her influence on those she leaves behind is immeasurable. I personally am a better person for having known and loved Beth, and that is what life is about! God speed!

James and Amie Kirk
BALLINGER, TX
Saturday, September 23, 2023
What a truly wonderful person! She will be greatly missed!

Sally Lutes
Ballinger, TX
Friday, September 22, 2023
Beth pushed me out of my comfort zone to go with her to Peru on a mission trip that was a once in a lifetime experience for me. Beth will forever be a part of my Peru and BMHD memories.

Missy
Temple, TX
Friday, September 22, 2023
Love you forever loving friend and sister. See you again someday.