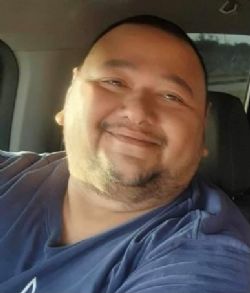 Family Visitation
Grimes Funeral Chapels
728 Jefferson St.
Kerrville, TX 78028
Thursday, September 28, 2023
10:00 AM-4:00 PM
Map & Directions

Public Visitation
Grimes Funeral Chapels
728 Jefferson St.
Kerrville, TX 78028
Thursday, September 28, 2023
4:00 PM-6:00 PM
Map & Directions


Send Flowers
Rosary
Grimes Funeral Chapels
728 Jefferson St.
Kerrville, TX 78028
Thursday, September 28, 2023
6:00 PM
Map & Directions


Send Flowers
Tony Perez
of Kerrville, TX
July 28, 1979 - September 21, 2023
---
Antonio "Tony" Perez, 44, of Kerrville, TX, entered eternal life on Thursday September 21, 2023.

Born on July 28, 1979 in Uvalde, he is the son of Elena and Javier Ramirez. Tony lived in Uvalde as a young man and moved to Oglesby, TX as a teenager to reside with Uncle and Aunt Jesse and Rita Guerrero where his love for sports, BBQing and music began.

Tony moved back to Kerrville and began a 10+ year career at S&S Bridge painting where he traveled sandblasting, road-striping and painting bridges throughout Texas. Tony enjoyed traveling along the Hill Country roads, and the coastline driving to many fishing spots. Tony was an avid outdoorsman that loved golfing, camping and especially fishing in the early morning watching the sunrise on the ocean's horizon. One of many passions Tony has was coaching basketball, volleyball (local YMCA), boxing, softball (Kerrville and Ingram Little league) with those he held close to his heart. During Tony's years his love for grilling and smoking Traditional Texas BBQ was shared and enjoyed by many. Knowing Tony you knew his favorite football team is the Dallas Cowboys "We Dem Boyz", playing fantasy football, playing Texas Hold-Em, Dominos, listening to Tejano, country, rock-n-roll music and spending time with family and close friends laughing, talking, making witty-sarcastic jokes and enjoying each other's company.

Tony was preceded in death by his dog-ter of 5 years, Summer "Cardi-B'' Perez; surviving dog-ter, Winter Marie Perez and dog-son, Bruno "Burnt Bean'' Perez.

Tony will be deeply and truly missed by the loves of his life, wife of 15 years, Leslie and daughter, Ava Jasso; son, Ozzy Durate who resided in Live Oak, TX with his birth-mother and step-father.

Tony is the eldest to 4 siblings: sister, Estella with spouse Alex and children Alejandra and Xavier Ontiveros of Kerrville, TX; sister, Stephanie with life partner Megan and adopted children Jakoby, Zachariah and Nicholas Beecher of San Angelo, TX; sister, Mary with spouse Pedro and children Maribel C., Daisy, Pedro Jr. and Johnathan Molina of Ingram, TX; brother, Jesse with spouse Lydia and children Jazmyne, God-Daughter, Jazlyne, Brooke, Jesse Jr. Perez of Kerrville, TX. Tony has numerous aunts, uncles and cousins he grew up with during his time in Uvalde, Ogelsby and Kerrville, TX.

Not only was Tony loved by his own family, he has a supportive and loving bond from his in-laws. Survivors also include uncle, Louis R. and fur-babies of San Antonio, TX; sister-in-law, Marie with spouse Larry Hernandez and fur-babies of Corpus Christi, TX; sister-in-law, Melissa with spouse Raymond and children Liliana, Matthew Uribe of San Antonio, TX; sister-in-law, Michelle M. with partner Cristian P. and son Cristian Jr. and dog-son Dennis of San Antonio, TX.

Tony is a loving, strong, compassionate, thoughtful, wonderful man and with these strengths began his 3-year career at Kerrville State Hospital as a Psychiatric Nursing Assistant III (PNA). Tony worked in a field that allowed him to mentor patients and colleagues on a daily basis. Tony's love for growth in his career led him to become a Case Manager where he was able to continue supporting patients on their road to recovery.

Tony is now traveling the Texas coastline exploring new beaches and shores, shaking his Bidi-Bidi Bom Bom on the shoreline watching the setting sun waiting for that big fish in the sky.

Leslie, Ava and fur-babies wish to extend their greatest appreciation to all who have reached out with prayers, condolences, and support during this extremely difficult time.

Visitation will be held from 10 AM-4 PM for family visitation, 4-6 PM visitation open to the public, followed by the Rosary at 6 PM, on Thursday, September 28, 2023, at Grimes Funeral Chapels.




23 Condolence(s)

Felicia
Kerrville, TX
Monday, November 6, 2023
We may have taken different paths but there was always a piece of you in my heart , never regret my kids still having ur last name somthing I had never changed till this day ! Prayers for you and the family you always had a big heart ❤️

Cristine martinez
Kerrville, TX
Thursday, September 28, 2023
Goodbye is difficult, so I can't say it. We weren't ready to see you go. Rest easy because you absolutely deserve it. 1A will not be the same without your presence, but we will remember you always and we will be here for your precious family. My deepest condolences to Leslie, Ava , my friend Estella and your friends and family .

Cristine martinez
Kerrville, TX
Wednesday, September 27, 2023
RIP my friend, Leslie and family you are in my thoughts and prayers. Your KSH family is here for you. We will miss Tony tremendously, he meant a lot to so many people. He will live forever in our hearts . Sincerely Cris

Beth Wallace
Rochelle, TX
Wednesday, September 27, 2023
You always had a smile on your face and made work so much more enjoyable when I had to work the units.
You were so friendly, kind hearted, and a great person to be around.
You will forever be missed.
Rest in peace.

Tammy Cordell
Kerrville, TX
Wednesday, September 27, 2023
Tony you were such a kind and loving man. It was a pleasure and privilege to work with you. Thank you for all the love you shared with everyone. You always were there when someone needed a friend. You will be missed by so many people. Much love sweet friend! Soar high!

Emiliano García Jr.
Corpus Christi, TX
Tuesday, September 26, 2023
My condolences to the Family. Tony you will be missed. 😢
Sending prayers 🙏

Ontiveros Family
Kerrville, TX
Tuesday, September 26, 2023
We would like to thank you all for all the prayers and condolences we all have been receiving. Leslie and Ava we love you. We will continue to pray for all families, extended family, friends and especially his co- workers who have been impacted significantly as well. We will get thru this with God.My brother Tony was a wonderful husband, father, brother, brother in law, uncle, co-worker, friend and most of all a mentor. He touched so many lives while he was here on earth.I can honestly say he saved many lives as well. He was always willing to help and encourage others. He was the kindest, and a loving person. He was that light that everyone needed in their life to get thru tough times.He would literally give you his shirt off his back if you needed it. He was my rock, my fortress. If I was having a tough time he always listened to what I had to say never judging me. He would say to me "you talk a lot" kidding around. Even though he was kidding around
I realized that I needed to listen more to what others had to say as well. He told me to forgive others as well even though it's hard to do at times. I knew he wanted nothing but the best for us all. He wanted us to be happy.I love you so much and I am going to miss you so so much, we all are. I'll see you again you will never be forgotten.You left your imprints on this earth.

Pauline( Mireles) Saiz
Uvalde, TX
Tuesday, September 26, 2023
My sincere condolences to Tony's family.
May God give you and the family the strength to keep
Going on on this hard journey.


Erica And Michael
CENTER POINT,
Monday, September 25, 2023
Rest Tony in peace , Walk with God onthe Beach and Go Catch that fish 🐟 Watch over the Cowboys to lead them on to Victoryin the SUPERBOWL! Finger crossed. CONDOLENCES to Leslie , AVA ,Maria M. You will Be Missed.

Patricia Valero
Kerrville, TX
Monday, September 25, 2023
You will truly be missed my friend I knew you for a very short time but now what an amazing person that you were.
May you rest in heavenly peace.

Gloria Ramos
Kerrville, TX
Monday, September 25, 2023
Leslie, Ava & extended Family, My Deepest Sympathy for you and your families loss. Tony will be missed greatly. May he rest in peace. You and all of your family are in my thoughts and prayers. God Bless all of you and keep you close during this difficult time.

Erin mireles
Kerrville, TX
Monday, September 25, 2023
Tony u will be missed so much.May u rest in peace.

Suzanne Granahan
,
Monday, September 25, 2023
It was a joy working with you. You will be greatly missed.

Oscar & Mary Vasquez
kerrville, TX
Sunday, September 24, 2023
DEATH TAKES THE BODY
GOD TAKES THE SOULS.
OUR MIND HOLD THE
MEMORIES. OUR HEARTS
KEEP THE LOVE. OUR
FAITH LET'S US KNOW WE
WILL MEET AGAIN

AMEN LOVE YOU


Brad and Roxanne Peeples
Kerrville, TX
Sunday, September 24, 2023
Tony, your presence will be significantly missed. Brad always enjoyed playing golf with you and throwing down the cards at the many poker games your group hosted. I'll miss your smile and big hugs. Lifting your family up in prayers. God Bless Leslie, Ava and all the others touched by your light. Rest easy friend.

Bo
Kerrville, TX
Sunday, September 24, 2023
My Condolences and Prayers…

Sue Delandtsheer
Kerrville, TX
Sunday, September 24, 2023
Sorry for your loss. Tony will be missed. You and your family are in my thoughts and prayers.


Marie and Larry Hernandez
Corpus Christi, TX
Saturday, September 23, 2023
We love you Leslie and Ava. We miss you Tony.

Trisha Juarez
Kerrville, TX
Saturday, September 23, 2023
My heartfelt condolences to you and your family through this difficult time.

Judy Brown
Pipe Creek, TX
Saturday, September 23, 2023
I miss you so much Tony! You were always a shining light for me when I needed one. Rest In Peace Tony, you deserve it. Love you💕

Cathy Buchert
Kerrville, TX
Friday, September 22, 2023
You will be missed but never forgotten. Rest in peace.

Richard Thompson
Ingram, TX
Friday, September 22, 2023
Rest in peace my friend. I'm going to miss you and will never forget your love and friendship.

Ginger Poindexter
Center Point, TX
Friday, September 22, 2023
May the Peace of The Lord Be With You