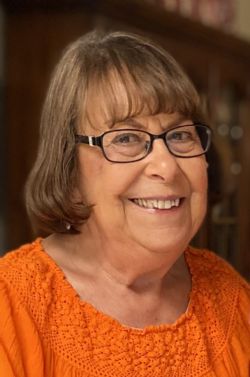 Visitation
Grimes Funeral Chapels
728 Jefferson St.
Kerrville, TX 78028
Thursday, September 28, 2023
5-7 PM
Map & Directions


Send Flowers
Funeral Service
Grimes Funeral Chapels
728 Jefferson St.
Kerrville, TX 78028
Friday, September 29, 2023
10:00 AM
Map & Directions


Send Flowers
Paulette Ruth Saunders
of Kerrville, TX
August 7, 1945 - September 22, 2023
---
Paulette Ruth Saunders, 78, of Kerrville, Texas, passed away peacefully at her home surrounded by her family on September 22, 2023. She was born in Fredericksburg, Texas to Paul Mann and Ruth Stein Mann on August 7, 1945. She married Richard Saunders on September 24, 1966.

She graduated from Midland Lee High School and attended Texas Tech University. She worked as a legal secretary for Craig L. Leslie for 47 years. She was as loyal an individual as you would ever hope to meet in this world and she truly loved her work, the peers she worked with, and the people she served.

She is survived by her husband Richard Saunders; her brother Edward "Bubby" Mann; her 2 children Chris and Carey Saunders; her daughter-in-law Yuri Saunders; and her 2 grandchildren Kenlee and Mateo Saunders. She was very much a family oriented person and dearly loved her husband, children and grandchildren.

Paulette was the most unique of individuals. She grew up in Fredericksburg, Texas where she was raised in a loving and nurturing Christian family environment. This established the foundation for the type of person she would ultimately become and shaped the morals, values and beliefs that she would carry with her throughout her entire life. She was one of the most caring and giving individuals this world had to offer. She believed in putting others before herself at all times and never met a person or animal she wasn't willing to help or provide for. It was that uniqueness that led her to have such a positive impact on so many people in so many different ways. In addition to being such a loving individual, Paulette had the kind of personality that caused people to naturally gravitate towards her. She had such an exceptional sense of humor that you couldn't help but laugh and have a great time when being in her presence. She dearly enjoyed spending time with her closest friends and there wasn't a weekend get together or "girls" trip that she would decline to be a part of. Her closest friends, which were younger, are very much credited with keeping her soul young and her spirit adventurous. In addition to her friends and family, Paulette also had a particular affinity for her family pets as well as animals in general. There was never an animal that entered her home (invited or not) that wasn't immediately considered family. Those who know Paulette the best still believe to this day that Floyd, her pet Pot Belly Pig of 18 years, was the "Love of her Life." She probably wouldn't have disagreed. Paulette also had many hobbies and interests. She was an avid collector and was on a first name basis with every Hallmark store manager within a 100 mile radius. All of her favorite collections were meticulously organized and complete as she spent an immeasurable amount of time performing the tedious task of making sure all of her favorite possessions were in perfect order. No interest was more important to her than her passion and love for the holiday season, specifically Christmas time. She would spend a tireless amount of hours beginning in September each year transforming her house into a Winter Wonderland of everything Christmas. She would routinely have more than a dozen Christmas trees every year with various themes strategically placed throughout her home. She truly loved Christmas time and especially cherished the time spent with family and friends throughout the course of the holiday season.

Paulette was indeed a one-of-a-kind individual and those who were blessed enough to know her could not agree more.

Visitation will be held from 5:00 PM to 7:00 PM on Thursday September 28, 2023 at Grimes Funeral Chapels in Kerrville, Texas.

Funeral Services will be held at 10:00 AM on Friday September 29, 2023 at Grimes Funeral Chapels.

Memorials may be given to Paulette's personal favorite causes that included the Scottish Rite Hospital and The Salvation Army, or any charity of choice.

The family wishes to extend our sincere thanks to the tireless individuals who were involved in her care in recent years that include Dr. Rebecca Barrington, Dr. Michael Grocki, as well as her nurses, Laura Palmerian and Heather Blair.



5 Condolence(s)

James Lee
San Antonio, TX
Tuesday, October 10, 2023
I have many fond memories working with Paulette in the law office. My prayers to her family. Paulette will be missed.

Victoria L Sutherland
Kerrville, TX
Friday, September 29, 2023
So sorry, Richard

Pat and Jim Harvey
Medina,
Thursday, September 28, 2023
Such a wonderful and warm lady with a great sense of humor. Paulette created the "Free Zone " with a sign, whenever Pat and I would visit Craig's office. (Ask Craig/Linda about it) Please accept our condolences...

Kent and Cathy Bressler
Kerrville, TX
Wednesday, September 27, 2023
We will miss you but our memories are solid. May you find eternal peace.

Bill and Carolyn Anderson
Kerrville, TX
Monday, September 25, 2023
Our heartfelt condolences to the loved ones of precious Paulette. Prayers for the peace that surpasses all understanding as she now rests in peace. Cherish your special memories and know that she was dearly loved.