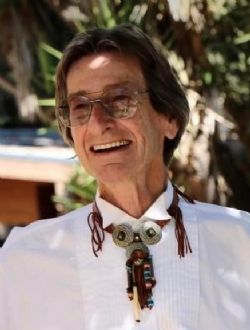 Memorial Service
St. Peter's Episcopal Church
320 St. Peter Street
Kerrville, TX 78028
Saturday, October 21, 2023
11:00 AM
Map & Directions


Send Flowers
Seth Weatherford

of Kerrville, TX
May 13, 1945 - September 27, 2023
---
William S. "Seth" Weatherford peacefully passed from this earthly life to meet his Creator on Wednesday, September 27th, 2023, surrounded by loved ones at the home he built for his family in the beautiful Texas Hill Country. Seth, known back in his younger days as Billy to his high school friends and siblings, was born in Laredo, TX on Mother's Day May 13th, 1945 to William Burton Weatherford of Marfa, TX and Majorie Herron of Marfa, TX.

After graduation from Martin High School in Laredo, TX, William S. carried forth the family tradition and served honorably in the US Navy from 1963 to 1967 with rank of YN-4. Upon returning home to his native Texas, he attended Laredo Jr. College for 2 years then transferred to El Camino College in Los Angeles, CA where he continued his major in Sociology/Psychology. During his time in Southern California, Seth took great pride in his job as an Expeditor for Garrett Air Research during an ongoing NASA Apollo Space project.

Early seventies found Seth living on the Turquoise Trail south of Santa Fe, NM in the old coal mining town of Madrid followed by the purchase of a unique property on the banks of the Galisteo River in the quaint small village of Los Cerrillos, NM where he learned the art of building for his first family home. Los Cerrillos is famous for its Turquoise and Gold mining days.

The beautiful Ortiz Mountains could be seen from the greenhouse picture windows of our little adobe home.

Learning everything he needed to know at that time about building, he often humorously put it in his resume that he was attending ''the graduate school of hard knocks." Seth learned to make adobes by hand, built rock walls, mastered both frame and finish carpentry, taught himself about plumbing and electrical plus taught his wife, Brandy, how to mix cement, plaster walls and lay flagstone floors. YEP!

Studying the once well known Whole Earth Catalog around our Pot Belly Wood Stove was often daily entertainment over a cup of hot mint tea. Seth became an active member of the Turquoise Trail Volunteer Fire Dept. for over 14 years where he served as Captain of Station #1, attended the New Mexico State Fire Training Academy for Firemanship 1 & 2, Fire Dept. Administration, Emergency Medical Training (licensed EMT) and Vehicle Extrication.

Seth stayed busy with his volunteer duties on top of starting up his Weatherford Construction Co. in the Santa Fe area, raising a large family and working with wood in his workshop.

Musicians were abundant in Northern New Mexico during those days which served to encourage his love of playing music every chance he could including joining the music ministry at Capital Christian Church in Santa Fe every Sunday where he played piano, harmonica and sang with the church band for over 10 years.

A dive in the economy in early 1989 in New Mexico took Seth and the family to East Bay, CA for a job as the Superintendent for Merlin King Inc., a large Commercial Construction Co. in Pleasanton, CA.

Eight months later, the massive October 17th Earthquake was the catalyst for getting the Weatherford family out of California. After a 2 month mission trip to the Veracruz Mountains and jungles of Chiapis, Mexico, Seth relocated his family to the Kerrville area. By the Grace of God, this became our new home. Seth Weatherford once again was able to become self-employed as Weatherford Construction Co. serving the Texas Hill Country. He continued playing music with several bands, song circles at KFF and always enjoyed playing harmonica and keyboard at St. Peter's Episcopal Church with the Music Ministry for the past 30 years.

Seth served a 3 year term on Vestry as Jr. Warden. He has remodeled and built numerous structures and pieces of furniture at his church family home.

William S. Weatherford was preceded in death by his parents, William Burton Weatherford and Marjorie Herron Weatherford of Laredo, TX.

Seth is survived by his spirited wife of 48 yrs, Patricia "Brandy" Weatherford, originally from Laredo, TX; sons, Clayton McLean Weatherford (Ali) of Austin, TX and Shannon Holloway (Lisa) of California; daughters, Scarlett Weatherford Ochoa (Albert) of Arizona, Tiffany Carole Weatherford Stalwick (Rory), Amelia Louise Weatherford Abad (Aldo) and Amanda Grace Weatherford; grandchildren, Ava Marie, Daniel, Quinn, Calvin, Karla, Gabriel, Lucia Isabel and our soon to be born miracle baby to Tiffany and Rory living in Sri Lanka; his three brothers, Burton Odis Weatherford (Sue), William Wallace Weatherford (Philipa) and Robert King Weatherford; cousins, Steve Mauro and Bobbie Lou Collom; along with many nieces and nephews.

Memorial services will be held at 11:00 am, Saturday, October 21st, 2023 at St. Peter's Episcopal Church in Kerrville, with The Rev. Bert O. Baetz officiating, followed by a reception in St. Peter's Tucker Hall.

In lieu of flowers, donations can be made to St. Peter's Episcopal Church, St. Peter's Episcopal School or Hill Country CASA.

The family would like to graciously thank ALL the wonderful caring staff of Peterson Health and Hospice, and for all of the many prayers, love and support from our ''church family friends'' of St. Peter's Episcopal Church.

GOD TRULY IS LOVE.

We love you ole' WetSetherford. And we will keep your ''home fires burning'' and this house our home!



11 Condolence(s)

Tom Berkes
Santa Fe, NM
Thursday, October 19, 2023
Seth was a good friend, mentor , music partner, landlord, gosh what else. Was a catalyst in my life for buying land, getting started building ny house, joining the fire department. I have not seen him in years since a visit to Kerrville but I often he but often hear his voice. Especially when I hear Clapton singing Wonderful. Missing him and you too, Brandy. Many blessings to th family

Dana Foster
Kerrville, TX
Wednesday, October 18, 2023
So blessed to have known this amazing man. Blessings to the family ❤️

Jerome Thompson
Kerrville, TX
Wednesday, October 18, 2023
What I wouldn't give to be back at the Lovin' Spoonful jamming with Seth. Walk into light and play on my friend!

Sharon McLauchlin
Kerrville, TX
Wednesday, October 18, 2023
I am so sorry for your loss.
Sharon

Barbara Hopper Cope
Kerrville,
Wednesday, October 18, 2023
What a man he is. He was always my friend, always with a big hug and how are you.
I loved Seth dearly.
See ya in heaven.

Annie Whitney
Cerrillos, NM
Wednesday, October 18, 2023
Forever seared in my memory is the first time I met seth. He was walking down the dirt street in Cerrillos, Scarlett in tow but probably 10 ft behind. We were immediate friends, and over the years I watched his family grow. We became forever great friends, then through the miracle that is the internet and facebook, stayed in touch; always so grateful that he and Brandy and various kids came to visit over a few decades. I am believing that Seth is enjoying one of my many horses who are now in the Heavenly Remuda, and I look forward to seeing him someday at the feet of Jesus ❤️❤️❤️

Doug and Phyllis Garey
Ingram, TX
Monday, October 16, 2023
Dear Brandy and Family,
We love you and are so saddened by Seth's passing. We have always loved his kind and unique presence. We will miss him.❤️
Love Doug and Phyllis

Clarice B. Amann
Kerrville, TX
Monday, October 16, 2023
Dear Brandy & family,

I have such fond memories of Seth starting with the cabinets and library he built for us when we first came to Kerrville in the early 90's. Leeland was about 5 at the time and would ask us each day, "When is Mister Seth Wetherford coming? I like Mister Seth Wetherford." He would never fail to call Seth by he full name and followed him around as he worked. I was concerned that he was in the way but Seth was always so kind and continued to let Leeland watch. Later, when Leeland was a teen, he worked with Seth for a while and learned a lot from him.

The last thing Seth did for me was a table top and as usual, it was magnificent work. He was a true craftsman. We will miss him. But know you will miss him more.

Love to you all,

Clarice Barnes Amann

Tom Baldwin
San Antonio, TX
Monday, October 2, 2023
Seth will be greatly missed. Kind, humor, musical, could fix anything,
reliable, friend. Honor to have known Seth.

Jerry P. Novy
San Antonio, TX
Sunday, October 1, 2023
Our condolences. Seth was a childhood friend and across the street neighbor, I enjoyed much time spent with him and his family.

Zulema Clary
New Braunfels, TX
Friday, September 29, 2023
I am deeply saddened to hear this news. Seth was always very kind to me and we bonded over our love of music. He will be very missed.