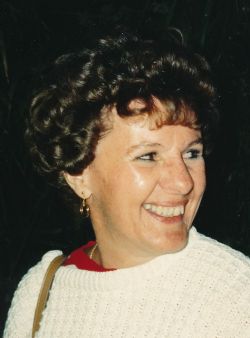 Memorial Service
Grimes Funeral Chapels
728 Jefferson St.
Kerrville, TX 78028
Saturday, November 18, 2023
10:00 AM
Map & Directions


Send Flowers
Joan Rosbottom
of Kerrville, TX
January 2, 1939 - November 2, 2023
---
Joan (Ross) Rosbottom 84, of Kerrville, Texas, passed away peacefully surrounded by loved ones on Thursday afternoon, November 2, 2023. She was the wife of Richard Rosbottom, to whom she was married for 65 wonderful years. She was born in Providence, Rhode Island. In 1982, she and her husband moved to Kerrville, Texas with their daughter and youngest son. As a dedicated and caring RN at Peterson Regional Medical Center, she fulfilled her lifelong passion for nursing for 35 years.

Joan was a loving wife, mother, grandmother and kindhearted friend. She was a wonderful listener and always said, ''Listening is the best communication skill one could have.'' She had the gift of compassion and always knew when someone needed a kind word or a spiritual lift. Her tremendous wit would always make you smile. Joan had a passion for gardening and loved being outside enjoying all of nature's beauty.

Joan is survived by her loving husband, Richard Rosbottom; her three sons, Kenneth Rosbottom and partner Brenda Day of Cumberland, Rhode Island, Donald Rosbottom and spouse Patricia Rosbottom of South Kingstown, Rhode Island and Steven Rosbottom of Fredericksburg, Texas; son-in-law, Clint Cox of Sarasota, Florida. She was blessed with four grandchildren, Katie, Elizabeth, Sean and Ali; and two great-grandchildren, Shiloh and Rosalene. She was predeceased by her daughter, Susan Rosbottom Cox; and daughter in-law, Arlene Rosbottom.

Relatives and friends are invited to a memorial service at 10:00 am, Saturday November 18, 2023, at Grimes Funeral Chapels, 728 Jefferson Street, Kerrville, Texas.





8 Condolence(s)

Bruce Craft
Kerrville, TX
Friday, November 10, 2023
Joan was a wonderful lady. While it's been years since we have met in person I still remember her wit and cheery disposition. Her presence will certainly be missed. My sympathy to the family and especially to Dick (he will remember me from our Holy Cross softball and volleyball teams). May the Good Lord bless you all and provide his comfort to you. Bruce Craft

Craig Davis
Kerrville, TX
Tuesday, November 7, 2023
I only met her once or twice.
So sorry for your loss.

Katie Rosbottom
Maxwell,
Tuesday, November 7, 2023
Our sweet, sweet Grammy Joan. I have great memories of visiting Texas every summer as a kid- I loved swimming in the pool, going out to Maamcitas and visiting the various shopping villages with you. I loved having you and Granoa spend summers with us in Rhode Island as we all got older sharing chowder and clam cakes and lots of love and laughs. I know you're now at peace and out of pain, and I'm so glad you'll be meeting some special loved ones in heaven. The relationship you and Grandpa had was one only many dream of, and I was happy to be a witness to that kind of unconditional love. Please watch over us all and rest in everlasting peace.

Steve and Tricia Hennessy
Milton, MA
Tuesday, November 7, 2023
Fondly remembering sharing many family events with Joan - happy times and sad times. We are keeping Dick and the rest of the family in our thoughts and prayers, and imagining Joan being enveloped by the peace and love of those who have gone before her. With sympathy. Steve and Tricia Hennessy

Marlena Lau
KERRVILLE, TX
Monday, November 6, 2023
I had the pleasure of working with Joan at the old hospital SPMH. She was such a kind, caring person and a fantastic nurse. I send my deepest sympathies to you all.

Richard and Robbi Lake
Fredericksburg, TX
Monday, November 6, 2023
Though our opportunities to enjoy time with Joan were rare, they were wonderful! We will forever be grateful to Joan, and her much loved Richard, for bringing into this world and raising so well one of the dearest friends in Rozzie we could dream of. We'll look out for your loved ones on Earth Joan as you smile upon them from the Heavens.
Much love and God's comfort to the family.

Doris Cox
Kerrville, TX
Monday, November 6, 2023
It was an honor to know Joan. May God be with you.
Doris Cox

Jane Sharp
Kerrville, TX
Saturday, November 4, 2023
I worked with Joanie over the years, she was a very caring nurse. I was so glad when she was assigned to care for my mother because I knew she would be kind to her.