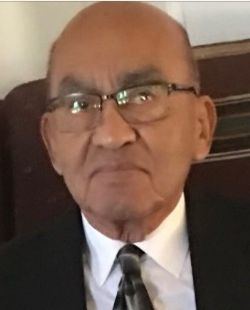 Visitation
Grimes Funeral Chapels
728 Jefferson St.
Kerrville, TX 78028
Sunday, November 12, 2023
3-6 PM
Map & Directions


Send Flowers
Funeral Service
Grimes Funeral Chapels
728 Jefferson St.
Kerrville, TX 78028
Sunday, November 12, 2023
4:00 PM
Map & Directions

Graveside
Garden of Memories Cemetery
3250 Fredericksburg Rd.
Kerrville, TX 78028
Monday, November 13, 2023
10:00 AM
Map & Directions


Send Flowers
Mike Ayala
of Kerrville, TX
January 7, 1928 - November 6, 2023
---
Mike Ayala was called home November 6, 2023. He leaves behind his wife of 77 years, Teresa, as well as his three daughters, Celia Castillo (Domingo), Amelia Carter, and Nancy Constante.

He was preceded in death by his daughter, Mary Alice Valdez (Jesus) and son, Gilbert Ayala (Lori).

Mike Ayala was born January 7, 1928 to Celsa and Santana Ayala in Kerrville Texas. It was in Kerrville that he met and eventually married the love of his life, Teresa Calderon, on January 13, 1946.

Mike worked as a warehouse clerk and Teresa as a seamstress at the Kerrville State Hospital for over 30 years. Our grandfather loved to dance and have family gatherings. He also had a passion for always helping those in need.

In addition to his three daughters, Mike Ayala leaves behind 17 grandchildren and numerous great and great great grandchildren who will all miss him terribly.

Viewing for Mike Ayala will be Sunday November 12, 2023 at Grimes Funeral Chapels from 3:00pm to 4:00pm followed by the service at 4:00pm by Pastor Dwight Foster. Burial will follow at 10 am, Monday November 13, 2023 at the Garden of Memories Cemetery.

The family would like to acknowledge our aunts, Celia and Amelia, along with our cousin, Laura Castillo Russell, who served as our grandparents' caregivers. We appreciate everything you all did for grandpa and grandma.



9 Condolence(s)

Justin Ayala
Kerrville, TX
Saturday, November 11, 2023
Thank you Grandpa for Everything I love you and miss you can't wait to see you again

Alex Calderon
Largo, FL
Saturday, November 11, 2023
Sorry for our loss of a great man and uncle. Praying for our family in the time of need. Sorry I will not be able to attend.

Paulette Sanchez
Kerrville, TX
Friday, November 10, 2023
Sincere condolences to all the family. May your hearts be filled with love and peace. God Bless.

Pedro (Pete) Guerrero
VERNON, TX
Wednesday, November 8, 2023
In loving memory we pray. May God embrace Mike Ayala lovingly in eternal life and bring peace and comfort to the Ayala family and friends. RIP my friend!

Laticia Gomez
Kerrville, TX
Wednesday, November 8, 2023
So sorry to hear about my dear friend passing. Mr and Mrs Ayala would always come to see me in the Walmart vision center. Just so I could clean their glasses for them. I will miss him..

Laura Russell
Fort Worth, TX
Wednesday, November 8, 2023
My grandfather was a wonderful man a good man, hard-working family man who loved his family especially his wife Theresa Ayala. As a child, I used to love when my family would take trips to Kerrville we lived in Fort Worth, and when we would come to Kerrville, the first one that would come greet us at the door with my grandfather I will always love and cherish my memories of my grandfather, one of the best dancers there was. And even as I got older I loved to sit at the table and listen to the silly things. My grandfather would say, and laugh constantly I enjoyed sending him birthday cards that would make his day and laugh. I'm gonna miss him so much when he left, he took a piece of my heart and I look forward to the day, when I see him again with our savior Jesus. I love you Grandpa!!

Virginia Medrano Dailey
Waco, TX
Wednesday, November 8, 2023
To the family of Mr. Ayala it saddens me to read the passing of your dad. My dad (Va Medrano) was a friend of your dad and mom. Both your parents are very kind and loving. I remember taking dad to visit them and they would talk about old times. My thoughts and prayers are with you in this difficult time. May he rest in peace.
Virginia Medrano Dailey


Linda Sellars
Kerrville, TX
Tuesday, November 7, 2023
The few times I was around Mr. Ayala he was very kind and always made me feel welcome. You will be missed by many.

Alice Wahrmund
Kerrville, TX
Tuesday, November 7, 2023
It has been my privilege to know Mike and Theresa for many years. I still remember his generosity shearing my son's 4-H goat in his driveway before the stock show. I will truly miss him. Please accept my sincere sympathy for your loss.