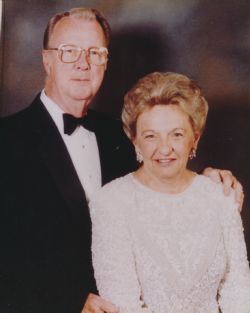 Graveside
Ft. Sam Houston National Cemetery
1520 Harry Wurzbach
San Antonio, TX 78209
Wednesday, November 15, 2023
10:30 AM
Map & Directions


Send Flowers
Genevieve Theresa Fagan
of Kerrville, TX
February 11, 1926 - November 6, 2023
---
Genevieve ''Jean'' Theresa Fagan, age 97, beloved wife, mother, grandmother, and great-grandmother, passed away November 6, 2023, in Kerrville, Texas.

She was born Genevieve T. Bochniak on February 11, 1926, in Philadelphia, Pennsylvania to Louis and Minnie Bochniak. She married Colonel James F. Fagan on December 30, 1950, in Philadelphia.

During her husband's military service, she lived all over the world eventually ending up in Del Rio, Texas.

She leaves behind many friends who held her close to their hearts. She will be remembered for her wonderful spirit and will be greatly missed, but fondly remembered.

She was preceded in death by her loving husband, Colonel James F. Fagan and is survived by her daughter, Theresa M. Fernandez and her husband Mario; grandson, Alex Fernandez and his wife Pat; granddaughter, Christina Bushong and her husband Benge; and great-grandsons, Bridger, Carson and Andre.

Graveside services will be held at 10:30 AM, Wednesday, November 15, 2023, at Ft. Sam Houston National Cemetery in San Antonio, Texas.



2 Condolence(s)

Christine
Kerrville, TX
Thursday, November 9, 2023
I met Jean as a fellow exercise warrior at All Ladies Fitness. I have fond memories of her wit, humor, and sparkling eyes. It was always more fun when Jean was there, a very sweet lady.

Jane Quarles
Columbia, TN
Tuesday, November 7, 2023
My thoughts and prayers are with all of the
family. Jean and I have been friends for
many years, our husband's were in the Air
Force together. Love Jane Quarles