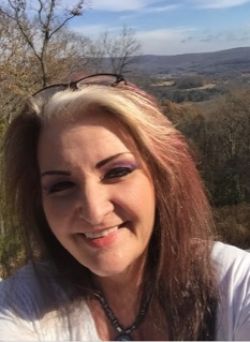 Memorial Service
Brown-Goss Family Cemetery
Spur 100
Kerrville, TX 78028
Tuesday, November 28, 2023
1:00 PM
Map & Directions


Send Flowers
Shirley Foster
of Van Buren, AR
February 2, 1959 - November 10, 2023
---
Shirley Ann Goss Foster, 64, of Van Buren, Arkansas, passed away on November 10, 2023 in Ft. Smith, Arkansas after suffering from Lung Cancer. Her family will miss her, but they are glad she is no longer in pain and is in the care of our precious Lord. Shirley was born February 2, 1959 in Kerrville, Texas to the late James Bennie and Doris Lucille (Griffin) Goss. She enjoyed reminding family she was born on the same birthday as her great grandma, Medora Goss. Shirley was a descendant of the founders of Kerrville, Texas.

In her early years, she was baptized and raised in the First United Methodist Church in Kerrville, and in her later years she was lovingly ministered to, as her Faith was strengthened, by the congregation of Revis Hills Assembly of God Church in Mountainburg, AR with Pastor Todd Taylor. Shirley retired from TRANE and held various other jobs in her lifetime. One of her most rewarding times was when she helped care for her preschool grandson, Bryan M. Foster, whom she loved dearly. She was a humble accomplished artist in various mediums, but especially her pen and Ink work was exemplary.

All her life she wanted to help others who were in need. She joyfully loved people and was very friendly and generous of heart with a wonderful sense of humor. Shirley also loved animals and was very in tune with nature. She loved her family and left her home for a time to come to Kerrville and help care for her mother in her final days.

Shirley's memory will be cherished by her family and friends. She is remembered as a kind and generous person who loved with all her heart, always wanting to meet any need someone may have. She totally understood the message of Jesus to Love each other.

Shirley is survived by her loving son, Bryan Forrest; daughter, Ribbon; grandson, Bryan M. Foster; sister, Barbara Johnston (Franklin); and her brother, James D. Goss (Nancy).

A memorial service will be held at 1:00 pm, Tuesday, November 28, at the Brown-Goss Family Cemetery on Spur 100 where she will be laid to rest next to her parents, under the direction of Grimes Funeral Chapels. All are welcome to join the family in remembering a precious soul.




5 Condolence(s)

LaVerne Talbert Boles
Mountain Home, TX
Saturday, November 25, 2023
Barbara, I so sad for the loss of your sister and best friend!
You and her family are in my thoughts and prayers!

Debbie Griffin Haynes Posted by Barbara Johnston
Kerrville, TX
Tuesday, November 21, 2023
Debbie Haynes
Family
11/21/2023
Shirley was always kind to me and my family. I had always wished that I could have more like her. She had the spirit and energy that everyone would notice and love!


I remember when her mother my aunt Doris was ill and she was there helping ! We sat outside and talked ! We talked about so many things, I'm gonna miss her! I'm gonna miss her smile and easy going personality too!
She always could make you laugh too!

The Lord is taking care of you now. !
Cousin Debbie loves you Shirley ! I wish I could've been more like you. God makes us all different for a reason. ! If we were the same it would be boring ! She had a light in her soul!
Love you ! Debbie Griffin Haynes

Never forgot 🙏🏻🙏🏻🙏🏻🙏🏻🙏🏻🙏🏻

Chasity Jones by Barbara Johnston
KERRVILLE, TX
Thursday, November 16, 2023
Shirley was the quirkiest most special bonus mom to me over the last 20 years. Oh the funny stories we could tell. She had the most infectious giggle and smile and was truly 1 of a kind and we will miss her forever. We love you Mom... Rest in all the Love you deserve.
Chastidy Jones

Linda Nielsen
Tucson, AZ
Wednesday, November 15, 2023
I was so sorry to hear that Shurley passed away. I had so many laughs with her, and she was very kind.

Barbara Goss Johnston
Kerrville, TX
Tuesday, November 14, 2023
Cheryl Perry
Friend
11/13/2023

Shirley was my best friend. She was always an image of the best we could all hope to be…one who understood the power of kindness, generosity, and Love…sharing the path of Jesus for all to see. I love her for eternity and look forward to feeling her presence in the refreshment that water has on my thirst…in the warmth of sunshine's healing on my skin…and in the peace of unconditional Love for all beings on my spirit…she has been a gift from God to me and I am so thankful…🌈❤️