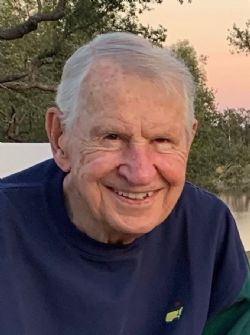 Celebration of Life
Grimes Funeral Chapels
728 Jefferson St.
Kerrville, TX 78028
Friday, November 24, 2023
1:30 PM
Map & Directions


Send Flowers
Donald Clinton Morris Sr.

of Kerrville, TX
May 24, 1933 - November 12, 2023
---
Donald (Don) Clinton Morris, 90, of Kerrville, Texas passed away peacefully, surrounded by his wife and four children on November 12, 2023 in Kerrville, Texas. He was born, at home on Cecil Street, in Springfield, Ohio to Alice Louise Dykes and Franklin Taylor Morris on May 24, 1933. He married Katherine (Kit) Ort Nolte, his high school sweetheart, on November 5, 1955 in Springfield, Ohio.

He graduated from Springfield South High School where he was President of the Student Body and Captain of the football team. He attended Vanderbilt University for 2 years, where he played football as a tight end for the Commodores, and was a member of the Phi Delta Theta Fraternity. He left Vanderbilt to join the US Marine Corps and earned his pilot wings from the US Navy in 1954. He had the honor of holding 3 military honorable discharge papers: the US Navy for his pilot wings, the US Marine Corps for his service, and the Air Force for Air National Guard Service. After leaving the US Marine Corps in 1958 he went to work for his father in law's company, The Nolte Brass in Springfield, Ohio, as a salesman, followed by a short time with Springfield Federal Savings and Loan as a loan officer. His career as a pilot for American Airlines began in 1966, which prompted a move for his family to Dallas, Texas. During his tenure with American Airlines he had the privilege of being the Captain for the Dallas Cowboy charter flights, he was elected as the Chairman of the APA - American Pilots Associate, and served as the AA Division Chief Pilot Southwest for the last 10 years of his 27 year career with American Airlines. It was his gracious and fair spirit that lead him to be a true favorite among the AA pilot group. They all knew that Don Morris would first, listen, then make every effort to guide and assist you, and always have your back as long as you were true to the red, white, and blue colors that governed the AA pilots. He was a wise mentor, a guiding coach, a 65 year Mason, a strong leader, a true friend, a grateful father, and a loving husband of 68 years to his beautiful wife, Kit. He loved football, baseball, golf and fishing, he was a giver of his time and wisdom to his family and beyond, he was a strong believer in our Lord and tried to live by his faith each and every day.

He was preceded in death by his parents, Alice Dykes Morris and Franklin Taylor Morris and his brother Robert Franklin Morris.

Survivors include his loyal wife Katherine (Kit) Nolte Morris, his four children Kimi Morris Martin and Rick Dugan, Kathy Morris Carrabine and Cary Carrabine, Corinne (Connie) Nolte Morris, Dr. Clint Morris and Hunter Morris; his brother Charlie Arthur Morris and Joyce Morris; his seven grandchildren and spouses Kyle Carrabine and Lisa Carrabine, Courtney Carrabine Lemus and Luis Lemus, Brock Martin and Preslie Martin, Sam Martin and Tori Martin, Maddie Morris, Gracie Morris and Avery Morris and his four great grandchildren Sloane and Gannon Carrabine, Kinley Martin and Lucas Lemus.

Celebration of Life services will be held at 1:30 pm, Friday, November 24, 2023 at Grimes Funeral Chapels with Larry Smith, Alamo Hospice, officiating. A private family burial will take place prior to the Celebration of Life.

In lieu of flowers, memorial donations may be made to Alamo Hospice of Kerrville through the Addus Hope Foundation or Wounded Warriors.

The family wishes to extend our sincere thanks to Alamo Hospice of Kerrville, to our wonderful caregivers, Shelly and Oscar, and to Rock Creek Personal Care Home.




9 Condolence(s)

Patti McAFee
Springfield, OH
Wednesday, November 29, 2023
Dear Aunt Kit and family, I am so sorry to hear of Uncle Don's passing. Please know that my prayers are with all of you. Sending love and hugs, Patti

Doug Ebersole
Denton, TX
Saturday, November 18, 2023
I'm sorry that Don has departed. I have fond memories of Don. We flew together many times. We became friends and that was my privilege.
Doug

Joe Lanza
Southlake, TX
Saturday, November 18, 2023
Don was a respected colleague at American Airlines. We worked together on the Flight Department Management Team. Don was a quiet mannered man, an honest dealer, and an inspirational, well liked leader.
My sincere condolences to Kit and family.

Phiona Mayanja
Kerrville, TX
Friday, November 17, 2023
Sending love and prayers to you all.
We were so blessed to be with Captain Morris in his last days on earth
It hurts that it was short 💔💔but we believe he is in a better place with Jesus and no pain. Thank you for sharing your Dad with Us.
Knowing you all is another blessing from God. Be still God is with you all.

Beth Ellis
Spring, TX
Thursday, November 16, 2023
Kathy, I'm so sorry for your loss. What an amazing father you had, still do, always in your heart.

Gerry LaFountain
Scottsdale, AZ
Thursday, November 16, 2023
Don was a good man,husband and father
I was privileged to have known him

Jim and Debbie Chastain
Bandera, TX
Wednesday, November 15, 2023
Dear Dr. Morris and family,
We are so sorry to hear about your dad's passing. Please know you are in our thoughts and prayers.
Sincerely,
Jim and Debbie Chastain

Becky and Dane Neilson
San Antonio, TX
Wednesday, November 15, 2023
I just loved your dad Clint. He was fun and so sweet. Now is a good time to think if all the good times with him. You're all in my thoughts and prayers.

Kristi Wallace
Kerrville, TX
Tuesday, November 14, 2023
While I didn't know Mr. Morris on a personal level, him and his lovely wife frequented the restaurant I worked for and were always so sweet. My condolences to the family.

Kristi (Tree), formally at Soaring Dragon