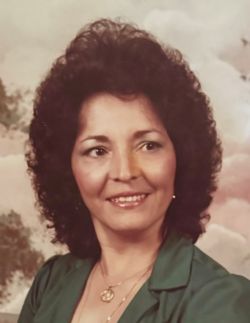 Funeral Service
St. Anthony Catholic Church
163 N Third St.
Harper, TX 78631
Friday, November 17, 2023
1:00 PM
Map & Directions


Send Flowers
Sara Madrid Walters
of Kerrville, TX
April 10, 1944 - November 10, 2023
---
Sara Madrid Walters, 79, of Kerrville, passed away on November 10, 2023. She was born in Chumical, Panama to Claudio Madrid and Petra Martinez on April 10, 1944. She married Jose Walters on July 27, 1963 in Panama.

She was an incredibly strong woman who grew up very quickly after losing her mom at the age of 6 and beginning work at the young age of 14. She met the love of her life and married at 19, then moving to the United States where she worked hard to get her citizenship. With her husband Jose being in the military, she followed where he was stationed and was able to set up a home for their three children: Roy, Diana and Michael. The many adventures the military and life took them to included New Jersey, Arizona, Germany, Panama, Georgia, California and finally landing in Texas where they spent their retirement. While she did work outside the home several times, her most important role was wife and mother. She took this job most seriously and was the absolute best wife and mom ever, she loved her family with everything she was and was passionate about it. Once she was made an Abuelita, that became her world. Every single grandchild knows how much they are loved and cared about because she was their biggest cheerleader.

Who she was could also be seen outside the home as she was a giver to her community. She worked in her church; she delivered food to the needy and went to nursing homes to play games and sing to those who needed to feel loved. In fact, she was known as the bingo lady with over 20 years volunteering and bringing all the bingo prizes herself.

Lastly, her most important relationship was with her Lord and Savior, Jesus. Everyone who knew her, knew that her love for Jesus was the thing that molded her marriage, motherhood and life. She sang ''Jesus Loves Me'' to her grandchildren and taught them all the love in her heart for Jesus. We are thankful to know that she is singing and dancing with Jesus right now.

Sara was preceded in death by her father and mother, Claudio Madrid and Petra Martinez; her sister, Gregoria Madrid; and brother, Jose Maria Madrid.

Survivors include husband, Jose Walters; children and spouses, Roy and Sarah Walters, Diana Cuesta, Michael and Angela Walters; sisters, Susana Fernandez, Irma Madrid, and Sisila; brothers, Claudio Madrid and Jime Madrid; grandchildren and great-grandchildren, Brandi VanHoosen, Joseph and Lindsey Walters, Shilah Walters, Zach Barrow, Daniela Cuesta, Sara Walters, Armando Walters, Aidan Cuesta, Rachel Walters, Lucius Cuesta, Patience Walters, Knox Beasley, Jace and Kade Spears-Walters, Julian Araiza, Lux Walters and Levi Walters.

Funeral will be at 1pm, Friday, November 17, 2023, at St. Anthony Catholic Church, 163 N Third St. in Harper, TX, with Father Rudy officiating.

The family wishes to extend their sincere thanks to Morning Star in Fredericksburg and New Castle Hospice for all their love, time and dedication to Sara…we will forever be grateful to all the staff who treated her like family.

Condolences may be sent at www.grimesfuneralchapels.com.

Funeral arrangements are entrusted to Grimes Funeral Chapels of Kerrville…thank you so much for making a difficult time as easy as possible.


3 Condolence(s)

Yara Fernández Madrid
San Jose,
Tuesday, November 14, 2023
Dear Tio Joe, Roy, Diana , Mike & family
My deepest condolences to you all. I have nice memories of Tia Sara while we shared some time together in Panama. I cherish those memories in my heart.
May God give you the strength in this difficult time.
On behalf of my mom, who loved deeply her sister, please also accept her condolences.
Yara & Family

Irma madrid
Panamá,
Tuesday, November 14, 2023
Alguien muere cuando los olvidamos, hermana fuiste muy querida para mi tengo muy buenos momentos que pasamos juntas paseando disfrutando cuando nos veiamos. Tu partida deja un gran vacio en mi corazón, en mis hijos Adrian, Jacqueline y Fany les dan las mas sinceras condolenciasero se que el lugar que estas, estás descansando.
A


Anahi Fernandez Madrid
Arlington, VA
Tuesday, November 14, 2023
I'm deeply sorry for the loss of my aunt Sara. She and my mom were very close sisters since childhood, together they overcame the pain an difficulty of growing up without a mother. I'm certain that my aunt is now in a wonderful place, free of illness, and enjoying the company of my aunt Golla, mi uncle José Maria, my grandfather Claudio and my Grandmother Petra.

To uncle Joe, to Roy, Diana and Mike, and to the rest of the family I wish you comfort and peace.