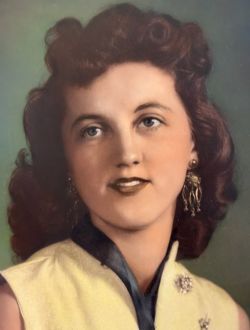 Memorial Service
Notre Dame Catholic Church
909 Main St.
Kerrville, TX 78028
Monday, November 27, 2023
9:30 AM
Map & Directions


Send Flowers
Rosemary Agnes LaQuey
of Harper, TX
April 23, 1935 - November 11, 2023
---
Our dear mother, Rosemary Agnes LaQuey, sadly passed away, at the age of 88 on November 11, 2023 in Harper, Texas.

She was born in New London, Wisconsin to Cyril and Lauretta Unger on April 23, 1935. She married Pogue LaQuey on October 12, 1966. He preceded her in death.

She was a wonderful mother to Johnny LaQuey, James Bermingham, Laurica Bass, Jason LaQuey, Chantal Hodges, and Justin LaQuey. She had 5 siblings; and is survived by 3. She also had 20 grandchildren, 9 great-grandchildren and 1 great-great-grandchild.

She will always hold a special place in all our hearts. She loved all her family dearly and always brought a smile to everyone's heart. She will be sadly missed by all. She has gone home to be with God and is with her family now.

A memorial service will be held on Monday, November 27, 2023 at 9:30 am at the Notre Dame Catholic Church in Kerrville, Texas.

The family wishes to extend our sincere thanks to Becky Waldrop for offering her home and friendship to mom in her last years of life; and to Dr. Young, Charleen McGowan and the rest of the Peterson Hospice staff.


1 Condolence(s)

Edie Spalding
Kerrville, TX
Monday, November 20, 2023
Precious in the sight of the Lord is the death of his saints. Psalm 116:15. Sending prayers and love to all. Regina spoke highly of Rosey. May you have peace knowing she is in the presence of her Lord and Savior.