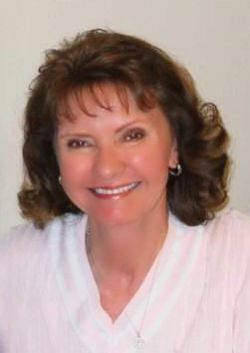 Funeral Service
Grimes Funeral Chapels
728 Jefferson St.
Kerrville, TX 78028
Saturday, November 25, 2023
3:00 PM
Map & Directions

Graveside Service
Cedar Hill Cemetery
Ozona, TX
Sunday, November 26, 2023
2:00 PM


Send Flowers
Sharron Cantwell
of Midland, TX
February 17, 1949 - November 17, 2023
---
Sharron Janell Westfall Cantwell peacefully passed away November 17, 2023, in Kerrville, Texas. She was a beautiful soul who brought joy and love to all those around her. Sharron is survived by her beloved husband, Charlie Cantwell; daughters, Reata Cantwell Smith, Misty Rogers Templeton, and Ronda Haberer; her grandchildren, Cooper Templeton, McKenna Templeton, Taylor Templeton, and Skye Smith; brother, Jimmy Westfall and family; her aunt, Faye Pool; and numerous cousins whom she loved dearly.

Sharron was born on February 17, 1949, in Alpine, Texas to Jim and Davene Westfall. Sharron went to McCamey High School. She had an indescribable passion for life and a tremendous love for rodeo. She was an AJRA all around cowgirl, a barrel racer in the WPRA, and a team roper for many years after that.

Sharron married Charlie Cantwell, February 11th, 1987, in Center Point, Texas. They created so many beautiful memories. They loved to dance. They shared great adventures from traveling overseas to zip lining and white-water rafting. In later years, they enjoyed playing golf. Together, they built a life rich in love and laughter. Their bond was an inspiration to all who knew them and provided a strong foundation for their daughters and grandchildren.

Sharron's role as a mother was one she cherished deeply. She instilled in them her core values of compassion, resilience, and a deep appreciation for family. Sharron's pride and joy further multiplied with the arrival of her precious grandchildren. She found immense happiness in their laughter, celebrated their milestones with overflowing pride, and cherished every moment spent together. You could always find her in the bleachers watching football, volleyball, basketball, or track. She was known to everyone as Grammy.

A celebration of Sharron's life will take place on Saturday, November 25th, 3:00 pm at Grimes Funeral Chapels in Kerrville, Texas. Graveside service will be Sunday, November 26th, 2:00 pm in Ozona, Texas.

In lieu of flowers, the family kindly requests donations be made in her honor to Cal Farley's Boys Ranch, Justin Cowboy Crisis Fund, or the charity/organization of your choice.

We will remember Sharron's bright spirit and the joy she brought into our lives. May her love for rodeos inspire us to pursue our passions fearlessly, and her devotion to family remind us of the importance of cherishing those we hold dear. May Sharron find eternal peace in the embrace of the heavens above. I'm sure her daddy was waiting for her with a big hug and a beautiful horse. Keep on dancing until we meet again.



5 Condolence(s)

Sharon Streckfus (Barton)
CENTER POINT, TX
Saturday, November 25, 2023
Charlie/ Reata,,I'm so sorry for your loss 😔 I remember the times at the ball games we were at. Prayers for your family 🙏🙏
Sharon (Barton) Streckfus

Mannie and Connie (Clark) Lackey
Kerrville, TX
Friday, November 24, 2023
So surprised and sorry to hear of your loss. Prayers for your family.

Mark and Pam Hulse
Hobbs, NM
Thursday, November 23, 2023
So thankful for our short friendship. You will forever be in our hearts. Prayers and love for your family. Till we meet again, Sharron. Your friends, Mark and Pam Hulse

Shawn Harlan
Stephenville,
Wednesday, November 22, 2023
Thoughts and prayers for all of you. I have allot of fun memories of her and she let me take Bigum to run one spring. Hugs and love to all of you.

Sonja Meyer
Harper, TX
Monday, November 20, 2023
Charlie, I am so sorry for the loss of Sharron. She was such a sweet lady. My thoughts and prayers are with your family.
Sonja